Instagram has given itself a big present for its sixth birthday: a brand new, three-story office.
On Oct. 6, the photo app's 400 employees moved into a new space on Facebook's Menlo Park, California, campus. Though it didn't move very far—its old office was also on Facebook's headquarters—the new office emanates the elegance and vibe of a young design company, a stark contrast to its old exposed pipes and unpolished concrete floors.
About a year ago, Instagram's creative director, Ian Spalter, hired architecture firm Gensler's Ian Young as the project architect to spearhead the design for the new office. Spalter wanted the space to take after the app, drawing inspiration from the new Instagram interface and icon unveiled in May. It is basically the "3D version of the app," says an Instagram representative in an email.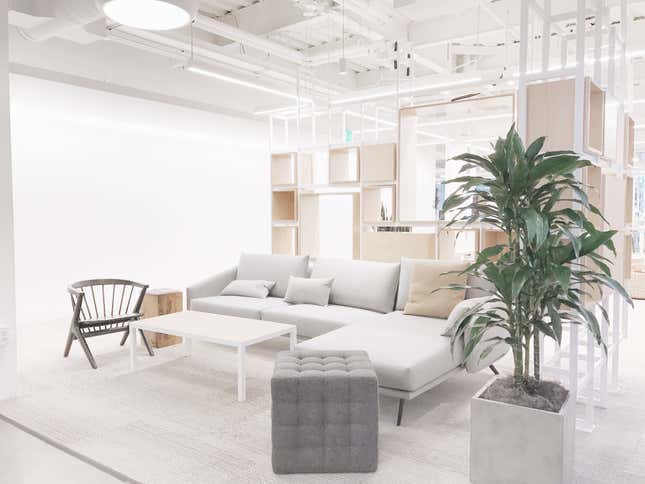 Visitors to the new headquarters are first greeted by high ceilings and digital displays rotating through users' Instagram photos. Borrowing the aesthetic of the app, the office is awash in neutral tones, sleek lines, and an abundance of natural light.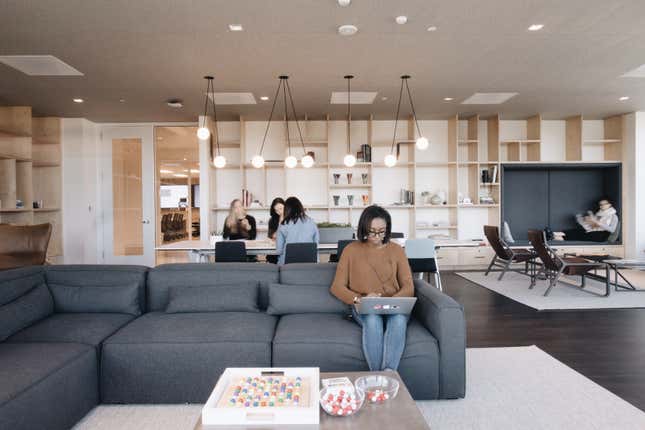 "Our concept for the architecture is to give them something that is beautiful but also restrained," says Young in an interview. "We give them a canvas so that they themselves, as the users of the space, could enhance it, and curate their personalities and the communities that they represent as a team." The office's muted colors also help give way to the splashes of colors in the photos.
As for amenities, there's an in-house Blue Bottle cafe (coffee isn't free, unfortunately), a microkitchen, a photo-op space with modular and modifiable sculptures so visitors can snap pictures, a special design room where employees can get creative, and a library where people can find inspiration or get things done.
Perhaps the most noteworthy fact from these interior design shots is that they don't use any Instagram filter. Instead the images were processed with VSCO, another photo-filter app that rivals Instagram, according to the metadata.