Facebook made its new platform for businesses available to the public yesterday (Oct. 10). The product, called Workplace, looks very much like the consumer version of Facebook, with a news feed and a chat app, but there's a fee to use it.
Still, at less than half the price of its closest competitors, Workplace's fee is an aggressive move that could shake up some of the sector's established players.
Workplace is most like Slack, the messaging platform for companies that is valued at $3.8 billion. Price-wise, an apples-to-apples comparison is tricky: Slack charges a higher fee and offers more features, like additional storage, but Workplace lowers its rate according to the size of the organization. There's a version of Slack available for free, and of course Facebook's ad-supported consumer version is also free. Slack's cheapest paid tier, at $6.67 per user per month, has features comparable to Workplace, including extra attention from customer support and customizable groups for users.
Workplace's other competitors are bundles of products from Microsoft and Google. Microsoft's Yammer chat app, for instance, is part of its Office 365 package, which includes things like Excel and Word. Google's Hangouts is included with its larger G Suite range of documents, spreadsheets, and storage offerings. Workplace is cheaper, but it doesn't provide all the functions these larger software portfolios offer.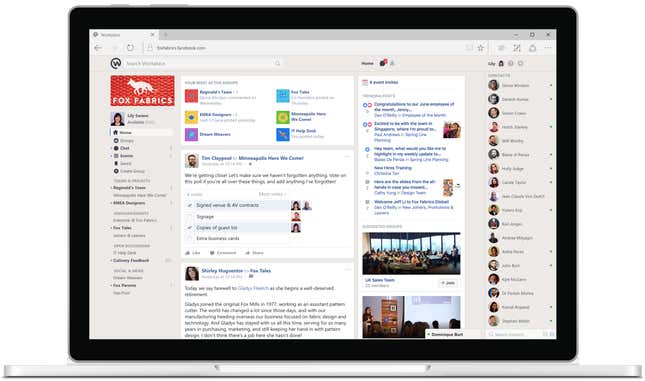 That's probably why Facebook has cannily partnered with Microsoft and Google by having their products integrate with Workplace at launch. The plan, for now at least, appears to be for Workplace to complement, rather than replace, these corporate software programs.
Facebook is also playing nice in another way. It's trying to generate network effects by signing on a handful of companies as strategic partners. These firms have vendors, clients, and all manner of other corporate relationships. The more people using Workplace, Facebook's argument goes, the smoother the work will go.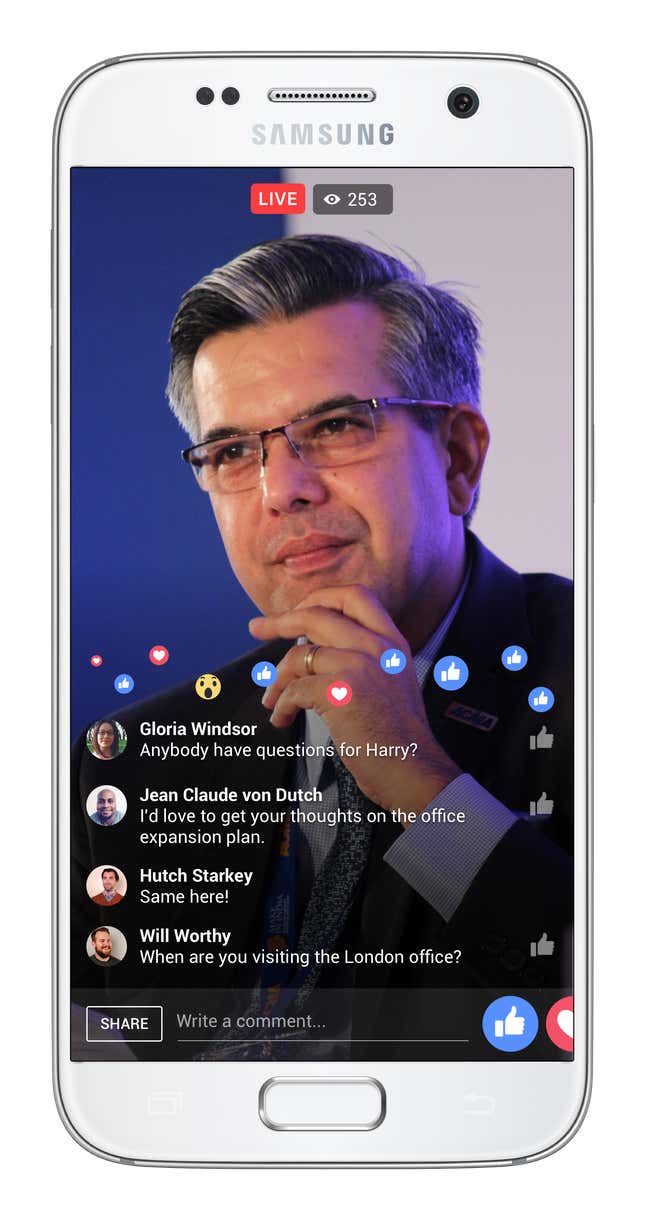 The major strength of Workplace is how familiar users already are with Facebook. It's almost impossible to tell Workplace apart from the consumer version of Facebook (it even comes with Facebook Live, pictured above). This will serve it well, as it's targeting a broader spectrum of workers than its competitors, who tend to go after office workers. "No training needed," said Julian Codorniu, the executive in charge of the product, at a launch event in London yesterday. "It's for everyone: from factory workers, to baristas in the coffeeshop, to the CEO."
Workplace's strategy may be working. The advertising agency TBWA has used Workplace for months during the program's beta phase. Its vice president for Europe, Nicolas Bordas, said during a discussion at the launch event that when an initial batch of 800 workers were invited to join Workplace, half signed up within two hours. "It's a game-changer," he said. Over a thousand companies currently use Workplace, with the largest number of users located in India, according to Codorniu.
Facebook has given Workplace much thought. It has been tested in private for 18 months, with engineers introducing new features and tweaking existing ones based on feedback. The whole thing was developed in Facebook's London office, which doubled its engineering headcount to over 400 in 2015. Those engineers, and a staff of over 260 sales and marketing people, cost the company over £165 million ($202 million) for the year.
That could well pay off. The rewards of getting Workplace right could be huge, even for a firm like Facebook, which made nearly $18 billion in revenue last year. A rough gauge might be to consider what its competitors are worth: Slack raised its last round of funding at a $3.8 billion value, while Yammer was acquired by Microsoft for $1.2 billion. Microsoft is also finalizing its purchase of LinkedIn for $26.2 billion, with plans to draw it into its Office suite of business tools. The social networking giant Tencent has also launched a corporate version (paywall) of its WeChat messenger.
With numbers like that in play, Workplace could end up being a sleeper hit on the scale of Amazon's cloud computing service. Office chat might not sound particularly exciting, but it wouldn't be the first time a bland, enterprise software offering became a multi-billion dollar businesses.