Two summers ago, the Ice Bucket Challenge led to thousands of people recording themselves being inundated with ice cubes. The viral campaign, an effort to boost awareness for amyotrophic lateral sclerosis (ALS), managed to raise over $115 million for the ALS Association. But social activism doesn't have to come with freezer burn.
Speakable, a company that uses technology to make civic engagement more accessible, is hoping activism can be as easy as the click of a button. The one-year-old company today introduced the "Action Button," an interactive tool that can be embedded on news sites, which allows users to take "actions" while reading about an important issue. Those actions could include donating to a related cause, sending emails to policy makers, tweeting at relevant decision makers, or signing petitions—all without leaving the article page.
"We are trying to make having an impact as easy as ordering an Uber or buying a dress online," Speakable founder and CEO Jordan Hewson says. "There's no reason why it should be more difficult than that."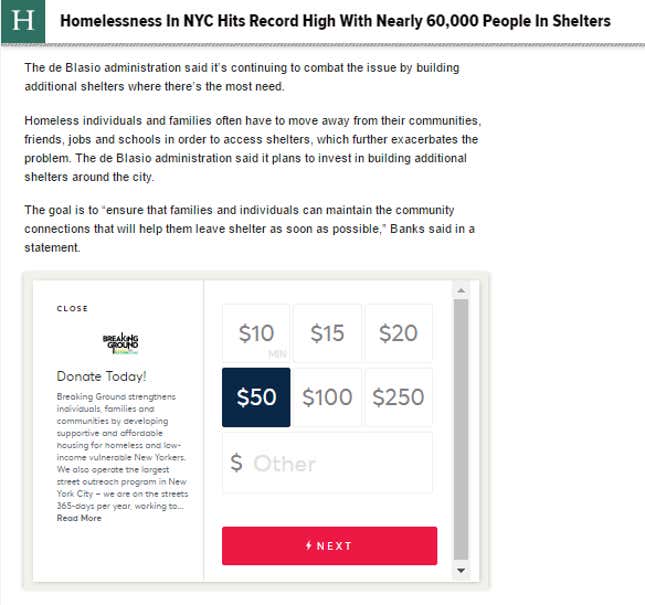 The "Action Button" is launching with three news partners: Guardian US, The Huffington Post, and VICE Media. The button will be entirely independent of editorial content, Hewson says, to ensure that the line between journalism and activism is not blurred.
Here's how it works: Speakable uses an algorithm to match articles on certain issues to related "actions," and those matches are then checked for relevance by a dedicated team at Speakable. The company plans to eventually use artificial intelligence and machine learning to improve its recommendations, but for now the Speakable team is focusing on the refugee crisis, climate change, and gender issues. Nonprofit partners include Amnesty International, CARE, the International Rescue Committee, Planned Parenthood, and the United Nations High Commission for Refugees.
Hewson said the idea for Speakable stemmed from her experience as founding editor of GlobalCitizen.org. One day she was reading an article about Malala Yousafzai that linked to a petition to support girls' education. Though moved by the article, Hewson clicked away without signing it.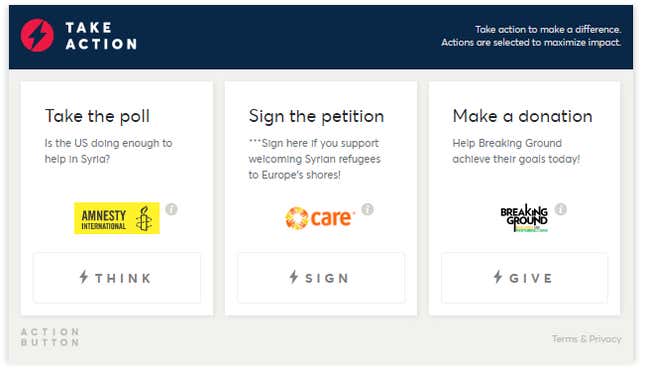 "I realized its really just about making it faster, easier, and more accessible for people to have an impact, to increase the likelihood that they will take action," she says. "It's most convenient for you to take an action online while you are reading an article. If you are not going to do that, I would assume you are much less likely to volunteer or go out and protest."
While one-click caring may seem like the latest example of slacktivism, Hewson says supporting organizations focused on an issue can be an effective way to engage. "I think there's a misperception that in order to have a social impact you have to put in a lot of effort," she says. "It's great if you want to run a marathon for a cause…but in terms of effectiveness, it's really about making sure that charities and NGOs have the support they need to fulfill their goals."
Speakable's Action Button is specifically aimed at millennials, 74% of whom have a civic motivation for reading the news, according to a study by the American Press Institute. "Millennials have new expectations of digital content," Hewson says. "They want to do more than just read headlines, they want to change headlines. We are really a generation that believes that we can create the world we want to see."