No hard feelings, it's just business. This, in short, is the message from Unilever to anxious shoppers in Britain.
A spat between the consumer goods giant and Tesco, the UK's largest grocery chain, broke out yesterday, resulting in shortages of beloved Unilever brands like Marmite spread, Ben & Jerry's ice cream, and Pot Noodle ramen for Tesco shoppers. The dispute is down to Tesco refusing Unilever's demand that retailers accept a 10% hike in the wholesale price of its products, to compensate for the plunging value of the pound.
Unilever reports its financial results in euros, and the pound has fallen by 16% against the euro since June 23, when the UK voted to leave the EU. Brexit supporters stress that the depreciation is a good for exports, but tend to say less about what it means for imports. Unilever's price hike is a sign of things to come on that front.
Incredulous Marmite fans in the UK may whinge about Unilever's move, and politicians protest at the injustice of it all, but this is simple economics. The price hikes in the UK are part of "a normal devaluation-led cycle… for any of our markets," Unilever CFO Graeme Pitkethly said on a conference call with analysts today. "The increases we're taking are substantially less than we would need to cover the impact on our own profitability," he added.
Unilever operates across some 190 countries, and the UK accounts for less than 5% of its sales—the group will treat retailers in Britain no differently than those in other countries with collapsing currencies, be it the peso, bolívar, or pound.
Indeed, as the company unveiled its third-quarter results, its ability to push through price increases stood out. In Latin America, Unilever has hiked its prices by more than 15% so far this year, making up for volume declines and currency losses. A steep decline in the Brazilian real last year—down 25% against the euro—stoked inflation in that key market, and triggered price rises that are continuing this year to make up for past losses (despite a recovery in the real this year). It's a similar story in Mexico, where the peso has lost 20% against the euro over the past two years.
This is how that boils down for Unilever, in a matter-of-fact presentation slide for investors: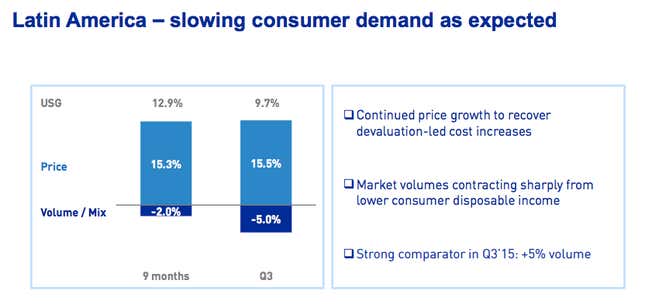 Both Unilever and Tesco say that the dispute should be resolved soon, with the 10% price hike the opening gambit in a back-and-forth negotiation. Unilever is more easily able to absorb currency losses than Tesco, given it makes an operating margin of 15% versus Tesco's 2%.
Still, neither is willing to eat all of the cost of the pound's even-steeper decline, and at least some of this burden will be pushed onto consumers in the form of higher prices.