The Duchess of Cambridge is the world's best-known clothes horse. She regularly shows up at events wearing outfits by commercial designers who dominate the world's big fashion shows—names such as Alexander McQueen, Erdem, Temperley, Jenny Packham, Mulberry, Jimmy Choo, Prabal Gurung, and Max Mara, as well as fast-fashion labels like Zara.
Among these big, mass-merchandised brands, Kate Middleton favors one that's eschewed such marketing, yet has carried on since the death from breast cancer of its founder and designer six years ago. She recently set Twitter alight by showing up on a commercial flight to London after a day in the Netherlands, dressed in a Catherine Walker suit.
Catherine Walker is a slow-fashion survivor when most of the industry has turned to mass production in China, Romania or Vietnam. Classically designed suits, dresses, slacks, coats, and evening gowns are still sewn by hand by 30 tailors and fitters across the street from the brand's only shop, on Sydney Street in London's Chelsea borough. Fabrics—fine wools, cashmere and silk—come from Italy and England. Everything is fully lined in silk; no polyester here.
The company was founded in 1977 by Walker, born in France as Catherine Marguerite Marie-Therese Baheux. She married a British lawyer, John Walker, who died in an accident in 1975, and later married her business partner, Said Cyrus.
Princess Diana, who would have been Kate Middleton's mother-in-law had she lived to see her wedding to Prince William, owned some 1,000 outfits from Catherine Walker; she was buried in a black, long-sleeved Catherine Walker dress. Middleton's own mother wore a Catherine Walker dress and coat to the wedding. Many of the designer's pieces are displayed at the Victoria & Albert Museum in London.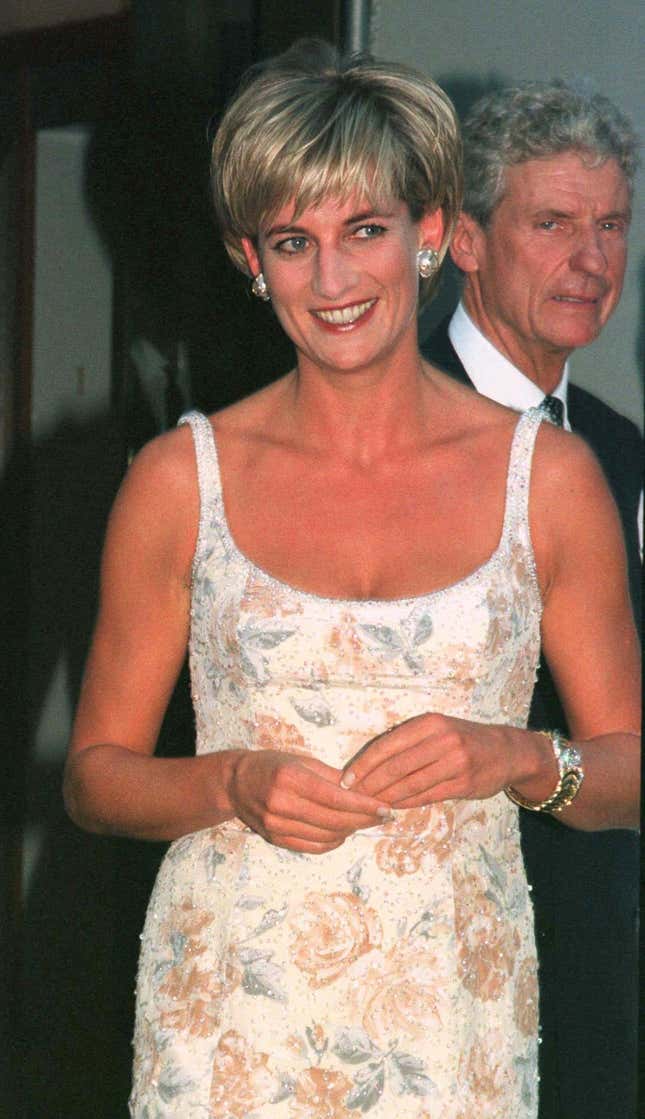 Other designers still do made-to-measure couture, but almost no-one focuses exclusively on fashion as slow as that of Catherine Walker. The company holds no runway shows, nor does it engage in heavy marketing, and it owns the buildings that house its workshops and store, all of which keeps costs down. Twice a year, Catherine Walker sends out invitations to the British press to come to the shop and see the latest designs, displayed on mannequins.
Clients, many of them royalty, buy items by visiting the shop, picking out a design from the samples, then getting measured. A pattern made of calico is cut. The client returns for her first calico fitting. Adjustments are made, the piece is put together, then the client returns for a second, and usually, final fitting. The whole process takes four to six weeks, longer in times of high demand around the holidays, Ascot horse racing, or the wedding season.
While expensive, the clothes aren't outrageous when compared to heavily marketed luxury brands (particularly with the recent plunge in the pound). A dress may cost upwards of $2,500, a pair of pants $1,100, not much different than anything off the rack at Ralph Lauren or Giorgio Armani. The difference: Catherine Walker will be made by hand and fit you perfectly.
And the stuff lasts forever. The other day a client came into the shop with a red coat that needed altering so she could wear it. It had been her mother's, purchased for her christening 27 years ago.
The privately held company won't discuss revenue or profit, but demand has grown so strongly outside the UK that Said Cyrus, Catherine Walker's second husband, has been forced to develop an e-commerce strategy. If a client has a trusted local seamstress or tailor, she can send in her measurements and a piece is made to order. When shipped, the design will have enough seam allowance to enable her local seamstress to fit it perfectly. "We call it e-couture. It's a growth area of our business," said Cyrus by email. "We have already done this successfully with clients in Europe, USA and Central Asia."
Cyrus has no ambition to expand further. He says:
"Over the past 40 years we have had offers both before and since my wife's death to expand and exploit the brand's reputation.  My response has always been the same.

I do not want to make my company into a money-making machine with no soul. We enjoy looking after each client personally.  Every weekday morning I have a meeting with my lovely staff and we discuss beauty, not money, not volume production, not world domination, just the beauty and the poetry of the designs.

That poetry is our gift to our clients and as long as clients come to us for that, then that is what we intend to go on doing."