Las Vegas
It will be a few more hours before students at the University of Nevada, Las Vegas (UNLV) learn if they've been among those selected to attend the final debate between Hillary Clinton and Donald Trump, taking place on their campus, on Oct. 19.
What's certain is that there will be no slackers in the audience. As stated in the ticket lottery rules, UNLV students who wish the watch the political combat in person are required to meet a minimum grade point average—2.0 (equivalent to a C grade) for undergraduates, and 3.0 (a B grade) for graduate students.
There was no such requirement for the student ticket lotteries for the first debates—at Washington University in St. Louis and Hofstra University on New York's Long Island—although Hofstra stipulated that students couldn't enter the lottery unless they were registered to vote.
UNLV says that more than 3,600 of its 28,000 students have put in their names for a seat at the 19,522-seat Thomas & Mack Center auditorium. The Commission on Presidential Debates controls access to the secured venue, and it's unclear how many tickets will be made available to UNLV students. (We've reached out to the commission and will update this post as warranted.)
Jennifer Hurtado, a senior journalism major designated as a media runner for Fox News during the debate, says she's in favor of the minimum requirement. "I think it's a good thing because students who work hard [in class] deserve to attend big, historic campus events like this," she says. "I'd be worried if they were asking for 3.0 [for undergraduates]—2.0 is average and it shows the work they're doing."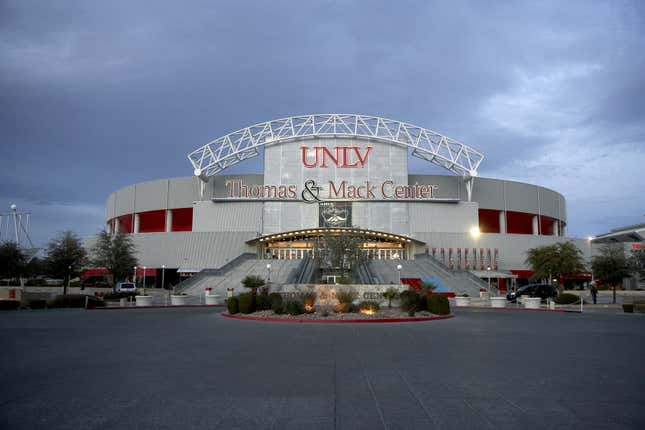 If there's one thing to deter students from seeing the debate live, it's the traffic jams and lack of parking around the tightly secured Thomas & Mack Center perimeter. The city already has advised motorists of several road closures throughout the area. And, competing with the Clinton-Trump headliner, the Rolling Stones will be playing at a nearby venue on the touristy Las Vegas strip the same night.
Another student, Randy Dexter, says it will be meaningful to him to be able to witness the debate in person. A combat army veteran who was stationed in Iraq for two years, Dexter says he expects the forum will help cement his decision about who to vote for. "The job of the president is to be the commander in chief of the military, among other things. The debates are very important to me, because I'm able to see where they stand in various issues," says Dexter, who will be at the debate as a student volunteer, with his service dog, Captain Dexter. "I want to soak it and and I want to be part of everything."
With major campus renovations and election-themed classes, the state university has preparing for the big event since last September. This presidential debate will be the final one of 2016, and the first ever in the state's history. With Nevada considered a key swing state, many locals are expected to tune into the broadcast. Several "Vegas style" viewing parties—with raffles, swag bags, a DJ, and election-themed catering—are planned across the UNLV campus and at various venues around town.