US presidential candidate Donald Trump could be developing a real estate complex in the central business district of Beijing today if his Chinese business partner, a powerful state-owned company, hadn't been involved in corruption.
Trump Hotel Collection, the Republican nominee's hotel company, negotiated with the State Grid Corporation of China to brand and manage a major development, now worth $1 billion, in Beijing's Guomao neighborhood back in 2013, according to an AFP scoop on Oct. 17.
Robby Qiu, former head of Trump Hotel's Greater China office, told the newswire that the two parties signed a memorandum of understanding for a deal that could have been worth $100 million to $150 million for Trump over 15 years. But they called off negotiations, sources told AFP, after an investigation into the power-grid operator found it was illegally using public land for the project. There's no suggestion that Trump was involved in the inquiry, AFP added, and his company is not "currently in talks with State Grid."
So what exactly was the illegal project? China's National Audit Office answered the question in a 2015 report (link in Chinese). In 2012, State Grid originally said it would build a R&D center covering a total land area of nearly 60,000 square meters (646,000 sq ft), where half the land was public. But after the project was approved that year, two subsidiaries, Luneng Group and North China Grid, began to develop a real estate complex instead, including "high-end hotels, serviced apartments, office buildings, commercial [buildings], and exhibition [halls]" worth 7 billion yuan (now $1 billion). As of February 2014, 1.3 billion yuan (now $190 million) had been invested into the project, the auditor's report noted. Later State Grid responded to the report (link in Chinese) and said that the company would use the land in the original way it had been approved.
A construction plan published by Beijing's urban planning and land authority in 2013 shows that the original project for the R&D center included two connecting towers no less than 250 meters in height, adjoining the Sihui Qiao bridge in the Guomao neighborhood.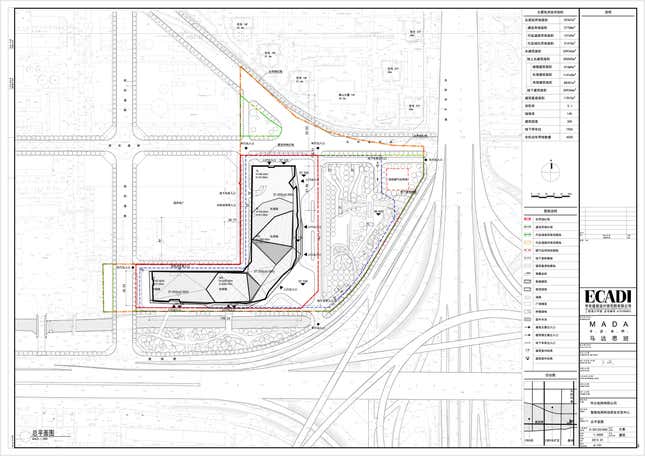 A Google Earth image captured in May 2016 shows the area is still a construction site, though it is marked as "Huitong Times Plaza" on China's Baidu Map.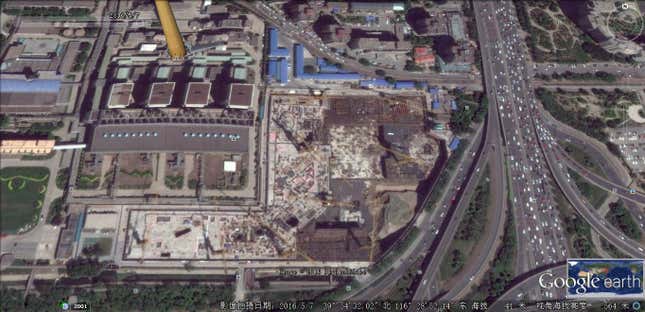 As a recap: In 2012, State Grid got approval to build a R&D center; in 2013, it pitched the project to Trump as a commercial property development, and in 2015, it was found to be cheating.
State Grid, the world's largest electricity utility company, is still in deep trouble. The 2015 National Audit Office report also revealed at least four asset purchases State Grid did between 2010 and 2014 without the approval from China's top state-enterprise watchdog, including a sports center in Brazil purchased for 800 million yuan (now $120 million). As a result, at least four ex-head of State Grid subsidaries have been investigated—and one was sentenced ten years in jail—for corruption charges by earlier this year, news portal Tencent reported (link in Chinese).