Last month, a handful of young, Hong Kong independence advocates were voted into the city's legislature after a historic election where opposition candidates made big gains.
Having tried before the election to stop such candidates from running, the government now wants to block them from taking up their new roles.
The latest drama follows last week's swearing-in ceremony at the Legislative Council. Some opposition lawmakers used the opportunity to defy Beijing's authority. Nathan Law, for example, who at 23 years old is the youngest Hong Kong lawmaker in history, gave a shoutout to Gandhi in his oath. More problematic were the oaths of Yau Wai-ching, 25, and Baggio Leung, 30, both members of the Youngspiration party which promotes Hong Kong independence.
Yau referred to China as "People's Refucking of Shina" in her oath, a nod to a colonial Japanese reference to China that many consider derogatory. Leung took a similar oath. Both Yau and Leung's oaths were deemed void by the LegCo secretariat, as were three others.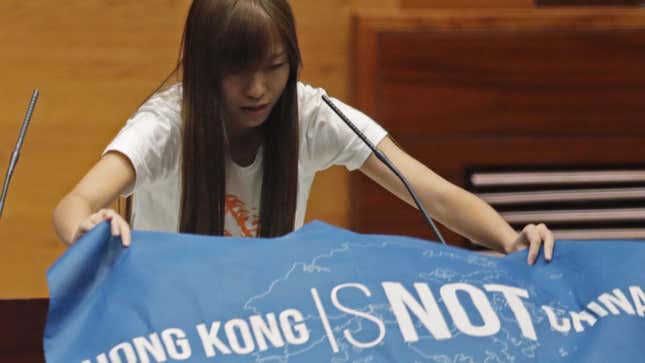 Facing public outrage after their oaths, Yau and Leung refused to apologize but agreed to swear in again on Wednesday, a decision that was accepted by LegCo president Andrew Leung. But on Tuesday night, the government suddenly filed a judicial review application to prevent the two from taking their oaths again.
The move was condemned by pro-democracy lawmakers and lawyers as a challenge to the separation of powers that is guaranteed under Hong Kong's own constitution, the Basic Law, which is separate to mainland China's legal system. LegCo president Leung also said he objected to the government's interference.
"Have you seen any government that uses the judiciary to battle against the legislature? Isn't this a destruction of what Hong Kong, the Hong Kong nation, has built over time?" Baggio Leung said to reporters yesterday night (Oct. 18) before the judgment was handed down.
Following a late hearing Tuesday, Hong Kong's High Court ruled that Leung and Yau would be allowed to re-take their oaths, blocking an application from the government for an interim injunction to prevent them from doing so, but it also allowed the government to proceed with its judicial review application. The next court date for the judicial review has been set for Nov. 3.
During the summer, the Hong Kong government demanded that candidates standing in the LegCo election sign documents to pledge their belief that Hong Kong is a part of China. A number of candidates were disqualified after they failed to sign the requisite documents, including Edward Leung, seen as the figurehead of the pro-independence movement.