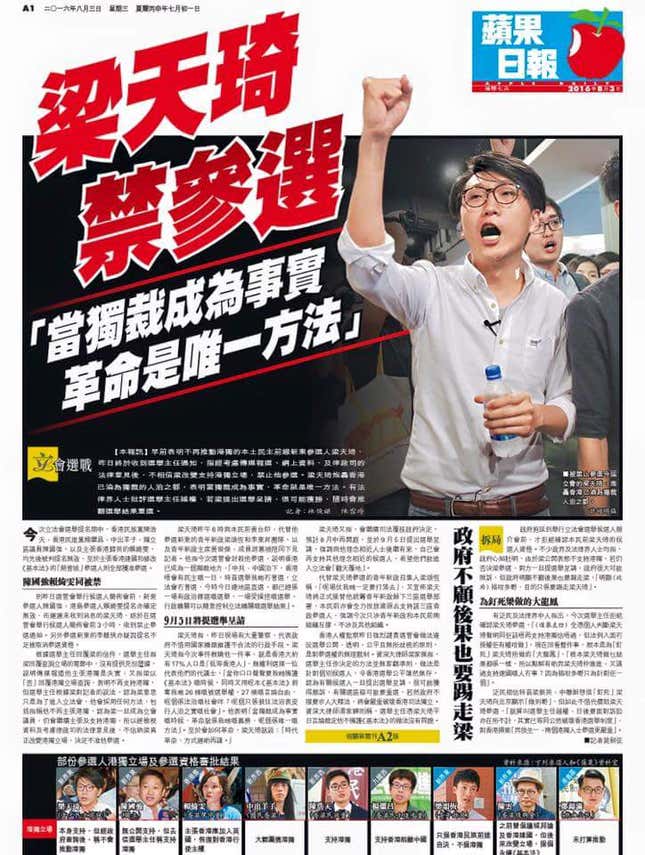 Hong Kong
An independent Hong Kong—an idea which barely existed two years ago—is suddenly a regular topic of discussion in this city of seven million, with philosophy student Edward Leung the movement's de facto recognized leader.
That's because in recent days, ahead of the Legislative Council elections in September, Hong Kong's Electoral Affairs Commission has banned six candidates from standing, ostensibly based on their pro-independence views. The rising political tension could lead to another protracted period of political instability in the city two years after the pro-democracy Occupy protests and as a new chief executive comes into office in 2017.

Leung, a 25-year-old student at the University of Hong Kong, is the most high-profile of these to be barred from running. His disqualification was announced yesterday (Aug. 2)—despite the fact that he stood in a district by-election in February and has pledged to not push for independence if elected, even though he's done so in the past.

The disqualification has sent shockwaves through the city, and particularly through its politically charged younger generation who are rallying around the idea, however far-fetched, of an independent Hong Kong. For the pro-Beijing camp, Leung's rising reputation has provided further proof that Hong Kong independence supporters are dangerous separatists that need to be quashed.
Banning the localists
Hong Kong's electoral commission recently stipulated that candidates standing in the legislative elections must sign a form pledging to accept three articles in the city's mini constitution, the Basic Law, that each reinforce that Hong Kong is a part of China.
Long-established democratic-leaning professionals in Hong Kong said it was a targeted move. "It's pretty obvious that this is directed against the pro-independence or localist candidates, on the basis that these articles are ones that these candidates are likely to disagree with," said Wilson Leung, a lawyer and convenor of the pro-democracy Progressive Lawyers Group.
Unlike most of the other five candidates who were disqualified—a ragtag group of activists—Leung signed the form. But according to documents he posted on his Facebook page  (link in Chinese) Tuesday night, the electoral commission said that he was ineligible to stand because there was ample evidence on social media showing that he trumpeted pro-independence views in the past, and no reason to suggest that he had changed those views. Hong Kong's Secretary of Justice Rimsky Yuen said today (Aug. 3) that the reason Leung was permitted to run in February was he had not espoused pro-independence views at that time.
The aggressive action by the election commission, normally a box-ticking group of civil servants, has raised questions about whether they have overstepped their role. The legality of the situation is being challenged through judicial reviews.
"Some people signed this new form, some didn't. But some of the ones who didn't were still confirmed. Some of the ones who signed it were rejected, so it's a complete mess," said lawyer Leung. "The returning officers are supposed to be civil servants who check your eligibility and be politically neutral," he added.
Inspired by the French
Banning Edward Leung from running has left many of his young supporters bereft.
Popsy Gu, 24, an English tutor, said she cried for about half an hour after Leung's disqualification was announced before going to meet her friends. "We all feel very helpless and are not really sure not to do," she said. "The most devastating thing is that we have always believed in values like the rule of law, and now we realize that that doesn't exist in Hong Kong anymore. We all feel very shocked."
Kristy Cheung, 18, a recent high school graduate, said she is a supporter of Leung because as a university student he "is a symbol of young political power."
"This kind of political censorship is not reasonable… the government should give the public a chance to vote for their representatives. I am really angry at the government's decision," she added.
The student union of the Chinese University of Hong Kong responded by vowing on Facebook to essentially recreate the French Revolution, and "regain our true liberty."
Meanwhile in recent days, a video warning of the calamitous effects of independence movements in Taiwan, Hong Kong, Xinjiang, and Tibet has been circulated around various Chinese state Weibo accounts—including those of the Chinese Communist Youth League, provincial police bodies, and the Supreme People's Procuratorate—using a hashtag that translates to "beware of color revolutions."
The video warns that independence movements could foment chaos and create the kind of instability in China seen in Iraq, Syria, and Ukraine. Oddly, it features Hong Kong protest leader Joshua Wong, who has never advocated for the independence of Hong Kong.

Like asking for the moon
There's no dispute on the facts—Hong Kong was handed back to China in 1997 from Britain, and is, as the Basic Law says, "an inalienable part of China."
Although 17.4% of people in Hong Kong support Hong Kong independence, only about 4% of people feel that it is possible, a survey released in July by the Chinese University of Hong Kong shows. But young voters say they are embracing the movement anyway, because they're finding little else to believe in in their local government.
In some cases, Hong Kong's government appears to be inadvertently fanning the flames. Interest in independence took off after Hong Kong's chief executive CY Leung in his 2015 policy address—where the city's leader lays out his policies for the next year—name-checked a hitherto little-known HKU student union magazine, Undergrad. He blamed the publication for fanning the flames of self-determination in Hong Kong and spreading "anarchy." Interest in the publication spread like wildfire, as people rushed to share PDF versions of the relevant articles and the student union reprinted copies.
Some quip that CY Leung is "the father of Hong Kong independence."
Edward Leung came to prominence as the face of localist group Hong Kong Indigenous, which was instrumental in organizing protests against mainland Chinese shoppers at border towns last year. Protesters say large numbers of shoppers from the mainland are emptying stores of basic goods such as infant formula and clogging up neighborhoods. Leung was also arrested and charged with rioting following the so-called Fishball Revolution at the beginning of this year, which saw a protest over the right of street hawkers to sell local snacks such as fishballs turn into a violent confrontation between protesters and police.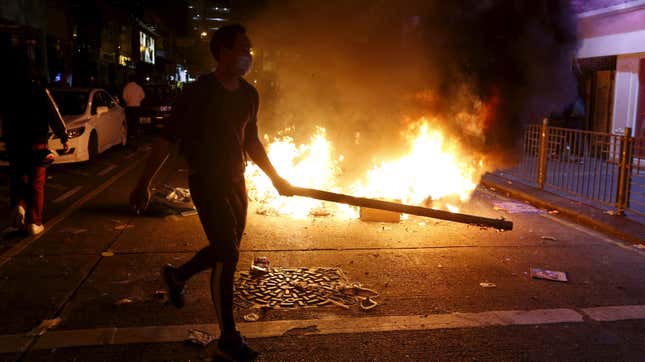 Alvin Yeung, a lawyer who ran against Leung in the February by-election and won, said that though independence isn't supported by most Hong Kong people, the idea is gaining traction, especially among young people frustrated by the old pro-democracy political parties and their non-violent means of resistance.
"Even if you know it's like asking for the moon, it's still very core to a lot of people, especially the younger generation. If you ask any one of them, 'If there's no cost to going independent, would you?' Of course they would say yes," said Yeung. "[Edward Leung] represents the new way of doing politics. [His vote share] was very, very significant."
Leung has been open about his determination to be involved in governing Hong Kong.
"Those in power do not want me in Legco [the legislative council], but even if I need to crawl into it or roll into it, no matter how, I have to enter the system. I want to run in September… I want to be a legislator," he wrote on his Facebook page on July 28 (link in Chinese). He also warned that even though he is barred from running, "there will be others that come after me."