Violent clashes broke out between police and protestors in Hong Kong late Monday night (Feb. 8), resulting in 44 police injuries and 24 arrests. Two warning shots were fired by officers after midnight, in a city where police rarely draw their guns.
The fighting began after Hong Kong police tried to issue tickets to unlicensed street food sellers in Mong Kok, a working class neighborhood. But the scale and the ferociousness of the fighting, which led to the temporary shutdown of a major subway station, point to motivations that go far beyond the plight of a few hawkers.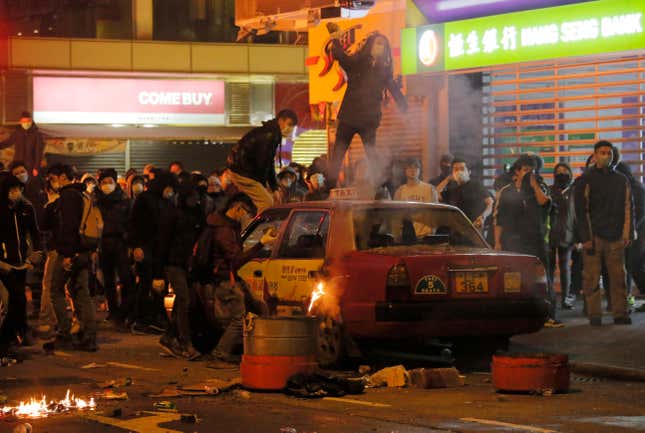 Instead, the violence appears to be borne out of a deep-seated mistrust about the direction Hong Kong is headed, under the leadership of a government that too often looks like it listens to Beijing more than its own people.
Two warning shots were fired by police at 2am.
Hong Kong's "Umbrella Movement" shut down the center of town for months in 2014, ending without the government giving any ground on the voting rules that sparked the protests in the first place. But anger at the Beijing-backed government has simmered below the surface. Mong Kok was the site of a parallel protest in 2014 that expanded beyond students to retirees and blue-collar workers concerned about the Communist Party's reach into Hong Kong.
Since then, Beijing's grip on the city has only tightened. Once thought impossible, some Hong Kong residents were recently abducted from Hong Kong soil by mainland Chinese authorities, to be brought in for questioning across the border. Their "crime" was operating a bookstore that dealt in gossipy titles full of stories about China's top leaders.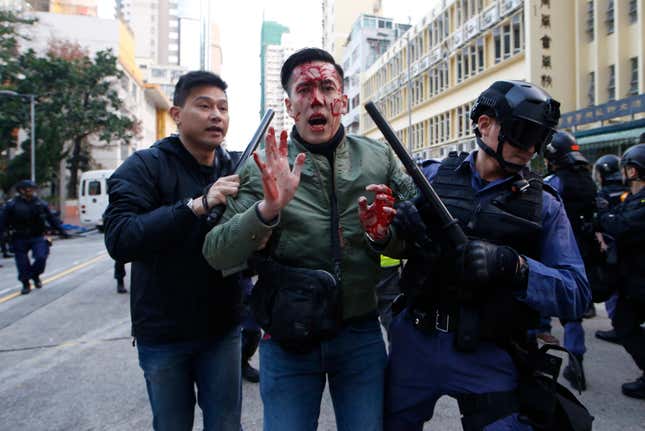 A number of those fighting with police on Monday night were identified as being part of Hong Kong's "Localist" movement. The term refers to a range of protest groups that are calling for various degrees of independence or autonomy from Beijing control. The spokesperson of one Localist group, Hong Kong Indigenous, was arrested, according to a Facebook post by Real Hong Kong News:
Protesters pointed to the long tradition of allowing unlicensed vendors to sell snacks on the first three days of Chinese New Year, which began on Monday. The protest over an attempt to clear street vendors escalated after riot police arrived on the scene with batons, shields, and pepper spray, say protestors. Meanwhile police told the South China Morning Post (paywall) that "radical elements" were armed with shields and "self-made weapons."