When Salesforce is out hunting other companies to acquire, there's one metric it looks up before that decision is made: Check how well it's rated on Glassdoor, the recruitment site that lets employees post reviews of companies and rate their experiences. It's a bit like consulting Yelp before picking a restaurant for dinner.
That's according to a presentation to Salesforce's board of directors held May 20 to discuss its attempt to acquire LinkedIn, and other potential buyouts. The presentation is contained in leaked emails from board member Colin Powell published by "hacktivist" group DCLeaks in September. Powell joined the Salesforce board in March 2014.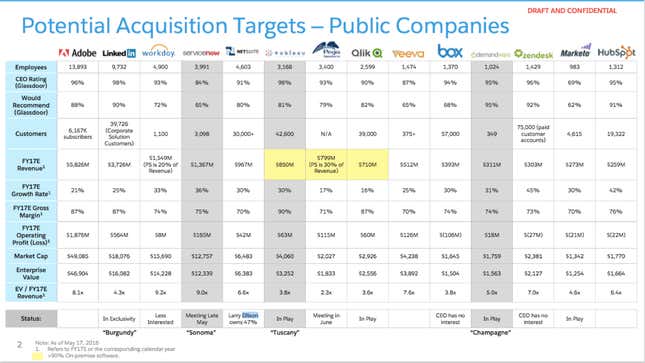 The Salesforce slides referred to four acquisition targets by codenames, which were based on wine-producing regions. They were:
ServiceNow — Sonoma
Tableau — Tuscany
Demandware — Champagne
Salesforce acquired Demandware, or "Champagne," for $2.8 billion in June, its largest deal ever (paywall), just days after the presentation was made to the board. One slide evaluating the company carried the headline, "Positive Glassdoor ratings show strong CEO approval," referring to the 95% approval rating that chief executive Thomas Ebling had on the site at the time.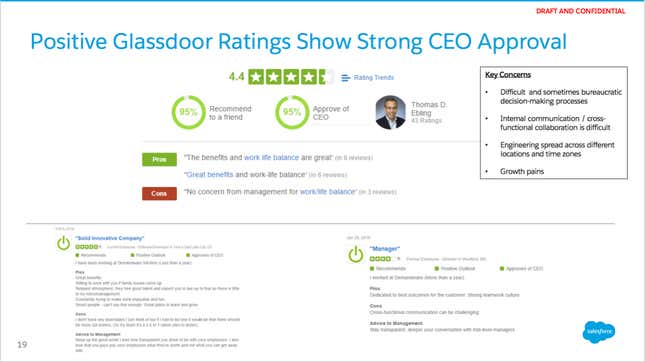 One slide discussing Demandware showed that the target company filled a "key cloud gap" for Salesforce in marketing. The slide, which compares Salesforce's strengths and weaknesses with competitors, shows four areas it considers itself lacking: ads, web and analytics, content management systems, and commerce. By contrast, Oracle, listed on the slide, possessed these competencies. Other competitors, like Adobe, IBM, and SAP had divisions or products that filled some of those gaps.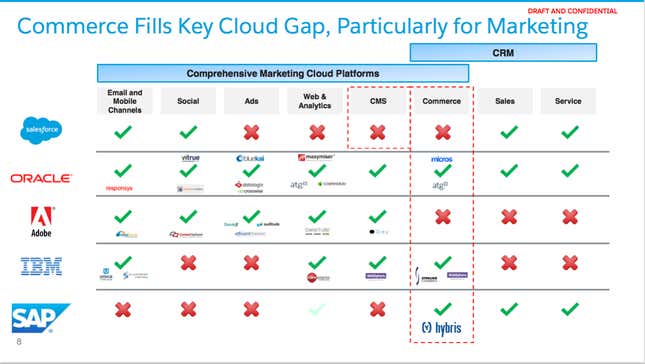 Another company, ServiceNow, garnered low Glassdoor ratings. This was duly noted in a slide in the presentation, with the header: "Below average Glassdoor rankings." CEO Frank Slootman had a 84% approval rating while 65% of reviewers said they would recommend working at the company to a friend. ServiceNow remains an independent company.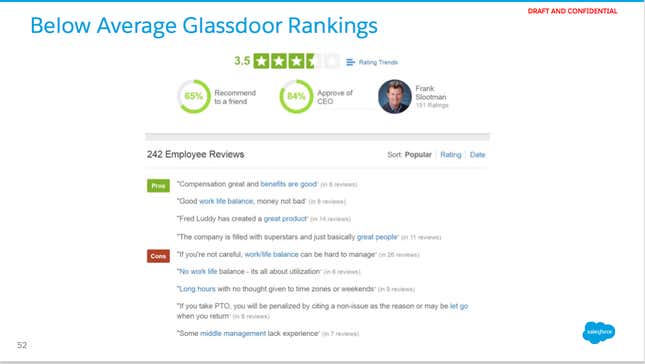 The Wall Street Journal (paywall), which first reported the presentation, noted that Twitter was not among Salesforce's buyout targets, even as recently as May. The presentation was attached to an email sent on May 19 by Salesforce chief legal officer Burke Norton to its board of directors.
The meeting was called to discuss the status of "Project Burgundy," the firm's codename for LinkedIn, which Norton had learned was now in "exclusivity" with a rival that had outbid it. This would turn out to be Microsoft, which paid $26.2 billion for the social network for professionals. As a result, the meeting would also explore "a number of other potential transactions" that Salesforce management was considering and required a board discussion "as soon as possible."