China may be a shrinking market for Apple products, but the App Store is a big hit with Chinese consumers.
After generating $1.7 billion in iOS app sales in the third quarter, China has become the biggest source of revenue for the App Store. Chinese sales topped those from the US by 15% last quarter, according to a report by analytics company App Annie published Oct. 20. The US has been the top-grossing country every quarter since 2010.
The report forecasts that China's momentum is likely to continue through 2020, and the country will continue to be the biggest driver of revenue growth for the App Store.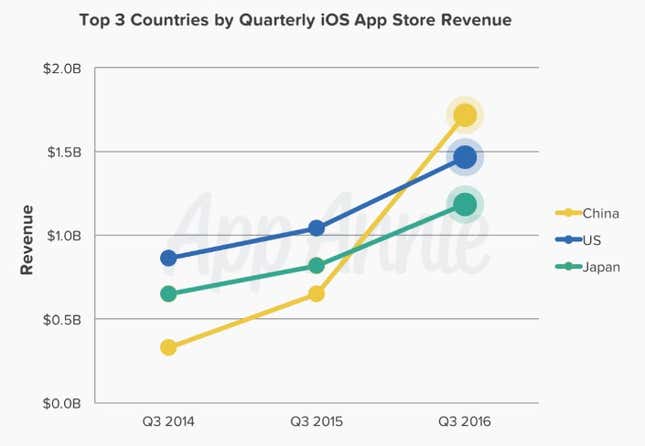 Apple's app store sales in China doubled in 2015, compared to a year earlier. The majority of the surge this quarter has been coming from games, which generate 75% of the revenue. Other categories like entertainment, social networking, books, and photo and video, have all more than tripled in revenue from the year prior.
After games, entertainment apps showed the largest revenue gains in China. Apps like iQIYI, Tencent Video and Youku dominated the pack in the video streaming category, the report says.
The increased popularity of social media apps also has its roots in video streaming. For instance, communication apps like QQ, Momo and Inke "drive a significant amount of revenue by incorporating video streaming into their communication platforms," App Annie said. Videos can become "a mainstream component" in social apps and can drive in-app purchases "via subscriptions and feature upgrades," it predicts.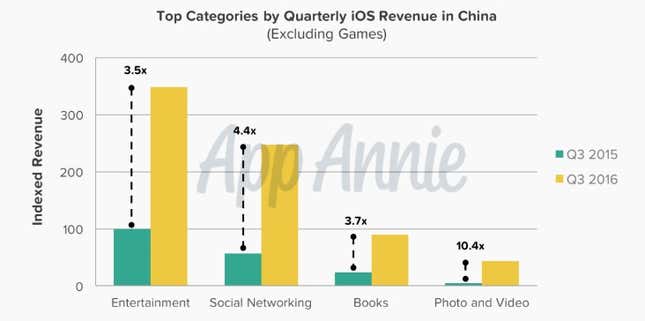 Apple's  dwindling revenue from Greater China is still concerning. Due to stringent censorship laws, the mainland shuttered Apple's iBooks and iTunes movie stores in April 2016. China's long-time love affair with the iPhone is being hurt by a saturated smartphone market in the country.
However, Apple fought back against cheaper Chinese alternatives and counterfeit products by introducing the iPhone SE, a smaller version of the smartphone with a lower price tag.
In August, CEO Tim Cook pledged to increase investment in the region. The App Store's success offers hope that regulatory and financial hurdles haven't totally closed off the Middle Kingdom yet.