Many international readers were no doubt introduced to Philippines president Rodrigo Duterte through one of his profanity-laced tirades against various international leaders and institutions. Anyone "disrespectful" enough to question his war on drugs (because, say, it involves extrajudicial killings by the thousands) has been subject to the mercurial leader's quick temper and coarse language.
But as he's shown this week on a state visit to Beijing, Duterte can also play the courteous statesman.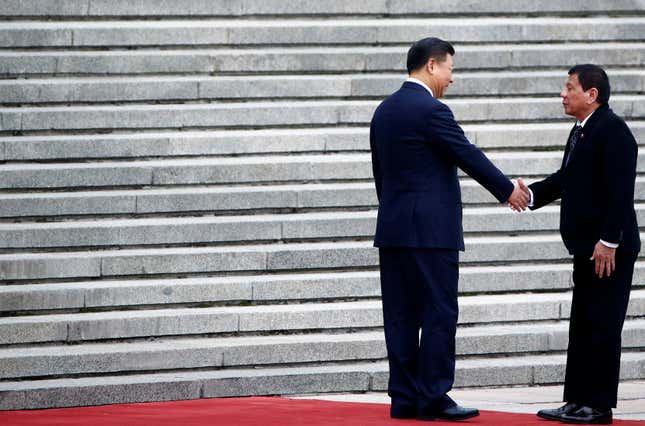 "People are used to seeing a Duterte who is invective-laced in his speeches, but in China, not a single expletive, and an extremely measured and statesman-like Duterte," said Richard Javad Heydarian, a political scientist at De La Salle University in Manila.
Of course, given the power relationship between China and the Philippines, Duterte risks appearing not just statesman-like, but obsequious. After all, the previous Philippine administration challenged China's aggression in the South China Sea by winning a case against it in an international tribunal. Duterte, who assumed power in late June, has shown little inclination to offend China by pressing claims from that headline-grabbing victory. Instead he's turned away from the West, particularly the US, and toward China, much to Beijing's delight.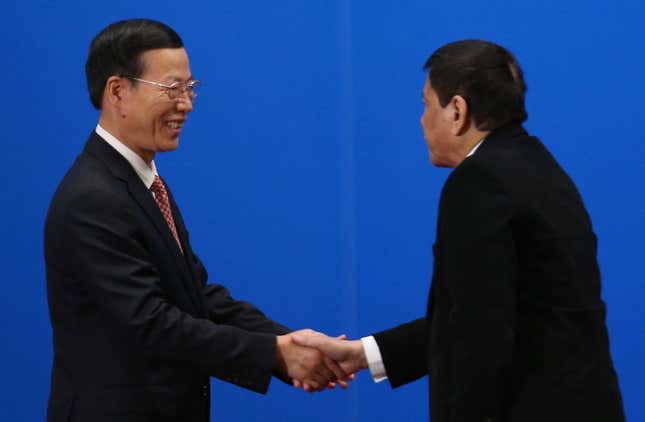 During the trip Duterte "has raised a lot of eyebrows in the Philippines," notes Heydarian. "You see sarcastic comments like, 'Was that a state visit or a tributary visit?', which shows that people are not very comfortable with how deferential he is towards China."
Then again he is on an official state visit, and he's received the VIP treatment, complete with a 21-gun salute and a walk down the red carpet with Chinese president Xi Jinping, with whom he also had a chummy conversation that went on longer than planned. China's leadership also has been respectful enough to not criticize Duterte's war on drugs. In fact, they praised it.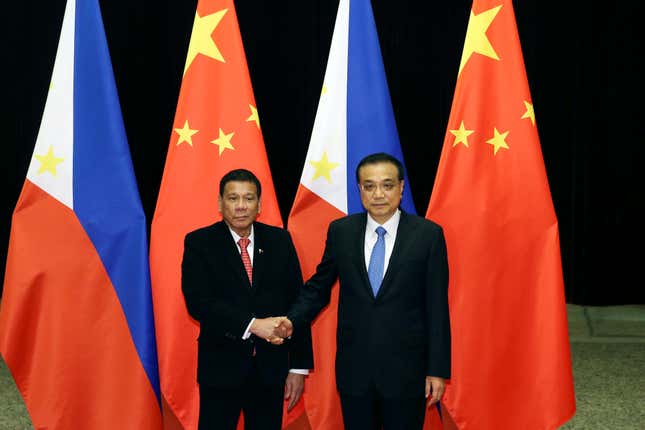 "I think he was personally emotional during the trip because he feels China is the only major superpower that is actually supporting him on his war on drugs and not criticizing him," said Heydarian. "He has this sense of personal gratitude. So I think he got a little carried away, and that explains some of his astonishing statements."
Among those statements were ones he made, to much applause, in the Great Hall of the People, that bastion of the Chinese Communist Party: "Your honors, in this venue, I announce my separation from the United States… both in military, but also economics. I will be dependent on you."
He also said during the trip that "America has lost now… I've realigned myself in your ideological flow and maybe I will also go to Russia to talk to Putin and tell him that there are three of us against the world—China, Philippines and Russia. It's the only way."
China, suitably impressed, promised the Philippines $6 billion in soft loans, plus $3 billion in credit facilities from private Chinese banks, among other deals.
From China Duterte embarks on his next state visit, to Tokyo. Japan is by far the Philippines' biggest economic benefactor, but will no doubt feel pressure to up its game after China's gestures, especially with maritime tension between Japan and China increasing of late.
"His strategy may pay economic dividends by pushing for more Chinese and Japanese development competition over the Philippines, particularly in the infrastructure landscape," said Heydarian.
In that sense Duterte is deploying the well-worn strategy of playing great powers off each other.
Duterte did not, however, pull off a perfect diplomatic performance in Beijing. At one point he referred to Chinese president Xi Jinping as "Ji Xinping."
The Chinese let that one slide.