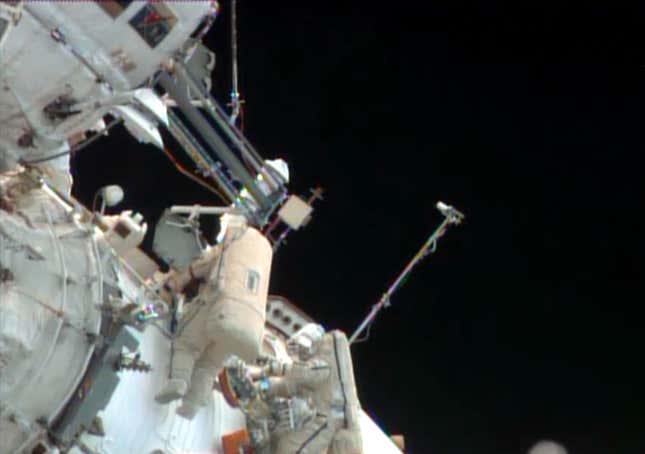 How do you get satellite imagery without a satellite?  Rather than investing hundreds of millions of dollars into a satellite system, the space startup Urthecast struck a deal with OAO RSC Energia, Russia's top aerospace contractor, to install two cameras on the International Space Station (ISS) in October 2013—including the first high-definition, earth-focused video camera in space. Urthecast (pronounced "earthcast") gets the global data, while RSC Energia has exclusive access to the Russian imagery.
We talked to President Scott Larson about the new venture, which he expects to go public on Toronto's stock exchange next year. He says the 200 gigabytes of image data Urthecast will download each day, and a community-focused online platform, will allow it to compete with everyone from consumer-focused Google Earth to commercial space imagery company DigitalGlobe.
Quartz: How did you get this deal?
Scott Larsen: I knew a guy, who knew a guy, who had done some work in Russia before. We had the relationships into Russia, and [OAO RSC Energia] came to us and said, would you like to partner with us? The general deal that we have with the Russian space agency is we provide the cameras, we split the data.
Q: What exactly is Urthecast installing on the ISS?
SL: One camera is a fixed, 50 km wide swathe at 5 meters resolution, so you can see anything that size—roads, rooftops, buildings, fields, forests, agricultural things like that. The other is a video camera [that is] mounted on a pointable platform that swivels around. That'll give us about 150 ninety-second videos per day at about one meter resolution—cars, groups of people, golf car, right on green. The ISS goes around Earth 16 times a day between 50 degrees south and 50 degrees north, so it misses northern Canada, northern Europe, northern Russia.
Q: Who are your clients?
SL: [Satellite imagery] is a couple billion dollar a year industry right now. We signed an agreement with the United Nations. They wanted to use it for crisis monitoring, environmental and humanitarian. We signed an agreement with a non-profit out of Europe that wants to use it to monitor old-growth forests in Indonesia. We've had many calls from groups that want to use it to monitor agricultural farming, forestry. The government of Brazil, as an example, wants to look at crops in the spring. Is this going to be a good year for wheat or bad? Do we need to import or can we export? You can tell that based on how high the wheat is.
Q: Why not go to another satellite company?
SL: Three things. One is the cost, certainly. To put up any kind of commercially appropriate satellite [would cost] in the several hundred million dollar range. Second, no one has video of earth from space. Third, most satellite cameras are constrained by how much electricity they have available. Because our camera is on the ISS with people living up there, we can leave our cameras on all the time, collect this massive amount of data and stream that over the web.
Q: What about political complications? I imagine if United Nations wants video of what's going on in Syria right now, Russia might not appreciate it.
SL: Space itself is well-governed and well-regulated. Because we're a Canadian company, we fall under the Canadian Remote Sensing Act. We have to be licensed in Canada and governed under this act. There things we can do and things we can't do, people we can sell data to and people we can't.  The UN has its own set of protocols and guidelines about what is appropriate in space. "Open skies" is the general theme of it.
Q: Beyond selling traditional space imagery, what are your bigger plans for this data?
SL: In San Francisco we have five people building the web platform. [You can] enter your address, see a picture of your house and your city taken two, four, six eight weeks ago, scroll back and forth in time, find out when the ISS is going to be above you next and organize an event around when you're going to be imaged from space. For your wedding, your buddies in white t-shirts spell something out on a green field. And we'll be able to stream that in near real-time over the web—not only present our content from space, but we want people to be able to add other layers of content to that imagery: Twitter, Facebook, social information, Wiki information. If you want to track your location, you come to Urthecast. I tend to think that everyone in the world is going to want to come to the website at least once. If you can see earth from space, why wouldn't you?

This interview has been lightly condensed and edited.