You may have noticed some of your Facebook friends posting updates in a giant font-size recently. They aren't shouting, and it's not their fault. Facebook has blown up the font size on status updates that are shorter than 35 characters.
This is what a giant update looks like: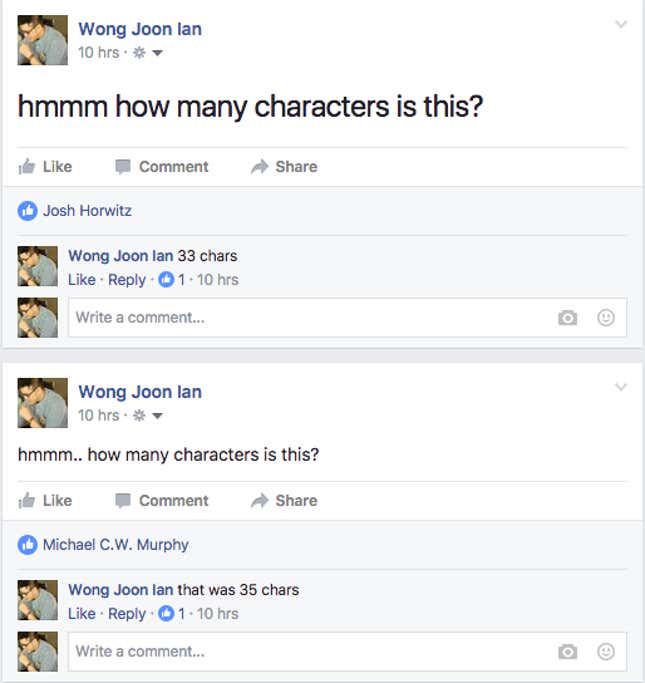 The enlarged updates are rendered in 24-point font, while normal updates are displayed at 14 points. Updates won't be enlarged—regardless of length—if an attachment is included, like a photo. There's also inconsistency in application across platforms: I saw an update in huge font on a desktop browser, but not in my iOS Facebook app, for instance.
It's not clear when the feature was activated. Redditors, other forum users, and folks on Twitter have flagged it since July. Facebook subtly tinkered with its status update font the previous month, switching from Helvetica to Geneva. It's also unclear if this affects Facebook pages belonging to businesses. I've asked Facebook for more information, but haven't received a response yet.
Updates in giant fonts certainly stand out. Maybe it's part of Facebook's plan to stem a reported decline in users sharing original content. The company calls this "context collapse," according to Bloomberg.
What's the significance of the 35-character limit? Maybe it's symbolic: it's a quarter of the characters that Twitter famously allows. Or maybe there's a more prosaic reason: super-short Facebook updates of 40 characters or less have been shown to generate the most engagement. Blowing up the font size might amplify that effect.