The mall that is home to the "world's saddest polar bear," Pizza just held an animal parade last weekend in the name of animal education (link in Chinese).
The parade included raccoons, horses, squirrel monkeys, dogs with colored fur, and Alaskan malamutes, which were chained, leashed and walked in Grandview Mall, one of the busiest shopping malls in Guangzhou, the capital of the southern Guangdong Province. (The pictures below were posted by Nanyue Jinghuang, a "food and travel writer" on Weibo, China's Twitter-esque social media).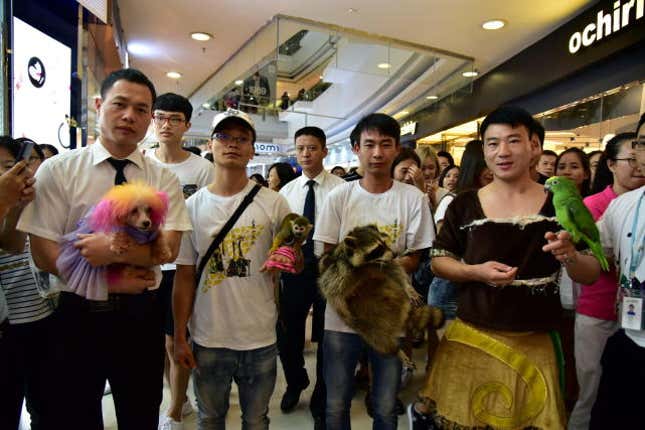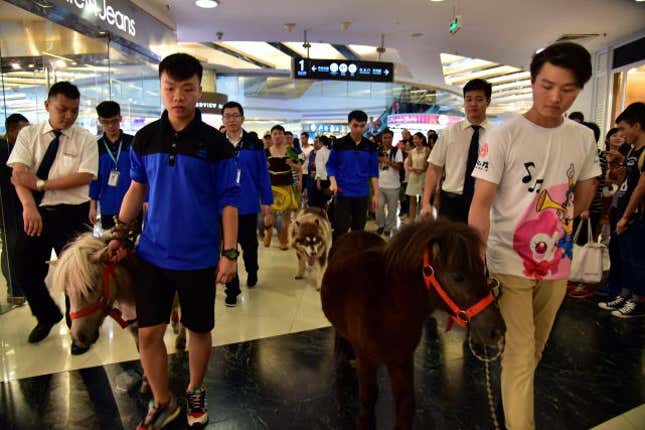 The animals, some of them protected species, were surrounded by hundreds of visitors during the parade, who came close for photos or even touched them. Most of the animals came from a five-star sightseeing park (link in Chinese) in Foshan, a second-tier city near Guangzhou.
The squirrel monkey in the display is a primate (link in Chinese) that is listed as a national protected species. The other animals shouldn't really be paraded though a mall either—among other reasons, raccoons can carry rabies, an infectious disease that can be transmitted to humans if they are bitten by a rabid animal or have open wounds, according to a US-based animal welfare group Humane Society.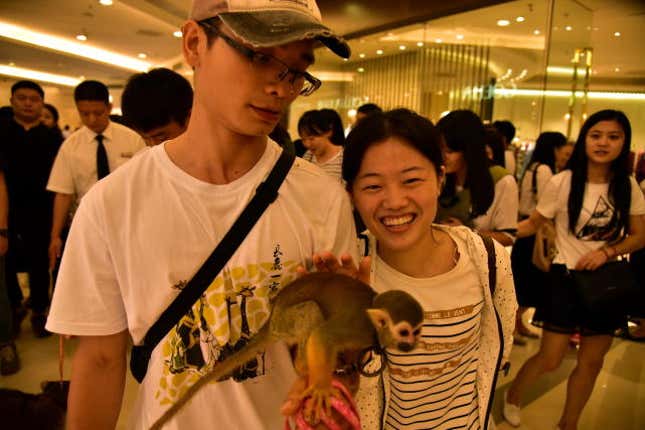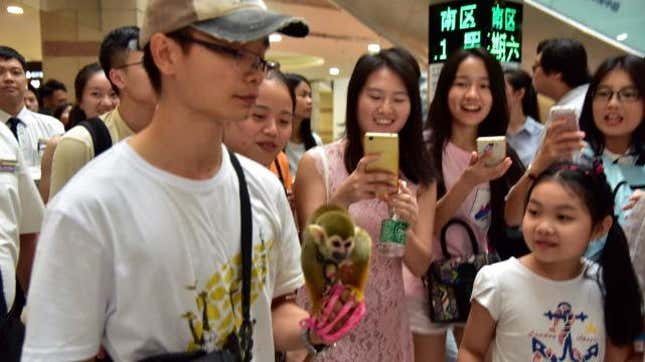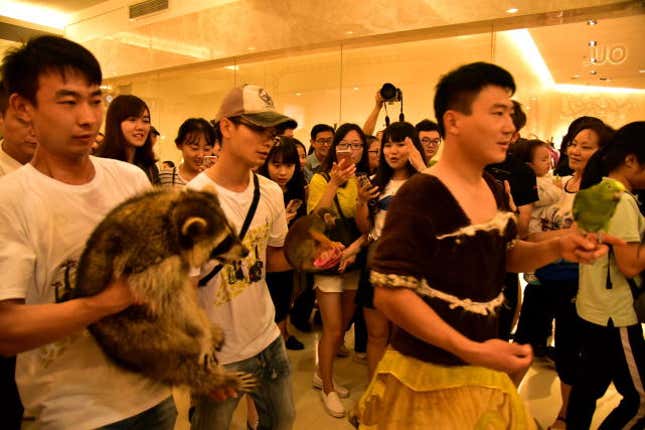 The mall's business model of using animals to lure in customers is backed by Chinese government officials. Grandview said the parade was part of its animal protection (link in Chinese) efforts in a statement released on (Oct.23):
Guangzhou Grandview Mall Aquarium has been following the principle of "Animals first", with the ground of educating the public and protecting the diversity of animal species. The mall was built legally with an experienced operation team that has constantly been working on providing a comfortable living environment and animal enrichment activities for the animals.
Last month, an attempt to relocate the three-year-old captive polar bear Pizza to a wildlife park in northern England's Yorkshire failed after the mall said that they "have no need for foreign organizations to get involved."
Despite vocal opposition from animal rights groups (link in Chinese, registration required), the mall is scheduled to open a new zoo with white tigers and white-handed gibbons early next year. "The project went through an environmental evaluation (link in Chinese, registration required) by the city's government but did not go through an animal epidemic test," said Irene Zhang from a Beijing-based NGO Humane Society International (HSI), who participated in a meeting yesterday (Oct.25) in Beijing to rescue the polar bear.
The polar bear has been displaying stereotypical behavior of an animal distressed by long-time captivity, including pacing back and forth and shaking its head, according to HSI's recent video (link in Chinese, registration required).