At its headquarters in Cupertino, California, Apple unveiled a slew of new laptops and a few other minor updates on Oct. 27. The company hasn't updated some of its computers in years, and some were long overdue for a refresh. However, Apple kept us waiting on information about its desktop computers.
Here's everything that was announced:
Apple TV gets a new hub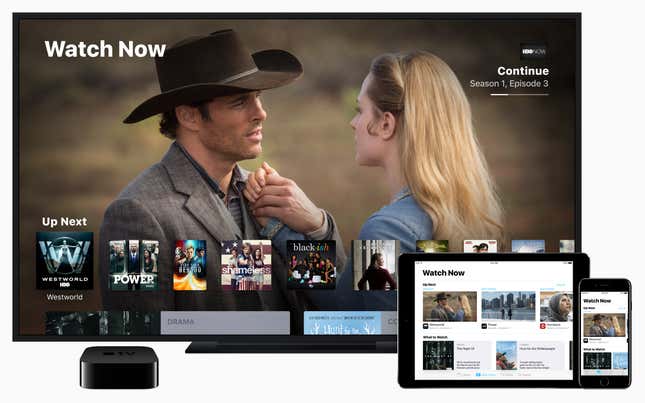 Before diving into computers, Apple made a quick foray into Apple TV. Its new app, simply called "TV," will house different content from all your favorite video-streaming apps in one place.
"We want Apple TV to be the one place to access all of your television," chief executive Tim Cook said. "It will completely change how you watch TV with your Apple TV, as well as with your iPhone and iPad." Apple's version of an interactive TV guide will sync digital catalogs and ongoing shows across all devices. A "Watch Now" pane gives curated top picks that users can browse. Once a show has been viewed, it's added to an "Up Next" queue to make it easy to pick up where you left off with a series.
You can also tell Siri to find and play a show or movie. During a demo on stage, a user asked Siri to play "Brooklyn Nine-Nine," and an episode immediately began to play, picking up at the exact point where the user last left off. Apple's virtual assistant can also seek out live broadcasts on Twitter.
The hub comes loaded with 8,000 apps—2,000 of which are games. Viral hits like Real Racing 3 and Minecraft (which is owned by Microsoft) will be available.
TV will be available for free with a software update in December, but what you can view will be limited to the paid services you subscribe to. Users also have to individually sign into each of the various apps before Apple can start aggregating.
Although the catalog's look and feel is reminiscent of Netflix, the wildly popular video-streaming app isn't part of TV. And unlike Netflix, which lets one account have multiple user profiles, Apple's TV app did not announce any provision for shared devices.
New MacBook Pros
The main focus of the event was the overhaul of Apple's flagship laptops. There will be three models available, with very similar names:
The two machines on the right will have a small touch screen where the function keys usually sit on a keyboard (more on that later), and the computer on the left will just have regular keys. They're all called MacBook Pros, but the 13-inch model without the touch screen seems intended to be Apple's replacement for its Air line of computers, which were not updated today.
Design-wise, these laptops are not wildly different than the first high-resolution ones Apple released four years ago—apart from the two with the additional touch screens. They're thinner and lighter than their predecessors, and early reports suggest that they won't have illuminating logos on the back like the old ones had.
When Apple introduced the new MacBook last year, one of the main criticisms against it was that had far too few ports—other than a headphone jack, it had a solitary USB-C port that doubled as the only way to plug anything into the computer, and the way to power it. Thankfully, Apple's war against ports seems to have been allayed with the new Pros, which have four USB-C ports, and, unlike the new iPhone 7, a headphone jack.
The new low-end 13-inch MacBook Pro goes on sale today, and starts at $1,500. The versions with the touch screen will ship in 2-3 weeks, with the 13-inch starting at $1,800, and the 15-inch model starting at $2,000.
With a small touch screen
Apple's biggest announcement for the new MacBook Pros was the Touch Bar, an OLED touchscreen that replaces the top row of function keys on the MacBook keyboard. Instead of having those static keys we know and love, the Touch Bar will show different buttons for different apps. You can also program the bar to show a custom set of commands, including a screenshot shortcut—much like editing a Mac's Finder buttons.
For any creative types potentially intrigued by yesterday's Microsoft event, Apple showed off the Touch Bar's use in editing video, photos, and mixing tunes for DJs. The bar will be supported by Adobe products by the end of the year, a big win for Apple as Adobe's software collection is a mainstay of photographers, videographers, artists, and designers.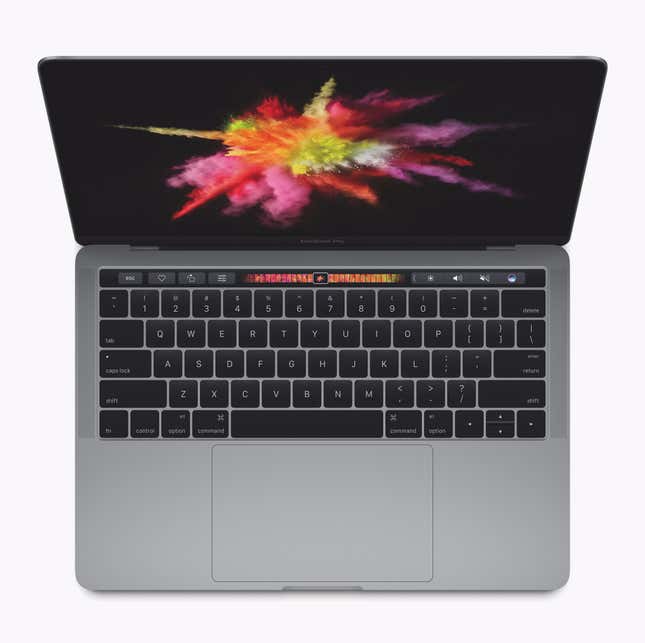 The Touch Bar also brings Apple's fingerprint recognition, TouchID, to the Mac. The feature will be built into the power button, located on the right side of the Touch Bar. For those who share their laptops with family members or friends, TouchID will automatically recognize different fingerprints and log in the associated user.
Using fingerprints to log in and even make purchases can pose a security threat, so Apple installed a new T1 chip to manage its Secure Enclave. That feature, found on iPhones and iPads, separates encrypted keys used to unlock the device from the rest of the computer, keeping it safe from a myriad of hacks.
An external display—not made by Apple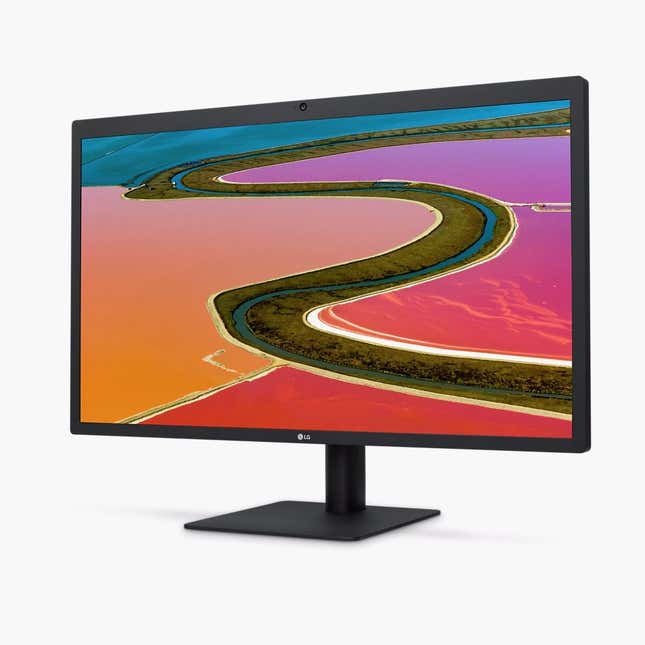 Apple hasn't released its own display in over five years, but Phil Schiller, senior vice president of worldwide marketing, quickly mentioned a new external display that Apple created in partnership with the Korean electronics manufacturer LG. The 27-inch display supports 5K video, has built-in stereo speakers, a camera and microphone, and three USB-C ports that can be used to power a new MacBook or MacBook Pro. The display costs $1,300 and will be available in December.
A lot of questions
Apple didn't provide any information on when it might update any of its desktop computers, such as the iMac, Mac Pro, or Mac Mini—some of which haven't seen refreshes in four years. It also wasn't entirely clear whether Apple was killing off its most affordable line of laptops—the MacBook Air.
The computers are still available to buy on Apple's website, but they were not mentioned on stage (other than to compare against the new MacBook Pros, which are thinner and lighter). Apple also didn't provide any updates on the iPad Pro, the larger tablet with a stylus that it unveiled over a year ago.