Netflix shares are soaring after another outstanding quarter. And as of right now, that's pushed the market value of the disruptive streaming TV company above CBS Corp, which, by most measures, operates the highest rating broadcast TV network in the US.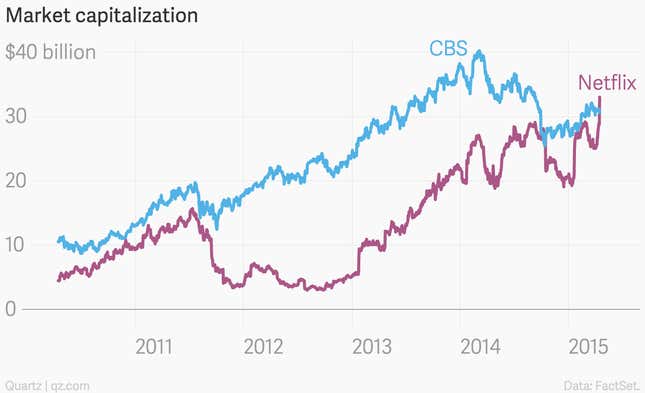 CBS's rivals in broadcast TV are all housed within bigger media conglomerates (although the company also owns cable channel Showtime and various other publishing, radio, and internet assets).  For example, NBC is owned by Comcast, the gigantic cable company; ABC is part of the Disney empire and Fox is owned by 21st Century Fox, Rupert Murdoch's film, TV, and cable colossus.
Netflix remains far smaller than all of them.
Still, the fact that Netflix's market value has risen above CBS's is significant, because it is becoming increasingly clear that the streaming TV company's ambitions go far beyond its feted rival, HBO. As BTIG's Rich Greenfield pointed out yesterday (registration required), Netflix wants to replace linear TV:
Netflix is clearly focused on replacing linear television with on-demand, ad-free programming on a worldwide basis.  The company has begun to not only license content on a worldwide basis, but also create content that has worldwide appeal.
Netflix became more watched than any cable channel in the US several years ago, according to Greenfield's analysis. It seems inevitable that it will soon become the most watched service of any kind in the US (if it isn't already), and probably abroad.