A magnitude 6.6 earthquake struck near the town of Norcia in the Umbria region of central Italy, the strongest quake the country has felt since 1980. About a dozen injuries and no deaths have been reported so far. Authorities indicated that fatalities may have been avoided because many of the residents who might have been affected were driven from their homes by a pair of quakes that struck four days ago near Visso, in central Italy.
Today's seismic event is the latest in a longer sequence, according to the U.S. Geological Survey, including the Visso quakes on Oct. 26 and an Aug. 24 quake in Amatrice that killed 300 people. Today's tremors were felt in Rome, about 110 km away, where the metro was temporarily closed for safety inspections.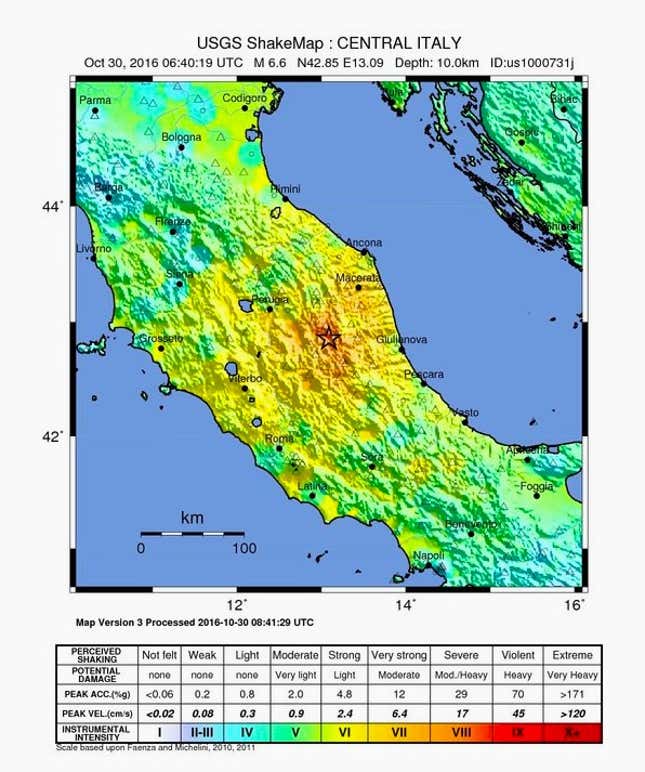 The Norcia quake has destroyed the Basilica of St. Benedict in Norcia, based on a photograph tweeted by the Monastery of San Benedetto. The basilica is said to have been built in the first century atop the birthplace of St. Benedict; it attracts about 50,000 visitors a year. The monks who care for the basilica have been living in temporary dwellings since August, when their monastery was damaged by the Amatrice quake.
A weaker quake followed by a stronger one earlier in the week had seen a "miraculous" avoidance of fatalities, as the Italian interior minister put it at the time. It also meant that many of those who might have been hurt by this morning's quake had already been evacuated from their homes, sleeping in cars or shelters in other areas. The mayor of Ussita was asleep in his car when the Oct. 30 earthquake hit. "It's a disaster," he told the ANSA news agency.
The deadly August quake has triggered 41 seismic events measuring over 4.0 in magnitude, according to the USGS. The Oct. 26 quakes were aftershocks from the August event. The region has seen a number of devastating earthquakes over the years, including a 1915 quake near Avezzanno that killed 32,000 people, and a 2009 quake in L'Aquila that killed at least 295 people and left more than 55,000 people homeless.
This morning's quake is the strongest quake to hit Italy since the magnitude 6.9 event in the southern Italian region of Campania in 1980. The effects of that quake killed nearly 3,000 people and left 200,000 people homeless. The Leaning Tower of Pisa shook for 22 minutes after that quake, according to the New York Times (paywall).