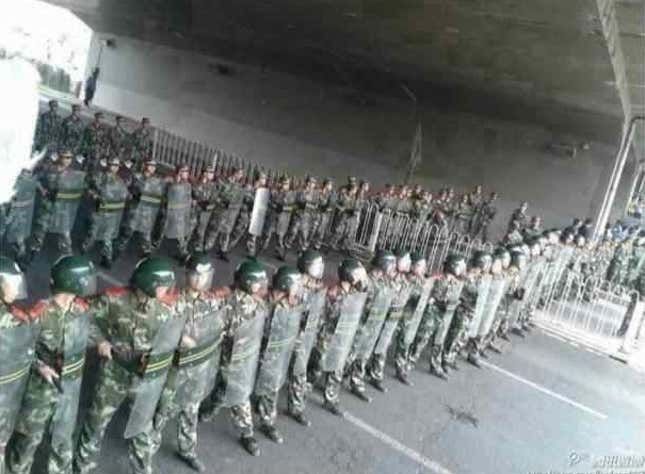 Earlier today, the Beijing Public Security Bureau reported that "non-Beijing residents" were gathering in Fengtai District, in southwest Beijing, to "reflect discontent" with the May 3 death of a woman who had allegedly been gang raped (link in Chinese). The death of the woman in question, a 22-year-old worker from Anhui province, occurred hours after she was allegedly gang raped by security guards; authorities determined that there were "no suspicious circumstances" (link in Chinese).
By the late afternoon, the protests had escalated (link in Chinese), and crowds had grown to thousands, according to Chinese pop culture blog Beijing Cream, and Chinese police and paramilitary forces thronged the area. (Here's a Youtube of the protests, and some photos via @niubi, plus another here.)
Local sources say that some details of the case make the lack of suspicion from police investigators questionable (links in Chinese). For instance, the police refused requests from the woman's family to see surveillance footage on the grounds that it was unrelated to the case, according to local reports.
At present, web searches relevant to the protests—such as Yongdingmen, a part of Bejing where demonstrations are taking place—appear to be blocked on Sina Weibo, China's version of Twitter.
Another recent high-profile gang rape case sparked similar public outrage. In February, the son of a major-general in the People's Liberation Army was arrested for allegedly taking part in a gang rape in a Beijing hotel. Rumors that the suspect, Li Tianyi, was being protected due to his father's elite political status roiled the Chinese public (paywall), while others took the younger Li's violent streak—he had previously spent a year in a correctional facility for beating up an older couple into whose car he crashed—as a sign of the spoiled upbringings of the "fu er dai," meaning the "second generation of the wealthy." No word has yet emerged on whether Li has been convicted; the case is still working its way through China's court system.
Though it's not clear that Li has benefited from political connections, the public's perception is that such abuses are rampant. And those perceptions have been fueled by a slew of events, such as the 2010 incident in which a 22-year-old son of a deputy police chief ran over a university student. Before fleeing the scene, the driver, whose name is Li Qiming, allegedly said "Go ahead and sue me. My father is Li Gang." The phrase "my father is Li Gang" took off as a meme invoked when trying to dodge blame. (Li was eventually sentenced to six years in jail.)