Perhaps it was the lack of ports that did it for you. Or maybe it was the removal of the MagSafe power connector. Or maybe it was the weird mini-touchscreen that replaced the function keys for an extra $300. Or maybe you just think Apple is boring now.
Whatever the reason, it seems that the new MacBook Pro, announced last week, has been somewhat underwhelming critics and prospective buyers. While the computers are as well-built as any Apple product in recent memory, they seem to be needlessly minimalistic and expensive, removing all the ports, bar four USB-C ports that don't connect to any legacy Apple products, or even the company's newest smartphones without buying more cables. They also feature a thin touchscreen that is likely frustrating to use if you're blind, and last year's processors.
If any of these factors are causing you to reconsider your relationship with Apple's laptops, this guide is for you. Quartz has complied a list of Windows laptops to consider, as well as Windows programs, to replace the MacBook-shaped hole in your life.
Windows laptops
There was a time when Apple was really the only company that seemed to be able to pull off well-designed laptops. But in recent years, some of the largest Windows computer manufacturers have shown that they too can produce some great designs, and Windows 10, Microsoft's latest operating system, is actually not terrible. Here's a few computers that longtime Mac users may want to consider over the new MacBook Pro:
Ones that look like MacBooks
ASUS ZenBook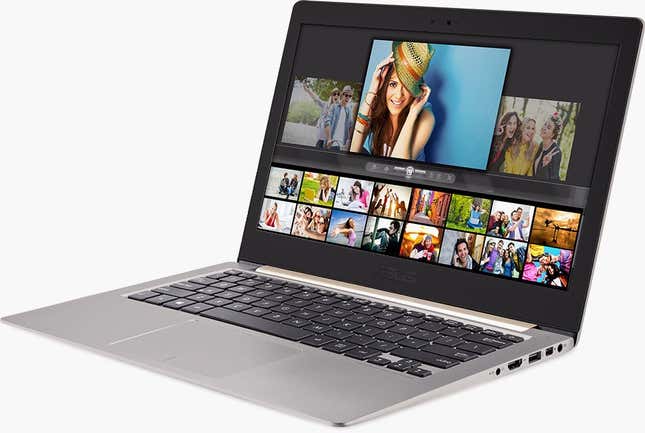 The ASUS line of laptops have been getting decent reviews, and the UX303UA model looks like a slightly more angular MacBook Pro. For $900, you get a 13-inch machine with the same basic specs as the new MacBook Pros (an Intel Core i5 processor and a 256 GB solid-state hard drive) as well as decent battery life and a touchscreen. And it comes in rose gold. The UX390UA model, which ASUS is also calling the ZenBook 3, happens to look just like a MacBook, as well, except that it comes in a nifty shade of blue: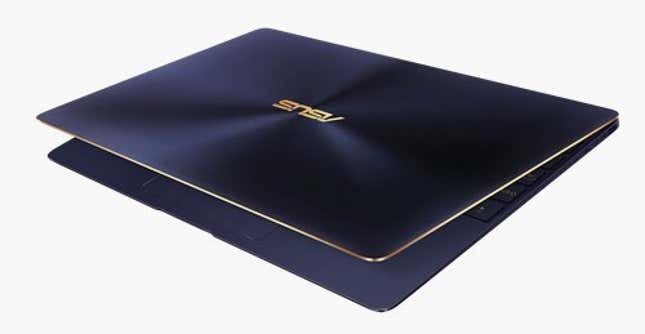 HP EliteBook Folio. From a distance, it would be very easy to mistake this for a MacBook, were it not for the rather large HP logo just below the screen. The Verge called it a "beautifully designed laptop" (although gave it an underwhelming 6/10 review). For $1,000, you get a 128 GB solid-state hard drive and 8 GB of RAM, but you also get a touchscreen that folds down 180 degrees (for some reason), a biometric infrared eye scanner (like the one in the exploding Samsung Note 7), and a computer that is apparently drop- and dust-proof.
HP Envy 13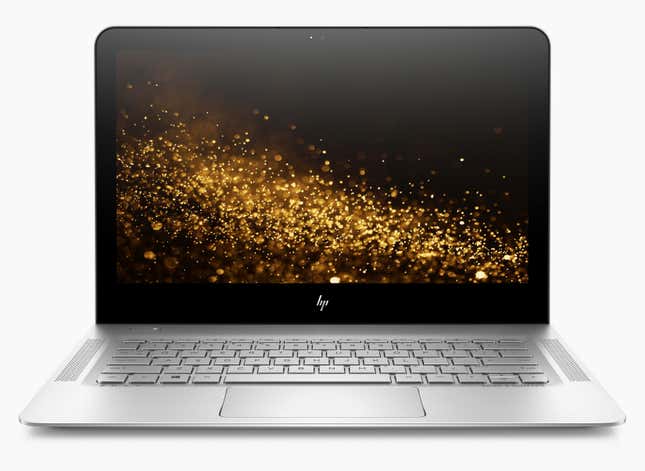 CNET said HP's other MacBook clone was one of computers that ushered in an era where "quality became affordable" in Windows computers. This $850 machine has the same basic specs as the EliteBook Folio, without the touchscreen.
HP Spectre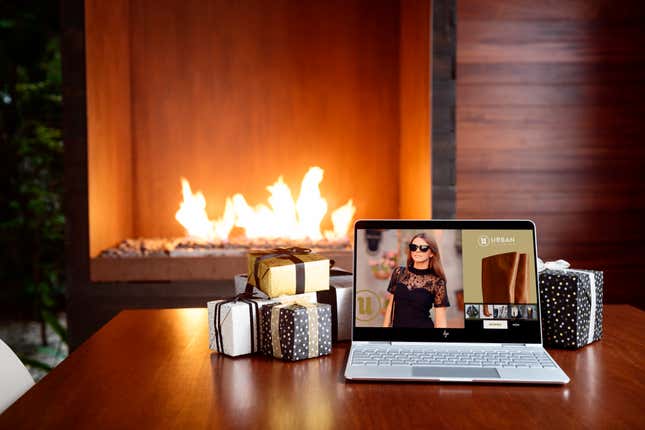 HP's super-thin flagship laptop, which the company says was built with "artisan materials and striking craftsmanship," looks rather like a MacBook designed in the 1980s: Replace the silver for black and gold, and you get the Spectre. The computer has a 13.3-inch touchscreen, a battery that can last all day, 8 GB of memory, a 256 GB solid-state hard drive, and will set you back about $1,200.
Microsoft Surface Book
Microsoft's first homemade laptop got a specs refresh just last week and is definitely a different machine from the MacBook Pro, even if it looks quite similar. It features a zany bendy hinge, a detachable touchscreen, and works with a stylus so you can draw circles on the screen to your heart's content. For $1,500, you get the pen, 8 GB of memory, and a 128 GB hard drive. There are lots of upgrade options, all the way up to a $3,200 machine with a 1 TB hard drive and 16 GB of memory, if that's something you feel you need.
Ones that look like something different
Lenovo ThinkPad X1 Yoga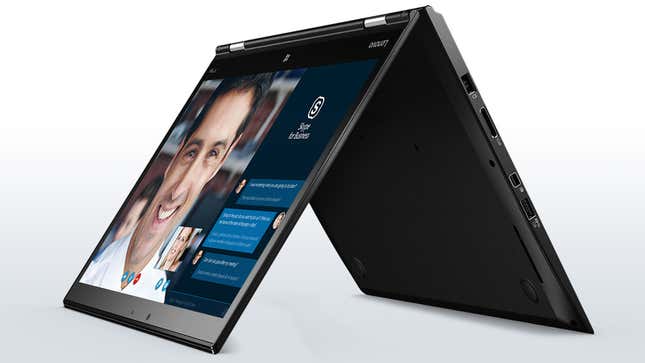 Lenovo's ThinkPad design, which dates back to when IBM still produced these laptops, has been around for decades. But this machine features a high-resolution 14-inch touchscreen that folds back to turn it into a tablet. It also has a fingerprint reader, and iffy battery life, according to The Verge. For $1,400, you get a 128 GB hard drive, 8 GB of memory, and that weird little red nub mouse thing that's been on every ThinkPad computer ever.
Lenovo Yoga 900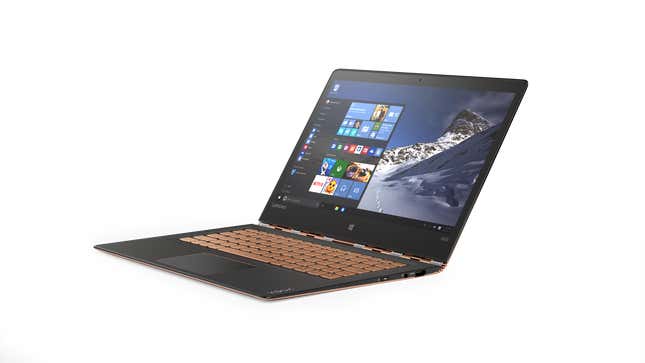 Much like the other Lenovo Yoga on this list, this thin touchscreen laptop can contort itself into a tablet setup, but this one comes in a striking shade of bright orange, and doesn't have the weird nubby mouse. For $1,150, you get a 13.3-inch screen, 8 GB of memory, and a 256 GB hard drive. (There's also a newer 910 model that costs about $200 more for roughly the same specs and does not come in the same shade of orange, sadly.)
Dell XPS 13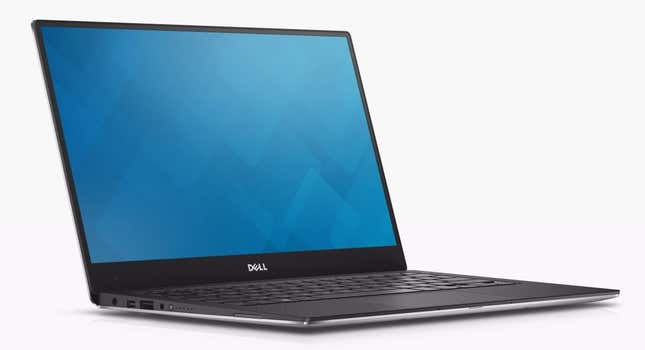 Many publications, including The Verge, Wirecutter, and PC World, have called Dell's laptop the "best" Windows computer out there. The screen is wonderfully sharp, and almost seems to bleed onto the edges of the device, as there's almost no bezel around it. The body is a combination of aluminum and carbon fiber, and would not look out of place in a Christopher Nolan Batman film. The XPS 13 starts at a measly $800, and for that you get Intel's newest processors, 4 GB of memory and 128 GB of storage. For $1,150, you can get the specs to match the MacBook Pro. Dude, you might be getting a Dell.
Razer Blade Stealth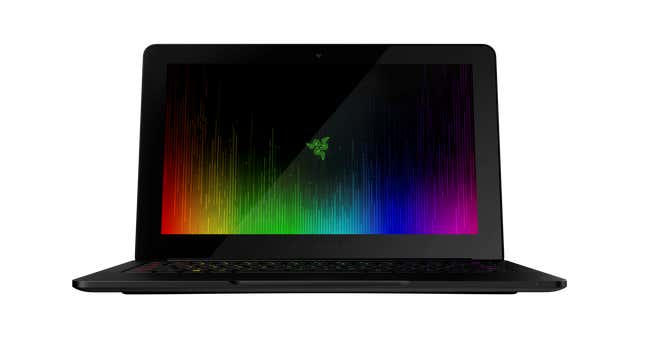 Gaming-computer company Razer has made some impressive laptops in recent years that are powerful enough to play some of the most processor-heavy video games on the market—something Apple has never striven to do. The Blade Stealth kind of looks like a metal version of the old plastic MacBooks, and for $1,600, you get the newest Intel chips, a 4K touchscreen, 512 GB of storage, and a whole bunch of ports. But you'd also be supporting a company that has recently made some very questionable marketing decisions.
Replacements for Apple apps
One of macOS's main selling points over the years has been the suite of (relatively) simple-to-use and often free software that comes bundled with Mac computers. There aren't direct correlations on Windows, but here are a few programs that could replicate some of the most-used Apple apps:
iTunes. There aren't a whole lot of decent music management programs out there in 2016 (and even iTunes isn't all that great), but you can use iTunes on Windows machines if you're sticking with your iPhone. If, however, you want a clean break from Apple, Google's music management service, Google Play Music, is pretty great. Follow these instructions, and Google's music manager will trawl through your computer and upload all the music on your hard drive for free, up to 50,000 songs. There's also always Windows Media Player, but that's never really been a great choice.
Photos. Windows comes with a built-in ability to manage photos, but if you want something a bit more powerful, you can subscribe to Adobe Lightroom for $10 per month. Otherwise, again, Google offers a powerful free solution, called Google Photos. There are Android and iOS apps, as well as a website that lets you upload and catalogue every photo you've ever taken, and search them using regular words. You can search for your photos of "cats" or "taxi" or "food" or "France," and it'll find all the photos that fit that description using AI. Google Photos also allows users to upload an unlimited number of photos and videos in HD, though not the full resolution of the photo. Yahoo's Flickr offers a similar service, with 1 TB of photo-storing space for free.
iWork (Pages, Numbers, Keynote). This one should be pretty easy to replace: For office productivity software, the unsurprising choice is Microsoft Office. You can buy a home edition online for about $120, or subscribe to Office 365 for about $70 per year, which gives you access to your documents in the cloud (with 1 TB of storage), and auto-updating desktop apps. There are also far cheaper options out there, such as Google Docs, whose web apps work about 90% as well as their Microsoft or Apple counterparts.
GarageBand. This is one small area where the Mac ecosystem really shines, as there aren't many great inexpensive replacements on Windows. You could get an emulator to try to run the Mac program on a Windows computer, but I wouldn't recommend that. If you're just looking for a simple voice recording tool, there are options like Audacity, which works exceedingly well for what it does. For more complex projects, there's the open-source LMMS, which is maintained by a group of engineers for free. Stagelight 3, which looks very similar to GarageBand, costs $10 for the basic software, or $50 for the full package. There's also more professional software like Abelton Live, which ranges from $100 to over $700.
iMovie. Similar to Garageband, there aren't any direct correlations between Windows and Mac for hobbyist movie-makers. Microsoft does make a program called Movie Maker that is not wholly unlike iMovie, but a version for Windows 10 hasn't officially been released yet. There are free options like avidemux and the VSDC video editor. If you want something with the utility of iMovie, you're likely going to have to pay for software like Adobe Premiere, which you can purchase as part of a $20-a-month or $50-a-month subscription bundle from Adobe.