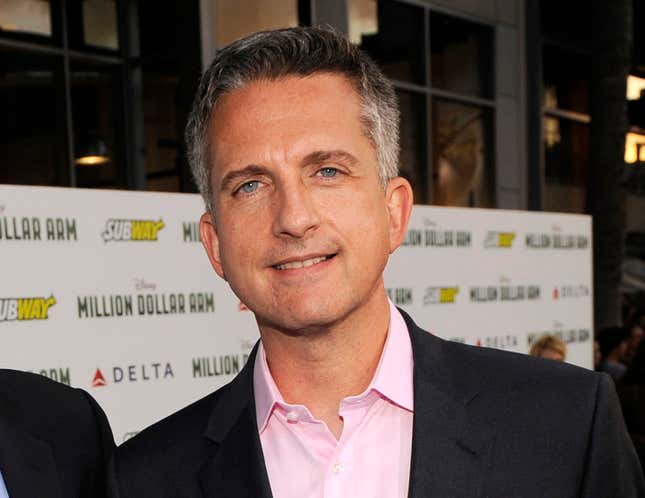 After only four months on the air, Bill Simmons's weekly HBO talk show is dead in the water.
HBO announced today that it has canceled Simmons's Any Given Wednesday because it didn't get the viewership or buzz the cable network had hoped for. The show's final episode will air on Nov. 9.
Widely known as "The Sports Guy," Simmons was tapped by HBO last July after he was dropped from ESPN. He inked a three-year deal, reportedly earning $7 million to $9 million a year, to host the talk show and develop other projects for HBO including podcasts, documentaries, and shows.
At ESPN, Simmons's home for 15 years, he became one of the most prolific figures in sports media. He helmed the critically acclaimed but now defunct site Grantland and spawned the idea for ESPN Film's award-winning 30 for 30 documentary series.
Since leaving ESPN, he's built up a lucrative podcast network as well as a sports- and pop-culture site called The Ringer through the Bill Simmons Media Group, which HBO is a minority investor in.
But Simmons's cult-like following hasn't translated into strong viewership for HBO. The premiere telecasts of Any Given Wednesday averaged a paltry 200,000 viewers so far, according to the Hollywood Reporter. And the show hit a new low on Oct. 26 with just 82,000 viewers.
"We loved making that show, but unfortunately it never resonated with audiences like we hoped," said Simmons in a statement. "And that's on me."
HBO said it will continue working with Simmons on projects as part of his multi-year deal, but does not yet know what those projects will be.
"HBO is committed to Bill Simmons, and we are excited to bring his unique vision to bear on an array of new programming initiatives under the HBO Sports banner in 2017," said Peter Nelson, executive vice president for HBO Sports.