American voters can be fickle. Over 10% of them still don't know whether to vote for Hillary Clinton or Donald Trump, according to national poll averages. And they can be deterred from voting altogether by the most mundane of factors: the weather.
A 2007 study looked at voter turnout data from 14 presidential elections, and found that "rain significantly reduces voter participation by a rate of just less than 1% per inch." We assembled Nov. 8 weather forecasts for nearly 20,000 American cities, towns, and villages from OpenWeatherMap to identify areas of the country where rain might cause voter turnout to drop.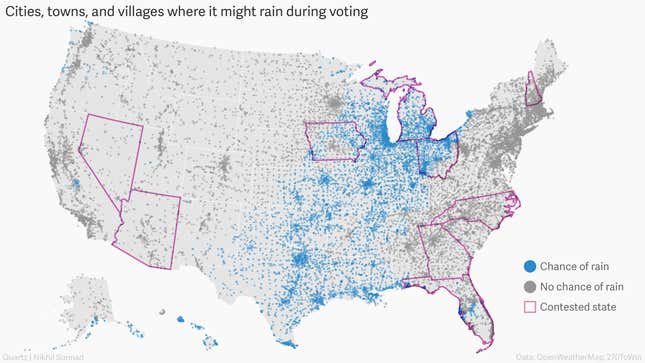 Rain will potentially have its most important effect in the Midwest, where Clinton and Trump are battling over Michigan and Ohio. Those critical swing states are likely to experience showers in the afternoon. On the whole, though, the country looks like it will stay pretty dry.
Which candidate would benefit from rain? The 2007 study discovered historical correlations that suggest rain is better for Republicans. The main hypothesis for the trend, the authors write, is that higher turnout generally benefitted the Democratic party because, though it has smaller core of voters than the Republican party, it is more likely to adopt independent or infrequent voters. It's unclear whether that's true this time around, though some polling does indeed suggest Clinton is more popular among less enthusiastic voters. So a bit of rain may be a minor boon to Trump if it deters these reluctant Clinton supporters.
There is another long-held view in political meteorology: in addition to rain, cold weather is believed to deter voters. The 2007 study found no evidence of this relationship, but it still makes sense and has support. "It is usually the air temperature that influences people's decision of whether to head to the polls or not, rather than precipitation," wrote AccuWeather, a weather forecasting site, citing its own "business intelligence manager."
Either way, temperatures across the country will be pretty agreeable, and are not likely to get in anybody's way.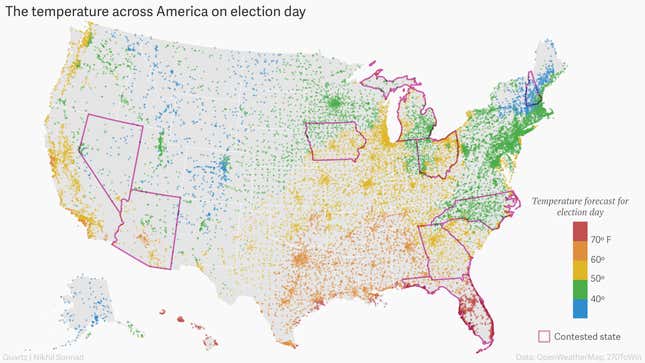 All in all, it looks like a nice day for an election. So if you don't like the outcome, don't blame the weather.