There is, by the least favorable estimate (Nate Silver's FiveThirtyEight), a 70% chance that Hillary Clinton will become the next president of the US. If you're reading this and that has now happened, we have something to help you celebrate.
Amid all the anxiety it's important to remember Clinton's achievement: after 240 years, the US has elected its first female president. Quartz's cocktails czars have created the Shattered Glass as a fitting testament to this grand occasion.
It's based off the classic Champagne Cocktail recipe, which contains champagne, cognac, a sugar cube soaked in bitters, and some citrus fruit for garnish. In the Shattered Glass, we've replaced cognac with golden tequila, for all the "bad hombres" Trump would have tried to get rid of. We've also mixed in (yes, it sounds crazy, but trust us on this) small amounts of sriracha sauce and jalapeño juice, both of them favorites of Clinton, who eats a raw hot pepper daily to fortify her immune system. Finally, to sweeten Clinton's victory and offset the zing of the pepper, we added a little orange liqueur—the color of Trump.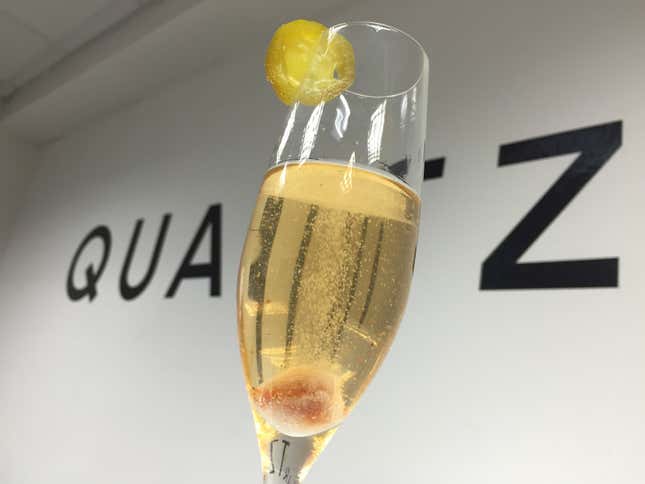 Ingredients
To make one serving, a "part" is 1/4 oz if you use American measures, or 7.5 ml if you use metric ones. For more servings, just up the quantities while keeping the ratios.
2 parts golden tequila
2 parts orange liqueur (e.g., Cointreau, Triple Sec, Grand Marnier)
8 parts champagne
1 sugar cube
few drops of bitters
few drops of pickled jalapeño juice
1-2 drops of sriracha sauce
Preparation
Drip the sriracha sauce into a measuring cup. Add tequila and orange liqueur, and mix it to break up the sriracha. Then pour into a fluted glass.
Dip the sugar cube halfway into the pickled jalapeño juice. Add a few drops of bitters on the remaining side. Drop it into the glass.
Pour the champagne into the glass. Garnish with a sliced jalapeño.
Sit back and savor the sweet, fizzy, and complicated taste of a Clinton victory.