Apparently incapable of avoiding political controversy, Urban Outfitters has messed up again, this time by spreading misleading information about today's presidential election.
On Nov. 7, the millennial-friendly retail chain tweeted out a "handy guide" to the election that said voters would need both a "voter registration card" and an ID on them at the polls. The tweet went out to Urban Outfitters' million-plus followers, but it's almost entirely wrong: As ProPublica pointed out, no US states require a voter-registration card, and only some require ID.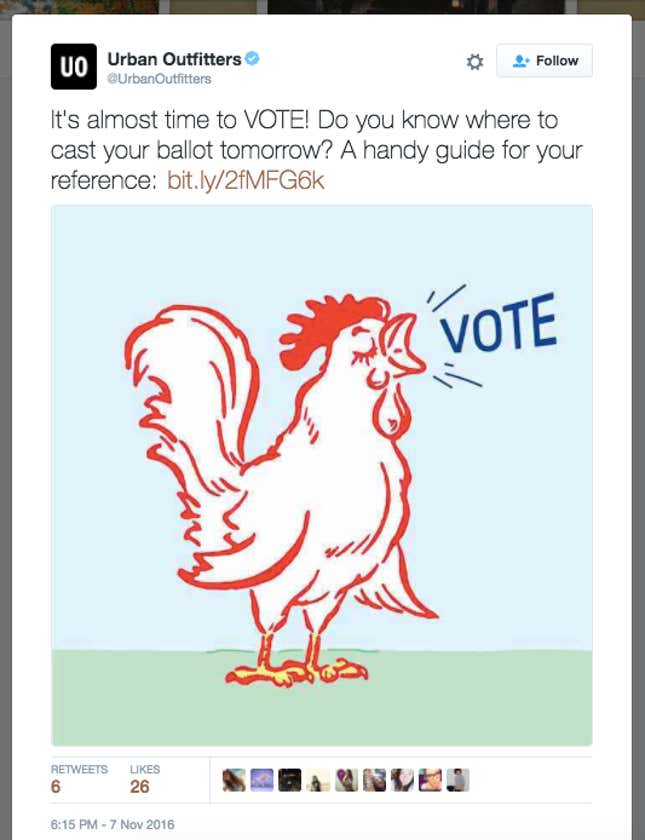 The error—which Urban Outfitters told ProPublica it would correct "immediately," starting with deleting the tweet—is only the latest in a series of political tussles the company has found itself in over the past few years. The retailer has been dinged for selling offensive clothing, and its CEO has publicly opposed both abortion and same-sex marriage.
To be fair, the latest blunder does seem like a genuine mistake. But misinformation about voting is flooding the internet from a variety of corners today, and it's not all accidental. When in doubt, Americans can always check the actual voting requirements.
Update, Nov. 8: Urban Outfitters told Quartz in an email that the guide "was written by a member of our content team who made a mistake in researching the voting requirements," adding:
We are deeply sorry for any confusion this error may have caused. In the future, we will be installing more stringent fact-checking procedures to ensure these types of error do not happen.