Bloomberg LP is in damage-control mode. Some of its largest customers have publicly accused the firm's journalists of snooping on their usage of Bloomberg terminals, the firm's wildly profitable information service for investors.
Until recently, all Bloomberg employees could access information about when and how terminals were used by any customer. But after complaints by Goldman Sachs and JP Morgan, Bloomberg says its 2,000 or so journalists no longer have access to that information, though other staff still do. Bloomberg has more than 15,000 employees.
The banks were concerned that Bloomberg News was keeping tabs on terminal usage in order to aid its reporting. JP Morgan specifically cited coverage of the bank's disastrous derivatives trading, known as the "London Whale," which Bloomberg was the first to reveal. Ty Trippet, a spokesman for Bloomberg, said he "is unaware of any record of any such complaints" by JP Morgan.
Bloomberg hasn't detailed what "customer relationship information" was available to its journalists (and remains available to other staff), but current and former Bloomberg employees say they could access a wide array of data. Much of it was accessible through the <UUID> function on their terminals. Here's a rundown of what was available…
Transcripts of chats with customer service

Every Bloomberg terminal customer knows you just need to tap twice on the green <HELP> button in the top-left corner of the keyboard in order to chat with a customer service representative. Fewer of them are aware that the transcripts of those conversations are stored by the company and could be viewed by any employee.
Several former Bloomberg employees say colleagues would look up <HELP> chat transcripts of famous customers, like Alan Greenspan, for amusement on slow workdays. The transcripts were typically mundane and hardly incriminating, but who wouldn't enjoy watching a former US Federal Reserve chairman struggle to use a computer? And, in theory, the substance of someone's query to customer service could reveal specific information that he's interested in, tipping off a reporter to a story.
It's common for companies to keep logs of their interactions with customers. What makes Bloomberg different is that any employee, including journalists, could access those logs through the <ADSK> function on their terminals. Trippet said that access was revoked from journalists.
Data on what functions people use
Bloomberg employees can also see how many times any terminal customer has used a particular function over the past 30 days. In Bloomberg-speak, functions are the commands that help users navigate the labyrinth of information inside their terminals, ranging from <N> (news) to <TDH> (corporate bond trades) to <WEAT> (weather) to <GRAB> (take a screenshot). Employees can see how many times each function was used but not further details, like which company's bonds were being researched.
The data is accessible to Bloomberg employees so they can help customers use the terminals and promote other services. Journalists who used to work at Bloomberg say they typically made use of the feature to lightheartedly snoop on each other and some famous customers. But, they said, journalists who covered Wall Street were presumed to be using the feature for their reporting, as well.
The last time someone used his terminal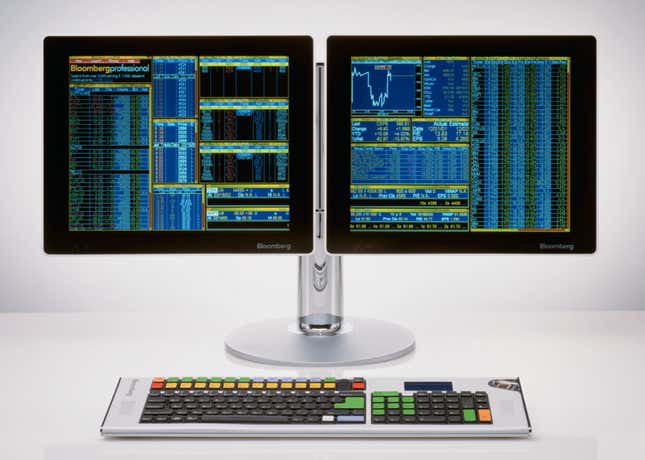 Every Bloomberg terminal customer can see if another customer is logged in, which helps the messaging system function and is often used within companies to keep tabs on their employees. But those red and green dots, which signify whether someone is logged in or off, can be disabled and, in any event, only provide current information. Bloomberg employees, however, can also see the date and time that any customer last logged into his terminal.
Goldman cited this functionality in its complaint to Bloomberg, saying a reporter had surmised that a Goldman partner left the firm after seeing that he hadn't logged into his terminal for a while.
*  *  *
Update at 4:49 p.m. EDT: Bloomberg CEO Dan Doctoroff just sent this memo to employees:
Since our founding more than 30 years ago, the proper safeguarding of customer data has been a central tenet of Bloomberg's culture.

A Bloomberg client recently raised a concern that Bloomberg News reporters had access to limited customer relationship management data through their use of the Bloomberg terminal. Although we have long made limited customer relationship data available to our journalists, we realize this was a mistake.
Having recognized this mistake, we took immediate action. Last month we changed our policy so that all reporters only have access to the same customer relationship data available to our clients. Additionally, we decided to further centralize our data security efforts by appointing Steve Ross, one of our most senior executives, to the new position of Client Data Compliance Officer. Steve is responsible for reviewing and, if necessary, enhancing protocols which among other things will continue to ensure that our news operations never have access to confidential customer data.

To be clear, the limited customer relationship data previously available to our reporters never included access to our trading, portfolio, monitor, blotter or other related systems or our clients' messages. Moreover, reporters could not see news stories that clients read, or the securities they viewed. Bloomberg has very strict data security policies in place, in addition to significant and rigorous training, processes and protocols. Upon hiring, all Bloomberg employees enter into confidentiality provisions, including Bloomberg News.

Client trust is our highest priority and the cornerstone of our business, and we are deeply committed to ensuring the complete integrity and confidentiality of our clients' data in all situations and at all times.

Dan