Sorry, America. I know you've been told repeatedly—here and elsewhere—that when a country's currency declines, the drop makes that nation's exports cheaper for consumers in other countries. Big picture, that's true.
And as we all know, the yen has been weakening sharply against the US dollar, right? A dollar now buys more than 100 yen. Back in October, you could only get ¥80 for a buck.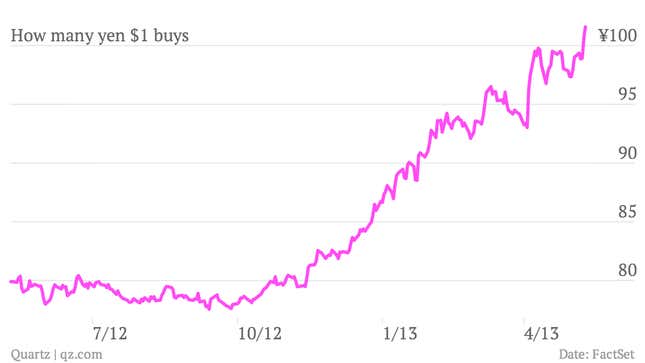 So does that mean that prices on Japanese cars are going to get 20% cheaper? No! Of course not. In a great piece on the prospects for Toyota under Abenomics, Bloomberg reports:
Japanese automakers will probably use the weaker yen to add better components or accessories — rather than cut prices — to win back customers from GM, Ford and Hyundai, said Edwin Merner, president of Atlantis Investment Research Corp., which manages about $3 billion in assets. "You can use better materials to make the car a little bit better," said Merner. "You don't want to cut prices. If you cut the price, it's hard to raise it."
That's sounded about right to Sean McAlinden, chief economist at the Center for Automotive Research, a non-profit economic group in the auto-focused US state of Michigan. The the global auto industry has paid dearly for price wars in recent memory. As a result, they've shown a relentless resolve not to succumb to prices cuts in the aftermath of the great recession.
Not to mention, Toyota has spent decades building its brand equity in order to move into the higher priced—and more profitable—parts of the US auto market. To compete solely on price would be something of a step backward for the company. (For the record, Japan ships about 45% of the cars it sells in the US from Japan. It's currently number three in market share with about 14% in April, McAlinden said)
Strategically, it would make more sense to win a fatter share of the US market by improving the product. "You're going to get a better car but not a better price," said McAlinden, said of the likely path of Japanese auto makers on price.
One thing to know, however, is that while consumers in the US might never see lower dollar prices for Toyotas, those improvements might actually push down government measures of consumer vehicle prices. That's because the US government's price watchers reflect quality as lower prices, thanks to something called "hedonic pricing." At any rate, by next fall McLinden says Toyota—and their high-end corporate cousins Lexus—could be kitted out a bit better offering a better deal to consumers, if not a lower price.