Two of Hong Kong's recently elected pro-independence politicians won't get to take their seats in parliament. The territory's high court ruled this afternoon (Nov. 15) in favor of the government's bid to disqualify Yau Wai-ching and Baggio Leung of the Youngspiration political party.
Yau and Leung, who were elected to the Legislative Council (LegCo) in September, angered the authorities when, while taking the oath on Oct. 12, they used "Shina" instead of "China"—a racial slur term against Chinese people—and declared that Hong Kong was not part of China. They were barred from taking office and the case went to court; today's ruling bars them even from entering the LegCo building, and declares their seats in the LegCo vacated.
At stake is not just the two young politicians' careers, but the independence of the Hong Kong judiciary. The court ruling comes after Beijing on Nov. 7 stepped in to interpret Hong Kong's Basic Law, stating that oaths should be sworn "correctly, completely and solemnly" and that "oath-takers will be deprived of their right to assume their corresponding offices if they refuse to take the oath." The move was seen as taking down the city's last line of defense against Beijing's gradual encroachment on Hong Kong's autonomy.
The court denied being influenced by Beijing's interpretation of the Basic Law. "With or without the Interpretation, the court would reach the same above conclusion," the ruling said.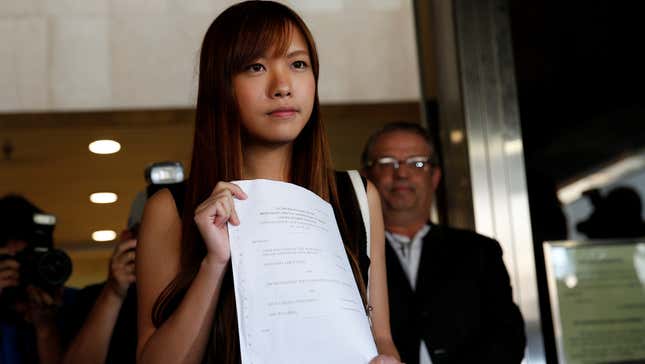 In a brief meeting after the ruling, Yau said the result was expected. "The action of the court to deprive our rights tells everyone what this society is like," she said. Later in the day, Leung said that the two had decided to appeal the judgment, though if the case goes all the way to Hong Kong's highest court the process could cost around HK$5 million (US$640,000). "The result shows that the election is meaningless and can be overturned by the government easily," Leung said.