Kuala Lumpur, Malaysia
Tens of thousands of Malaysians marched in a street demonstration on Nov. 19 calling for scandal-ridden prime minister Najib Razak, who's accused of pocketing hundreds of millions from a state wealth fund, to step down.
The threat of violence hung over the rally as a pro-Najib group harassed and threatened the protest organizers in the weeks before the big event. Some 7,000 police officers were deployed in response. Police had used tear gas and water cannons on demonstrators at previous protests.
But the eight-hour-long rally ended without incident, with an estimated 40,000 Malaysians marching into the city center. Even newspapers linked to the ruling party lauded the outcome. With the city's iconic Twin Towers in the background, protestors braved the scorching heat and monsoon rain to hear speeches from civic leaders and opposition politicians, delivered by a mobile sound system installed atop a pickup truck.
Amid the shrill honking of the omnipresent vuvuzelas, demonstrators sang the national anthem before dispersing. Some even collected litter to ensure the street would be spotless the following morning.
Absent from the rally was Maria Chin Abdullah, the 60-year-old chairwoman of Bersih, the electoral reform group that organized the protest. Maria, as she is known to Malaysians, and more than a dozen politicians and activists—including Najib supporters—had been detained on the eve of the rally, taken from their offices or homes.
While most of those detained were released last night (Nov. 20) or scheduled for release today, the Malaysian government held Maria in solitary confinement in a tiny windowless cell with a wooden plank for a bed and the lights kept on 24 hours a day, Bersih said.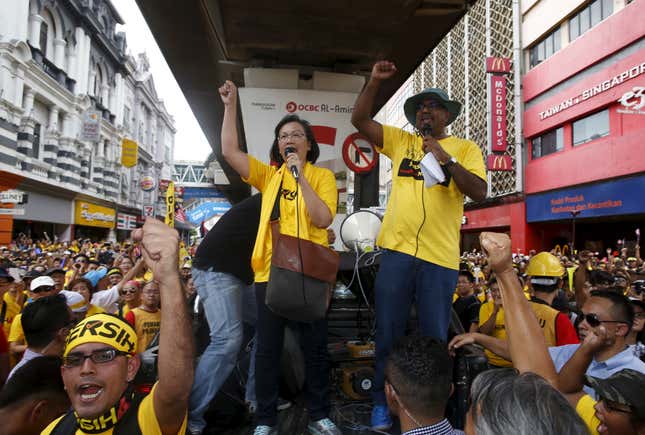 The "kindly auntie," who got her start in activism fighting for women's rights, will be held for 28 days in total under an onerous new counter-terrorism law. Her lawyers say she remains in high spirits. They were given access to her 48 hours after her detention, one of the law's provisions.
Sleep deprivation has been condemned by the United Nations Committee Against Torture, which has called it "a form of ill-treatment." It's one of the techniques used by US intelligence at Guantanamo Bay and elsewhere, and has left lasting damage to those subjected to it.
Amnesty International has named Maria a prisoner of conscience. Hundreds of Malaysians held a candlelight vigil for the Bersih leader last night outside the notorious Jinjang jail where she is being held. Phil Robertson, Amnesty's deputy Asia director, told the Financial Times (paywall) that the government is making the activists "pay" for holding the rally.
Meanwhile, the prime minister—who has called the protests "a tool of the opposition" and "a fake struggle"—has been in Peru attending the annual APEC meeting. His latest posts on Facebook, where he maintains an active presence, were photos of him glad-handing world leaders in Lima. "It was a pleasant surprise to see Canada's prime minister Justin Trudeau coming over to greet me," he wrote as he shared candid photos of him and Trudeau.