China is requiring all residents in its northwestern Xinjiang Uyghur Autonomous Region to turn in their passports.
The state mouthpiece Global Times reported on Nov. 23 the new policy will help the government "maintain social order." The predominantly Muslim region, which has around 10 million Muslim Uyghurs, has been subject to a number of crackdowns in an effort to wipe out homegrown terrorists. But in the process of doing so, it's also killed local protestors and cut mobile phone services of citizens.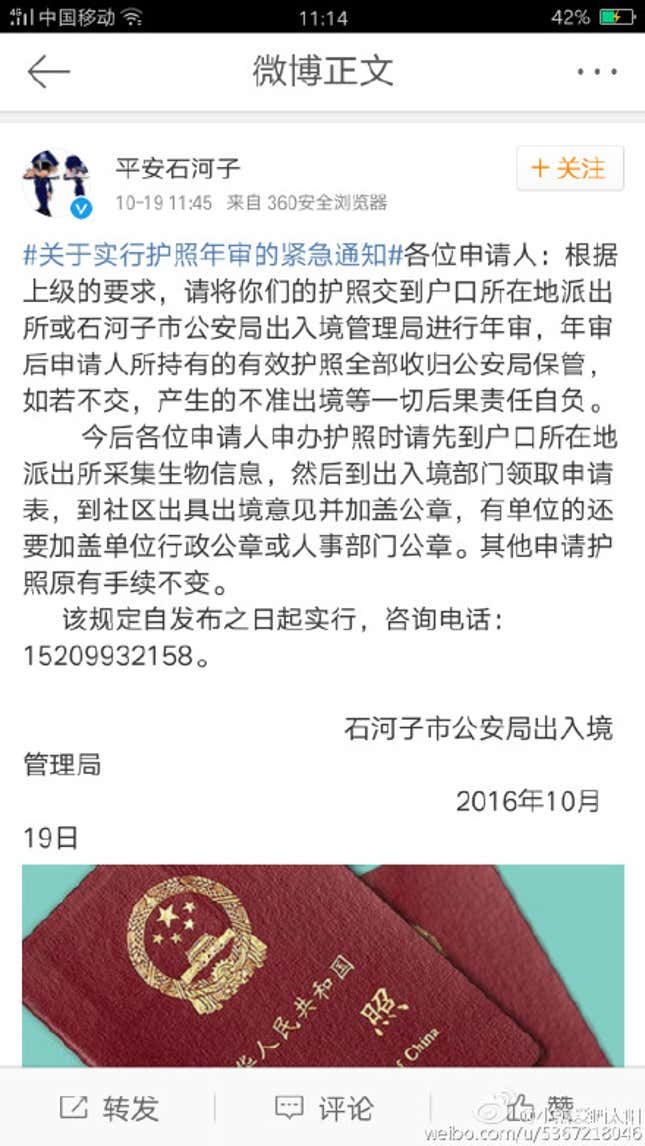 China is now limiting the freedom of the whole region's population, especially since many Uighurs were have been found trying to flee the country under fake passports beginning earlier last year.
Global Times quoted an announcement from the Xinjiang Shihezi City Public Security Administration that "those who refuse to hand in their passports should bear the responsibility themselves if they are forbidden from going abroad." The Oct. 19 announcement made on Weibo, China's version of Twitter, has since been deleted, but many citizens are still sharing screenshots of it on the social network.
Those with hukou, household registration documents, in Shihezi were instructed to hand in their passports for annual inspection, after which the local authorities would keep for management.
In Shihezi alone, about 50,000 passports would be collected, Shen Qian, the deputy chief of the city's exit and entry administration, told Shihezi TV station (link in Chinese).
One self-claimed Shihezi local wrote on Weibo with the hashtag "Xinjiang passports hand in" on Oct. 25 that "I cannot love Xinjiang any more although I was born and raised there. I hope to get my hukou out of the place and never have any connections with Xinjiang ever." She then noted on Nov. 18 (links in Chinese, registration required) "without passports I can only take my parents to Sanya [China's southern city]…I curse those suckers who advocate confiscating passports."
Four self-claimed Xinjiang locals also said on Weibo they had received phone calls in November from local governments asking them to hand in their passports.