At long last, Facebook is integrating video games into its mobile platforms.
Games will now be available through Facebook's main app and its Messenger app, where users can access them from News Feed and within conversations, respectively. In both apps, the games will be instantly playable, not unlike a video, the company announced today (Nov. 29).
Facebook is years late to mobile gaming, although Tuesday's announcement marks the company's second try at integrating games built with JavaScript and HTML5 into its app. In 2011, a first attempt was launched and quickly scrapped because HTML5 games at the time were not as responsive as games made for iOS and Android.
Five years later, it seems the technology is finally ready for primetime.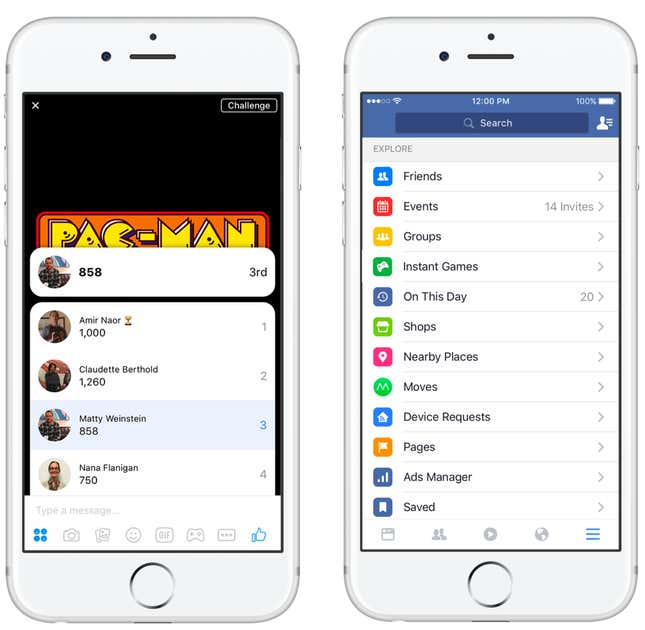 Facebook is calling the initiative "Instant Games," adding to a lineup of media integrations that also includes Instant Articles, launched last year.
It remains unclear whether technical limitations of JavaScript and HTML5 will prevent Instant Games from being as complex as games like FarmVille, or if Facebook users will soon see a playable mobile version of that game. Judging by the initial batch of Instant Games, that may be a while off:
PAC-MAN (BANDAI NAMCO Entertainment Inc.)
Galaga (BANDAI NAMCO Entertainment Inc.)
ARKANOID (TAITO CORPORATION)
SPACE INVADERS (TAITO CORPORATION)
TRACK & FIELD 100M (Konami Digital Entertainment Co., Ltd.)
Words with Friends: Frenzy (Zynga)
Shuffle Cats Mini (King)
EverWing (Blackstorm)
Hex (FRVR)
Endless Lake (Spilgames)
Templar 2048 (Vonvon)
The Tribez: Puzzle Rush (Game Insight)
2020 Connect (Softgames)
Puzzle Bobble (TAITO CORPORATION / Blackstorm)
Zookeeper (Kiteretsu)
Brick Pop (Gamee)
Wordalot Express (MAG Interactive)
All are relatively simple, and don't require a lot of power out of JavaScript and HTML5 to run as well as native apps. As Facebook found with the not-so-hidden basketball game it built into Messenger earlier this year, simplicity isn't necessarily bad. "Messenger Madness," as it was called, attracted tens of millions of players in a matter of weeks.
Mobile gamers aren't Facebook's only target group. Earlier this month, the company launched Gameroom, a platform for downloading PC games, which tend to attract a more dedicated audience. Facebook has also teamed up with popular game development system Unity to make it easy for developers to release games on its platforms. The social network also owns Oculus, a virtual reality company targeting an even more hardcore gaming audience.
But the market for casual, social games is an important one, one that Facebook ruled when games like FarmVille and Candy Crush pervaded its site. Whether Instant Games will generate the same level of interest, or revenue, remains to be seen.