Launch Facebook today and you'll see a large advertisement for #GivingTuesday, the five-year old  nonprofit whose annual day of charity follows the binge shopping of Black Friday and Cyber Monday in the US. This year, Giving Tuesday has partnered with Facebook to highlight heartwarming acts of altruism around the world and boost fundraising, in a showcase of the social network's new charitable giving tool.
Giving Tuesday is one of the 750,000 US-based charities people cab raise money for directly on Facebook. Building on the success of 2014's "ALS Ice Bucket Challenge" that generated $100 million for medical research, on Nov. 17, Facebook introduced an easier way for its 1.8 billion users to raise funds for a cause.
Instead of onerous bake sales, weird solicitation phone calls or sending expensive direct mail, all you need are two things: a heartfelt post and a donation button. "We know that when people share their stories and connect it with giving, powerful things happen," said John Cantarella, Facebook's director of social good partnership at their first Social Good forum held in New York City.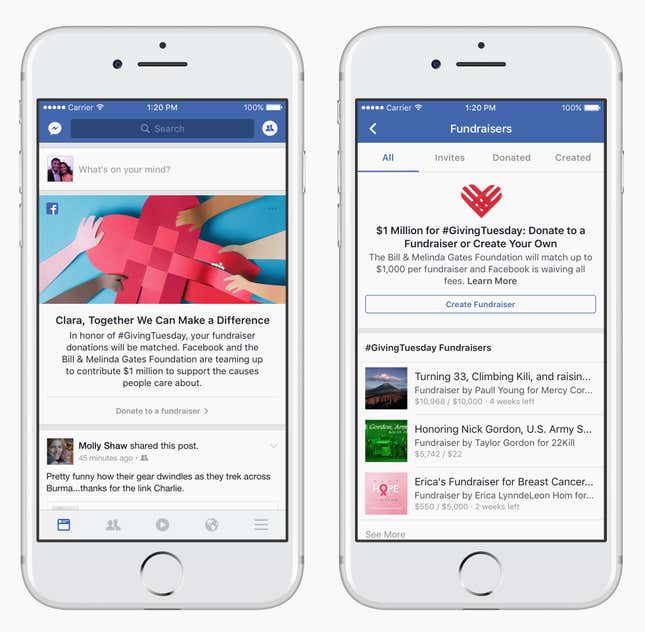 Facebook will evaluate charities before they can receive donations and it takes 5% of the total amount raised to cover operational expenses. For the moment, only US-based charities registered with the IRS can use the charitable giving platform.
In the age of Facebook, bragging about the good you've done and the causes you support can actually serve a greater purpose. "People don't usually brag about their giving. They share how many miles they ran or what they ordered for lunch, but not what they gave to non-profits, but we're seeing a real shift in that" says Asha Curran, Giving Tuesday's technology officer at Facebook's Nov. 17 Social Good forum in New York City.
Telling your Facebook friends how much you've helped a charity you're passionate about incites others to take interest and give money too. "There's a thing about collective giving to make you feel that you're part of something bigger than yourself." Curran explains.
Online giving grew by 9% last year, and spiked by 52% on Giving Tuesday, she notes.
Last year, 700,000 people gave $116 million to Giving Tuesday—a fraction of the record-setting $373 billion Americans donated to charity.
"I think generosity is a big part of what makes us human, it's a big part of what makes us American," said Victoria Vrana, senior program officer of the Bill & Melinda Gates Foundation at the forum.
Bill & Melinda Gates has pledged to match donations to Giving Tuesday on Facebook today up to $500,000, and Facebook is waiving its operations fees for donations to the nonprofit.