We can restock groceries via a quick chat with a digital assistant, and sponsored ads can take us from thumbing through a friend's feed to filling a digital shopping basket in under a minute; it's easier than ever to buy on our phones, and retailers with an eye towards embracing the new mobile normal stand to reap the benefits of the m-commerce trend. The retailers who are less mobile savvy, on the other hand, might soon go the way of the old fashioned cash register: quaint and unable to keep up. This look at the UK's current mobile purchasing landscape illustrates the habits of today and the opportunities of tomorrow.
The m-commerce climb
The Centre for Retail Research predicts that the average e-commerce sales by mobile device will grow by 187.7% across Europe from 2014 through the end of 2016 (against a rise of just 9.9% in desktop transactions), and the UK's proportion of mobile sales will be particularly high: Barclays predicts that Brits will spend £53.6bn a year on mobile and tablets by 2024. The survey also reveals that only 3% of retailers identify as being "at the cutting edge" of mobile-ready and 70% currently lack mobile-enabled websites or apps.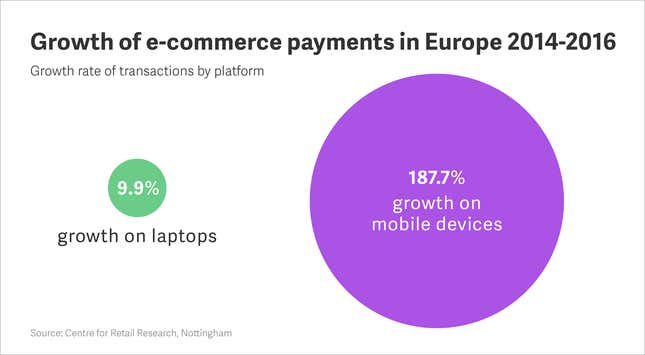 Barriers to purchase
While m-commerce transactions are on the rise, barriers to purchase remain a challenge. Factors that slow down the process—like membership sign-ups, poor user experience, or limited payment methods—can all derail potential customers from finalizing a purchase. E-commerce shopping carts are also often treated like wish lists or research tools for users to compare prices across competitors. And on mobile the problem is particularly pervasive: According to checkout analytics firm Formismo, the standard purchase completion rate on mobile is just 8.5%, compared to 13% on both tablets and on desktops.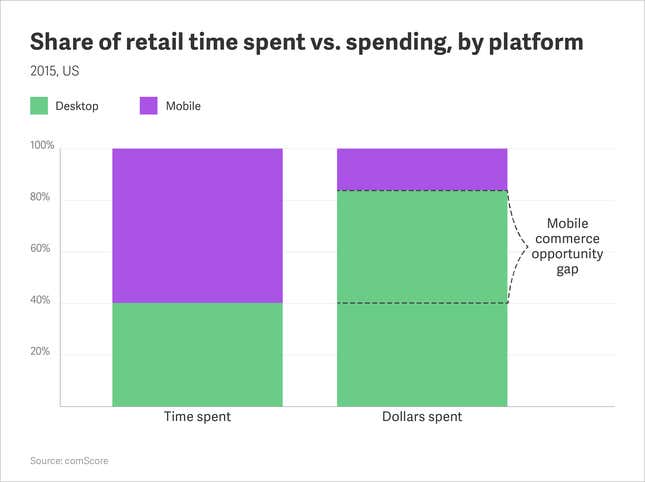 To encourage consumers who have an actual intent to buy, it's important for retailers to engineer as frictionless a transaction experience as possible by investing in user experience. Other elements that make it easier for the costumer to purchase, such as the acceptance of a wide range of payment methods and types, can also give mobile retailers a wider net for catching customers.
The UK leads the way in mobile conversions, and has higher m-commerce conversion rates than the US. Some of the UK's success can be attributed to the high share of the country's mobile-friendly websites—there's an unsurprisingly high correlation between mobile-friendly websites and m-commerce sales.
Online-first apps lead the way
Another global trend is the popularity of online-first retail apps over their brick and mortar app counterparts. The latest research from San Francisco-based research firm App Annie indicates that the top ten online-first apps saw more sessions per user and faster growth in sessions per user than the top ten so-called bricks-and-clicks apps. Amazon, Apple Store, and Argos are the top three retailer applications used by Brits.

Critical innovations behind the m-commerce climb
This shift in shopping habits wouldn't be possible without the evolution of underlying technology. Greater understanding of shoppers' needs is imperative, and tackling abandoned shopping baskets is just the surface: In recent years, new services and products have provided small developers, large e-commerce companies, and social platforms alike with simple and compelling experiences for consumers. Mobile and web payments system Braintree has seen particularly dynamic growth. After its 2013 acquisition by PayPal, the platform has grown more than 25x in just three years, and is on track for two billion transactions this year.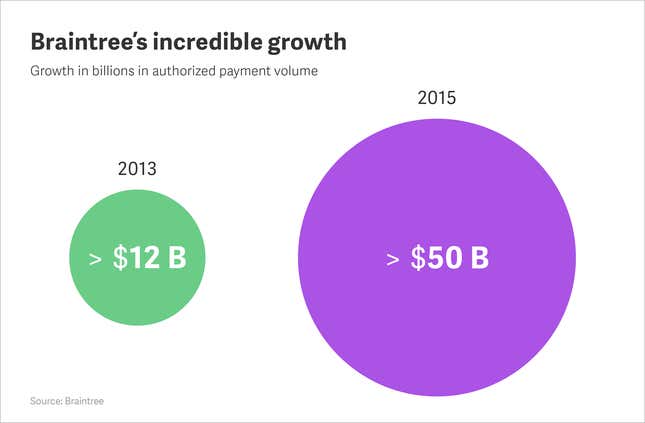 Together with providing solutions to small developers, the company has also teamed up with giants like Pinterest—offering Buyable Pins for its mobile Pinners—and Facebook. Braintree's solutions have made it possible for users to book and pay for an Uber taxi via Messenger, regardless of whether a user has an Uber account. And Uber itself couldn't have grown internationally if Braintree hadn't provided a payment gateway that could efficiently process payments in foreign currencies.
Discover how Braintree's integrations can give access to
, simple
, top-notch
, and world-class
.
This article was produced on behalf of Braintree by Quartz creative services and not by the Quartz editorial staff.