After a decade of development and a reveal back in March, Nike's first-ever self-lacing sneakers made for general release, the HyperAdapt 1.0, hit the mass market today. Sort of.
It's the first time the average consumer will be able to walk into a Nike store and buy sneakers with Nike's innovative battery-powered lacing engine, though for now, Nike says the shoes will only be available at two of its New York stores: the experiential new flagship in Soho, and the Nike+ Clubhouse a few blocks away. Later this month the sneaker will also go on sale through the Nike+ app and select Nike stores in the US. The HyperAdapt also carries a very sizable pricetag of $720, keeping them out of reach of many shoppers.
Given that limited availability, their sales won't move the needle for the world's biggest sportswear company, which sold about 400 million pairs of sneakers last year, but that's not entirely the point. The release of the HyperAdapt 1.0 is a milestone for Nike, and a signpost of where the company sees its future and the future of sport.
The future is high-tech
Nike didn't spend years working on this technology so that only a handful of people could ever buy it. The company has made clear that it believes this can be a mainstream product, and one that athletes will want. Nike's ultimate vision is a sneaker that can tighten or loosen automatically in response to the changes an athlete's foot experiences during a race or a game. That isn't yet the case with the HyperAdapt—note the "1.0" designation—but for now it lets the wearer make those changes quickly, without having to manually retie laces.
"It's a platform, something that helps envision a world in which product changes as the athlete changes," Tiffany Beers, the lead engineer on the project, said via the press release for the initial announcement of the HyperAdapt.
Whether that benefit is worth the heavy premium Nike is charging is questionable. The price—and probably the weight of the sneaker, which has a mechanical engine and battery embedded in it—will have to come down. (Along with the sneakers, you also get the equipment needed to charge it.)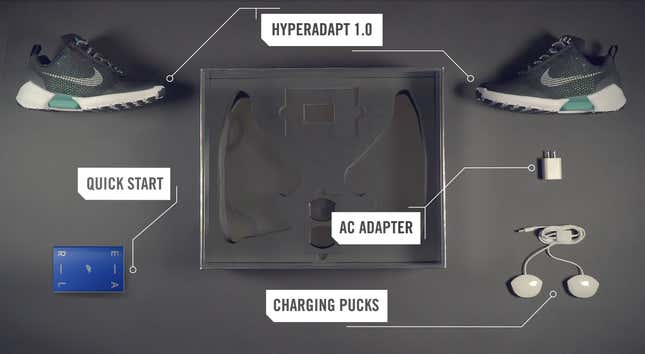 But much of Nike's brand value lies in its ability to innovate. Technology is rapidly advancing, and the HyperAdapt, like Nike's 2012 release of its Flyknit sneakers, which are machine-woven out of durable polyester yarns rather than sewn together like traditional sneakers, shows Nike looking to create products that put new tech to use so that their next big sneaker is more than an update of what came before. It will likely keep incorporating more technology, and in fact just applied for patents on an energy-harvesting device and an augmented-reality system. (The HyperAdapt, incidentally, only became possible because batteries and motors have continued to shrink, finally becoming small enough that they could be used in a sneaker).
Direct-to-consumer sales are key
It's notable that Nike is releasing the HyperAdapt exclusively through its stores, and at least for the time being, not through retailers such as Foot Locker. Much like its big new Soho store, it's another step toward Nike getting customers to buy directly (paywall) through its own channels, which provide better margins and let it fully control the way its products are presented and sold.
Nike even recently made a change in the way it reports futures orders—a tally of goods it has committed to deliver to retailers in the next six months—which investors have long looked to as an indicator of the company's health. Some saw it as a red flag that Nike might be trying to conceal bad news, but Nike says the growth of its direct-to-consumer sales, which now make up 22% of its sales and counting, mean futures no longer offer a full picture of its business.
Prices may be rising
The price of $720 is far in excess of what most sneakers cost, and many consumers just won't pay that. But it does help Nike solidify its status as a premium brand, which helps it to charge more for its products generally.
As Yahoo reported, after the HyperAdapt was announced in March an equity analyst at Brean Capital wrote in a note to investors that innovative product releases like the HyperAdapt enhance Nike's credibility and help "to support average sales prices."
It's an important point at the moment. Like other parts of retail these days, sneaker shoppers tend to be willing to shell out money for high-end goods, or otherwise seek out the cheapest option for basic products. Nike has already placed itself on the high end of this spectrum. The HyperAdapt suggests they aren't changing course, and that for their most innovative products they will be asking high prices. (Not that it has factored into Nike's calculus, but US president-elect Donald Trump's proposed policies would likely raise prices of Nike sneakers for US shoppers, too, so inflating price tags may be in Nike's future whether it wants them or not.)