Tom Hanks has range. Two months ago, he played bizarro amusement ride attraction "David S. Pumpkins" in everyone's favorite Saturday Night Live sketch. Then he played heroic American airline captain Chesley Sullenberger in the film Sully. And now he's set to play a domineering Silicon Valley CEO-type obsessed with radical transparency, in The Circle, based on the 2013 best-selling novel about a powerful tech company by Dave Eggers.
Emma Watson of Harry Potter fame plays a young woman who joins "The Circle" and quickly becomes enchanted by the company's various perks for employees, not least of which is the privilege of listening to Hanks's character speak.
"Without secrets, without the hoarding of knowledge and information, we can finally realize our potential," Hanks's character, named Eamon Bailey in the novel, says in the first trailer for the film, released today. Watch below:
In the book, The Circle develops a product called "SeeChange" that allows anyone to easily broadcast themselves in real time to the world. Eggers's 2013 novel has been called "prescient" for the way it anticipates our obsession with putting cameras everywhere, all the time, epitomized by the popularity of technologies like Snapchat and Facebook Live.
That said, others have found it heavy-handed, an obvious and unsubtle satire of Facebook, Google, and Apple. Throughout the novel, The Circle unveils even more intrusive, dystopian technologies.
The trailer for the film makes those comparisons explicit. The Circle's campus looks almost exactly like Apple's sprawling new headquarters: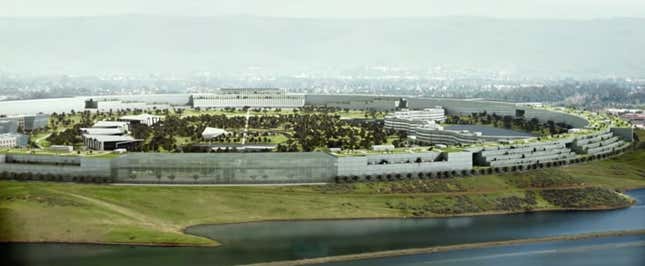 Watson's character is asked "Paul or John?" and "Mario or Sonic?" in an interview speed round, an allusion to Google's infamous brain teaser interview questions. The song in the background seems to be an eerie cover of "Private Eyes" by Hall & Oates. "They're watching you," a sinister voice sings as the trailer closes.
At the end of the trailer, viewers are directed to a tie-in website, WeAreTheCircle.com. After you click to "join" the company, the site automatically scrolls through its terms of service, without letting you read them (not that you would anyway). It then begins "accessing" your contacts, friends, photos, location history, and geotags. And there's no way to stop it.
The Circle debuts April 28, 2017 in the US.