If you're on LinkedIn, you can probably brag about being connected in one way or another with Santa Claus, or at least one of them. The social networking site for job seekers hosts hundred of them: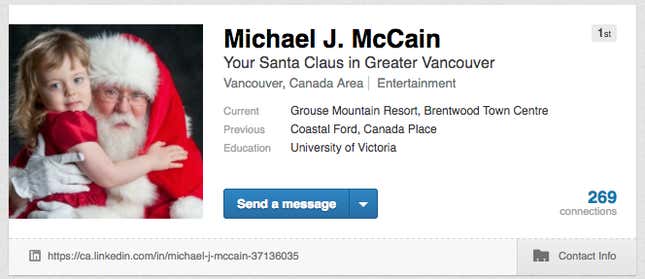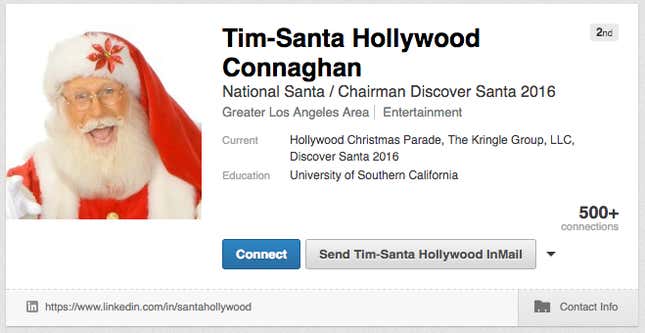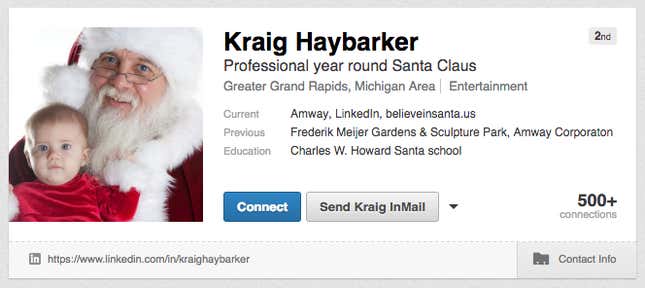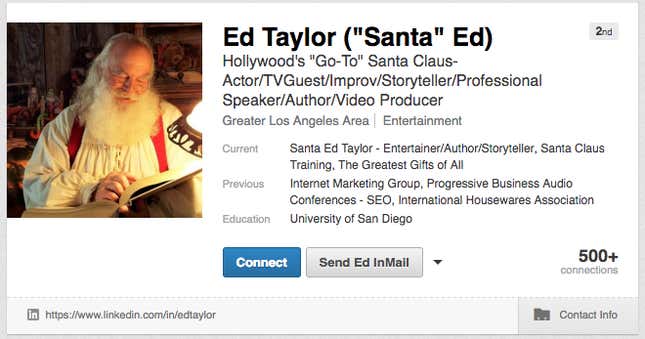 The Santas advertise their talent for distributing gifts, acting, playing the banjo, and just generally bringing the party. Some are professional actors, and at least one moonlights as a sales and marketing consultant.
Our quick search turned up no other mythical characters appearing in character on LinkedIn. Almost all of these Santas wear the required red hat and jacket, or a white voluminous shirt with suspenders. Although such uniformity makes for a bizarre "People also viewed" column, the Santas are doing it right: Unless you wear sweatshirts and work at a startup, "wear what you'd wear to work" is one of the site's rules of thumb for optimizing a profile photo.
Scanning LinkedIn's Santas uncovers some curious details about the criteria that matter among Santa jobseekers: Real-bearded Santas often draw attention to their natural bristles and membership in the International Brotherhood of Real Bearded Santas. The performers will also let you know if they work seasonally or are in the suit "24/7/365." Many list diplomas from one of the handful of Santa schools around the US.
Serious Santas sell their Christmas knowledge, listing their expertise as authorities on the origins of the myth or the industry, while others keep it classic, like David Doerrier, an Atlanta Santa and "expert cookie taster" who says he's adept at "driving sleigh with eight tiny reindeer."
Celebrity Santas, like Tim Connaghan and Santa Ed Taylor, tout their ads for major consumer brands, work in five-star hotels, or appearances on "The Today Show" and TMZ. On the Santa spectrum, they may be the elite group, earning $75 to $300 per hour or more, whereas mall Santas reportedly earn an hourly wage of about $25 to $45, depending on location. An executive from Noerr, one of the major companies that hire mall Santas, says his men can earn "well into the five figures for only five weeks of work."
LinkedIn is currently advertising more than 100 open Santa Claus positions in the US. The men who spoke to Quartz say they didn't find the platform especially useful for new leads. Vancouver's Michael McCain says he can't recall ever being hired through a LinkedIn contact, but adds that he's too busy to take on additional bookings, anyway. More than anything else, Connaghan uses LinkedIn to connect with colleagues "Santa to Santa."