The fashion industry is always home to a broad range of styles, but at any time, one or two stand out above the rest. One year it might be minimalism, another, the revival of a past decade's look.
In 2016, what everyone talked about and wanted to be seen wearing was a look that often flouted convention and plenty of the accepted rules of style, beauty, and gender. Led by designers such as Alessandro Michele at Gucci and Demna Gvasalia of Vetements, who also debuted as creative director of Balenciaga this year, it turned outsider characters into the industry's insiders, celebrating the offbeat, the gloriously peculiar.
The last time Gucci was this hot it was the late 1990s to early 2000s, when designer Tom Ford revived the label with heavy doses of sex and glamor. Vogue described its fall 1995 show as "the fashion equivalent of a one-night stand at Studio 54." If Ford made clothes for seductive starlets, Michele makes them for gawky, magpie nerds. "Granny" is a word often used to describe the look, which revels in frills and garish prints for women and men.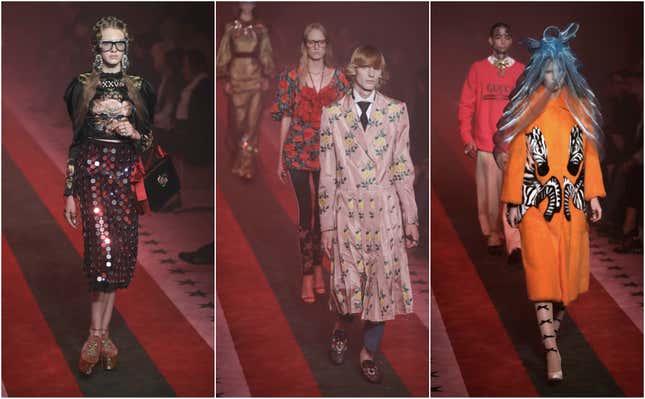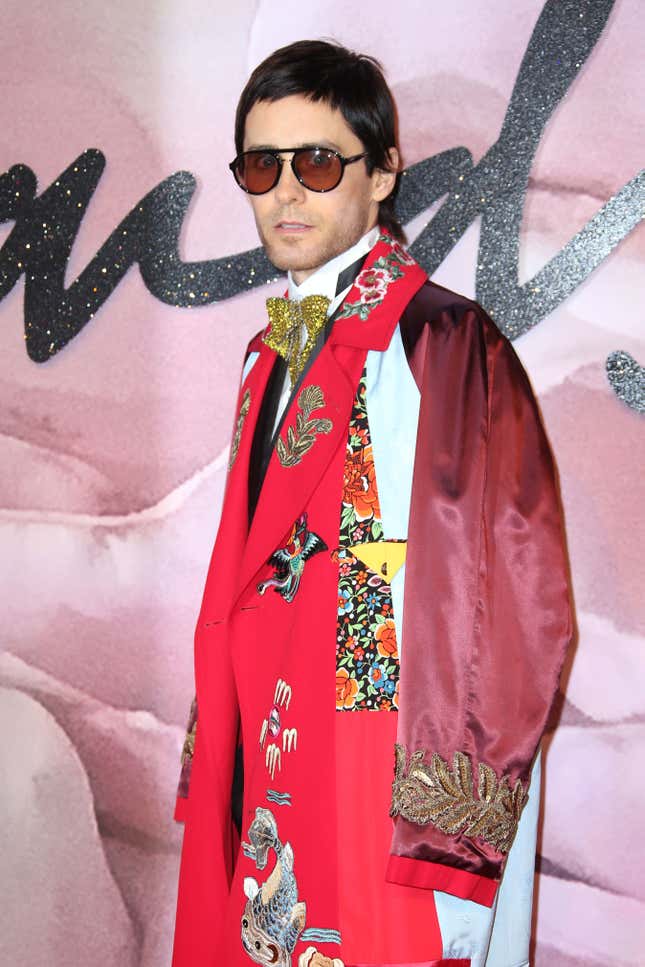 Michele's gender-fluid, oddball vision has made him one of the leading talents in fashion. He has brought back the matronly pussy bow blouse (causing a slight snafu for Melania Trump). Celebrity men such as Jaden Smith and Jared Leto have turned up at events bedazzled in sequins or draped in an embroidered frock coat.
The clothes themselves aren't startlingly new, or even that weird compared to what, say, Comme des Garçons has been doing for decades. But things like chintz-style florals for guys aren't often so popular in the mainstream. British GQ, a champion of the traditional men's suit, even selected Michele as its designer of the year.
Gvasalia's clothes recently earned him two of the top honors (paywall) at this year's Fashion Awards (recently rebranded from the British Fashion Awards): international ready-to-wear designer for his work at Balenciaga, and the new award for international urban luxury brand at Vetements.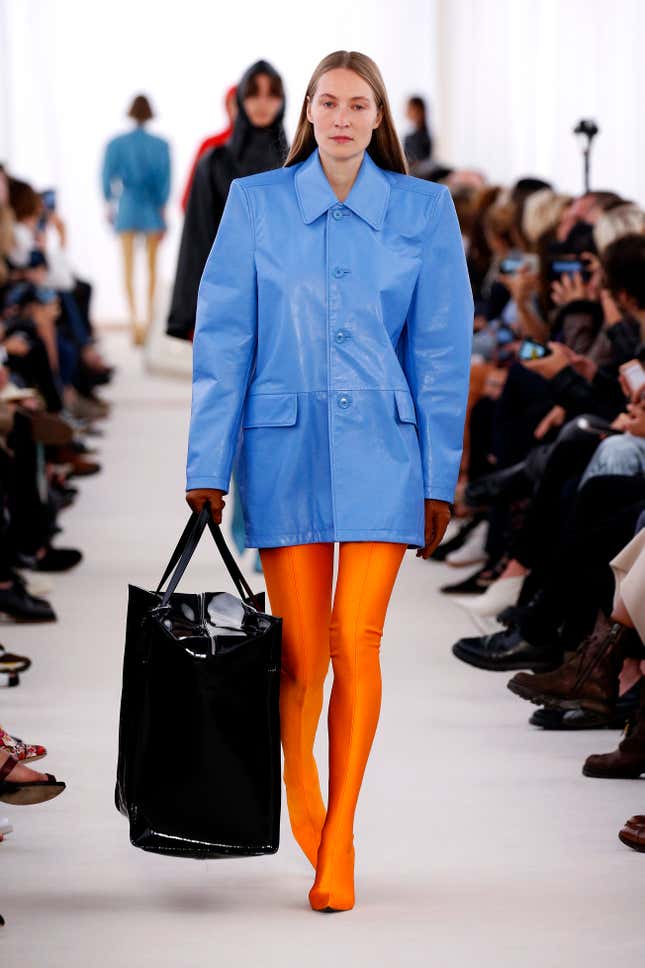 The oddly proportioned and sometimes purposefully tacky look he has pushed includes bombers and sweatshirts with exceedingly long sleeves, and boxy, oversized suit jackets that make it look like the wearer's neck has disappeared between hunched shoulders. One female model on Vetements' fall 2016 runway this March sported a mullet, and wore a shirt with large shoulder pads that proclaimed "You Fuck'n Asshole" on the front.
Stylist Lotta Volkova, who helped Gvasalia shape this look, has said she's interested in things that "aren't necessarily used to being considered beautiful." Indeed, there's an unusual, sullen quality to the clothes and the imagery, even when the colors are vibrant. Yet it has been embraced by celebrities, fashion bloggers, and others.
In terms of aesthetics alone, Michele's and Gvasalia's visions are drastically different. But both offer a little bit of rebellion in that they champion types who a decade ago probably wouldn't have held the main spotlight in fashion, including those who don't see gender as the defining factor in how they dress. While the questioning of gender barriers in clothing started before 2016, it picked up this year. Louis Vuitton, for instance, dressed actor Jaden Smith in a skirt for an ad campaign. Calvin Klein cast gender non-conforming rapper Young Thug in one of its campaigns.
New York label Hood By Air has been flipping, twisting, and inverting notions of gender for years. But this year happens to be the one that its founder, Shayne Oliver, got a lengthy profile in the New Yorker.
The rest of the industry has taken note. Coach is showing fringed sneakers and flared trousers for guys. H&M has replicated the extra-long-sleeved look. Chiara Ferragni, possibly the world's most influential style blogger, can be spotted wearing platform-shouldered t-shirts that say "You Fuck'n Asshole" at fashion week. (She hasn't committed to the mullet yet).
Nothing in fashion lasts forever, but in 2016 at least, the cool kids took their cues from the unconventional ones.