It's not just the Chinese fat cats that are driving up New York City real estate prices anymore. Now, thanks to a network of global crowdfunding platforms, regular middle-class households in China are getting in on the gold rush.
Or, more appropriately, the greenback rush.
As the Chinese yuan continues to weaken against the dollar—it has dropped nearly 7% against the dollar in the last year—households in China are itching to switch their savings from Chinese yuan to dollars. Government rules make that tricky, preventing them from changing more than $50,000 a year.
A handful of crowdfunding financial sites raising money for US real estate loans are offering middle-class Chinese households a way to shift their savings into dollars. Invest via the platform, and get paid back in dollars. "Easy access to American real estate, earn American dollar profits without lifting a finger," reads one ad in Chinese.
That bundle of investments from middle-class Chinese savers might end up in, say, a "detached villa in New Jersey," or an "Illinois athletic center" or a "Tennessee apartment complex" (links in Chinese). Or it may end up in the tree-lined streets of Brooklyn.
One 36-year-old New Yorker told the New York Times (paywall) that he is borrowing nearly $1.3 million to buy a three-story brownstone in Bedford-Stuyvesant, a rapidly gentrifying Brooklyn neighborhood where prices have soared in the last few years. His loan came from the bundled savings of middle-income Chinese people investing via the app Haitou360, a New York-based investment service, which were then re-invested by way of an American crowdfunding property finance platform, such as Realty Mogul or Patch of Land.
While it's unclear how much money has been invested this way so far, one fund has raised money from small-time Chinese investors to help finance high-end student apartments near universities in North Carolina and Georgia, as well as one near the Harvard Business School, reports the Times. Patch of Land says it has originated some $194 million in loans since January 2014, the majority to single-family projects.
China-based investors can expect earn returns of 7% to 10%, depending on the duration of the investment, plus a 1.2% gain from dollar appreciation, according to the Haitou360 site (link in Chinese). But regardless of the immediate profit, the chance to sidestep Chinese regulations to swap yuan for dollars is likely just as compelling.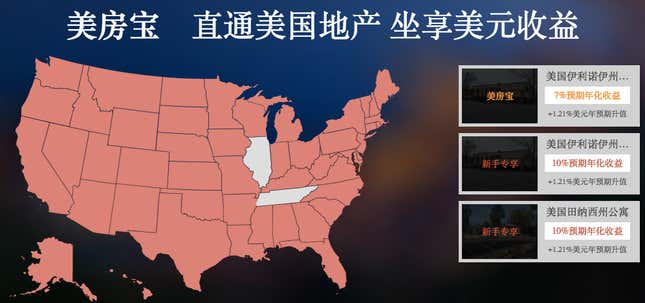 Since at least 2014, rich folks and corporations began shifting their money out of China via both official and unofficial channels. Fleeing capital should have driven down the yuan's value against the dollar. Instead of letting that happen, the People's Bank of China, the central bank, started selling off its foreign reserves, propping up the yuan.
The PBoC's goal was evidently to keep the yuan stable enough for the IMF to welcome it into its SDR basket of global reserve currencies, which it did in late November of 2015. After having cleared that symbolic hurdle, the PBoC has let the yuan weaken around 8% against the dollar.
The problem is, this cycle can easily whip itself into a dangerous self-reinforcing spin: When investors fear a currency will keep dropping in value, they swap it for another—driving down its value further and encouraging even more investors to follow.
By cracking down on the ways people can swap yuan for dollars, the Chinese government has so far succeeded in preventing this cycle from reeling into financial disaster. But as long as the yuan keeps sliding, Chinese savers will be looking for ways to funnel their money overseas—be it to Tennessee or to Brooklyn.