For a time on Dec. 13, the four-year brutal and bloody battle for Aleppo came to a grinding halt. It looked like the violence that displaced hundreds of thousands from their homes, leaving traces of death and destruction everywhere and destroying Syria's largest metropolis, a UNESCO heritage site, and one of the world's oldest continuously inhabited cities, might end.
Less than a day after it was announced, a ceasefire agreement that would have allowed rebels and families to evacuate the city, collapsed. The United Nations described it as "a complete meltdown of humanity." In the Security Council, Samantha Power, the United States ambassador to the UN, accused Russia, Syria, and Iran of committing "an act of barbarism" and of tightening a "noose around civilians" in the city. On Dec. 14, the Eiffel Tower went dark to show solidarity with the people of Aleppo, just as a new deal was negotiated overnight to allow trapped civilians to leave.
For many people watching this human tragedy, the question is: How to mobilize resources to help feed, clothe and provide shelter and healthcare to displaced Syrians? In a crisis of this magnitude, where flexibility and timeliness are of utter importance, knowing where to donate and whom to give your money to is key. While generosity is an act of valor in situations like these, so is the urgency to get it right.
1. Think of resource mobilization like preparing an emergency go-bag.
Make yourself familiar with the different organizations—or even just one—that you want to give money to. It is only prudent that you understand the available options and how you can contribute to affecting change where it matters.
"A lot of us intellectualize the problem for far too long before acting, or we think we can do much more than just give money or agonize over where to give," says Jessica McCarthy, director of development with Maloto, an organization that works with families and children in Malawi. McCarthy says that we need to think of our donations like preparing an emergency kit, so that "when disaster strikes, you don't waste time wondering if your donation is safe. Do your research ahead of time, get to know the organization, clear up any doubt and then stop agonizing over it."
Some of these steps could be as simple as checking an organization's website, confirming whether your donations are tax exempt, reading a foundation's previous annual reports, and understanding the various ways you can donate. For instance, Islamic Relief-USA, a Virginia-based humanitarian agency, which has helped over nine million Syrians inside and outside the country, allows you to give old vehicles, donate stocks to help relief efforts and has even gotten employers like Microsoft, Yahoo, and Apple to match their employees' donations or voluntary service hours.
2. Support grassroots organizations to help deliver impact where it is needed.
Many times, there's a dilemma over whether to give money to local, on-the-ground groups, or whether to donate to UN and international humanitarian agencies. Understanding the work that both do, and when to give to each of these groups, could make a difference in the people living or fleeing these restive regions.
Grassroots and community organizations usually know best what their community needs and are able to act quickly. They have experience in these areas of conflict, are sometimes run by Syrians with dual nationalities, understand the landscape, and can work to get resources to those who need it very quickly. When giving to them, it is also critical to know their precise needs, and the ways they spend their money.
For example, the White Helmets, a civil group credited with saving over 70,000 lives, uses its donations to ease the daily work of the rescuers. Donations are used to buy items like safety goggles, knee protectors, helmets, rescue ropes and defibrillators. The Syrian American Medical Society, provides financial and logistical support to hospitals and clinics in Syria, besides providing online workshops and learning materials to needy students in Syria. This was critical in Aleppo, where hospitals were routinely bombarded.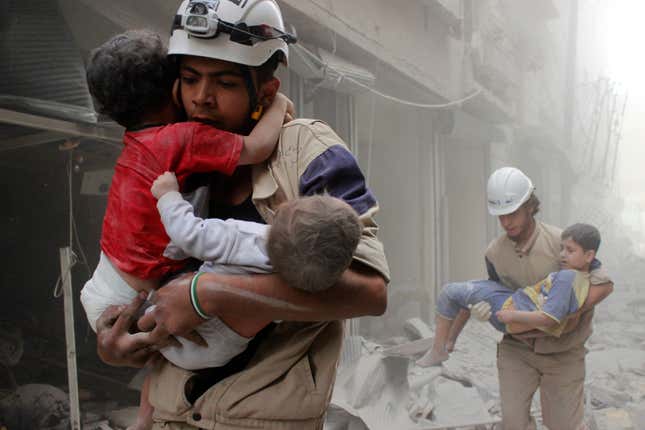 Karam Foundation, a non-profit founded in Chicago in 2007, not only supports the evacuated families from Aleppo but also develops innovative education programs for Syrian refugee youth. Organizations like the Syria Relief and Development specifically work with women, while others like Kesh Malek work hard to run schools in opposition-held Aleppo.
The advantage of these organizations is that they are lean, and are "extremely focused on the situation in Syria, whereas some of the larger organizations are looking at crises across the globe," says Robert McKenzie, a nonresident fellow at the Brookings Institution. "These are people who have family and relatives there. These are people who have ties to the country. They care deeply about the humanitarian relief."
3. Donate to international organizations for long-term financial support.
Sometimes, it is hard for grassroots groups to receive funds if they aren't registered in Western countries. This is why many grassroots groups rely on the fiscal sponsorships of larger organizations. The benefit of donating to larger organizations is that you give to a trustworthy organization that has the resources and experience to disseminate funds faster. During the emergency flooding in Malawi last year, McCarthy said her organization received donations on behalf of their local partners and were able to quickly send cash to hundreds of the most vulnerable families.
Given the protracted nature of conflicts—refugees can wait up to 26 years before returning home—international organizations always need funds to help victims. Even when the crisis is over, rebuilding efforts can take years during which organizations like the International Federation of the Red Cross and Red Crescent Societies, the UN High Commissioner for Refugees, the International Rescue Committee, Save the Children, Mercy-USA, UN Children's Fund, World Food Program, Qatar Charity and many others working in Syria will need financial support.
McKenzie says the fact that WFP and UNHCR were underfunded in 2014 and couldn't provide food for millions of Syrian refugees contributed to the large-scale migration to Europe. "It's one of the driving factors," he said. "This is why resource mobilization matters."
4. Get engaged in your local community to look into other avenues for donation.
You don't have to look far to help suffering Syrians. All across the world, Syrian migrants live in communities from Canada to France, Australia, and the United States. Tamara Gray, an American who lived in Syria for 20 years and who founded Rabata, an organization dedicated to promoting positive cultural change, says that sometimes the best way to get engaged is to reach out to those who are directly linked to the problem.
"Find your neighbors and see how you can help them," Gray said. "Ask them, 'Are you supporting people back home? Are you supporting family somewhere? How can we do this in a more organized way?' Ask them what organizations they are working with to send money to their hometown." This, she said, builds a bridge of collaboration and a trail of trust that can do more benefit on a personal and communal level.
The dynamics of the civil war in Syria change daily. Giving is not only an act of care but an expression of hope and solidarity when all else seems to fail. Being informed about how to give is the best way to help.