Beijingers who were hoping to flee the city's worst pollution this year are finding their escape plans thwarted, as heavy smog led to cancelled flights and road restrictions.
The capital city has been at the highest level of smog alert this year for the past four days, choking the city's 22 million citizens. By 12pm on today (Dec. 20), the fine particulate matter PM 2.5 reached 408, a hazardous level that poses "serious health effects," according to the Air Quality Index (AQI), which warns that "everyone should avoid all outdoor exertion."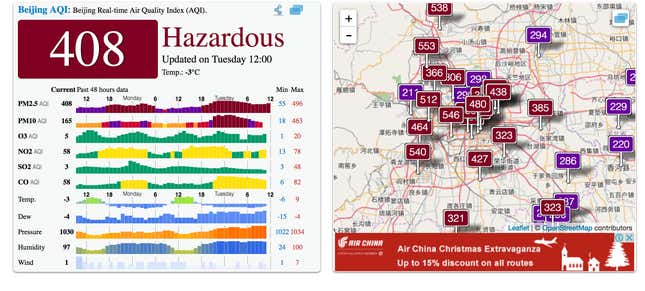 While it has become so unbearable that people are trying to flee to other places, they are literally trapped. People are trying to fly from Beijing to coastal areas like China's southern province Hainan, as well as countries like Thailand, Japan and Indonesia (link in Chinese), but are now facing dozens of flight cancelations.
Six of the highways around Beijing are completely closed to traffic because of the smog, and three additional ones are shut to people exiting the city. People are complaining (link in Chinese, registration required) that there is no way out on social media. "If you are still looking to escape Beijing you must be overthinking," a Weibo user who is located in Beijing said today (Dec. 20). "As highways are closed (link in Chinese), flights are canceled, where do you think you can go? Not until you all suck in all the smog will you be able to go. Don't be so naive, even if you want to leave Beijing you won't be able to see the door (in the smog)!"
About 150,000 people traveled to escape the smog in China in December, according to Ctrip, a Nasdaq-listed travel agency on Dec. 16 (link in Chinese).