A seemingly innocuous tweet intended to tug at the heart strings and sell insurance induced a storm of racist comments on Twitter.
The tweet in question was posted by State Farm on Wednesday (Dec. 21) and depicts a black man down on one knee proposing to an excited white woman, accompanied by text that reads: "Who said yes? Cheers to the newly engaged this holiday season! Be sure to #ProtectTheBling!"
The image of a happy interracial couple encouraged people to do more than call State Farm for an insurance quote—it brought out the internet trolls in full force. Then Geico, a State Farm competitor, jumped into the fray.
The original State Farm tweet was flooded with replies touting made up stats and declaring the need to take a "firm" stand against interracial couples in "Trump's America." Many outraged racists chimed in just to say they would be taking their business elsewhere. Cue the marketing opportunity: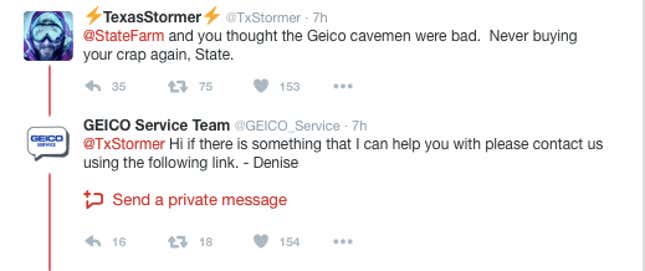 The tactic backfired among people who found Geico's methods unconscionable, even if members of the angry tweet mob seemed ready to take Geico up on its offer.
Geico did not respond to requests to comment, but they posted an apology on Twitter shortly after Quartz reached out them.
In Geico's defense, the tweets appear to have been sent using automated social media management platform Sprinklr, so it's possible a bot was behind the ill-conceived tweets all along. Neither Sprinklr nor Geico has returned calls for comment to confirm or deny whether tweets were automated.
But a word of advice for Geico in the future: selling insurance may be "so easy a caveman could do it," but when it comes to social media it's worth putting in a little more effort and showing a little more humanity.