Three decades ago, as China was recovering from the trauma of Chairman Mao's Cultural Revolution, it gradually started opening up to Western culture. The first performers to get through the door were Wham!.
In April 1985, George Michael and Andrew Ridgeley took to the stage in Beijing at the People's Gymnasium in front of 15,000 people, becoming the first Western pop act to play a concert in China. They played another show in the southern city of Guangzhou at the Sun Yat-sen Memorial Hall.
With the death of 53-year-old Michael on Christmas Day, Chinese fans, like those in the rest of the world, mourned yet another tragic loss in 2016. In particular, many Chinese internet users remembered Michael through Wham!'s groundbreaking 1985 visit. Their concerts "had enlightened a generation of [Chinese] musicians," one blogger wrote on Weibo (link in Chinese, registration required), China's version of Twitter.
Rose Tang, who has lived outside of China since the 1989 Tiananmen Square student crackdown, said she remembers listening to songs by Wham! on contraband cassette tapes passed among students when she was studying art in Chongqing. But she only knew of the band as Wei Meng (威猛) at the time, a phonetic translation of Wham! that also means "ferocious" in Chinese.
"Their music was recorded on cassettes that also had Bob Dylan, Beatles, Don McLean… [Wham! was a] staple in our underground disco/rock parties at art schools. The parties were often shut down by school authorities that banned us from playing rock music," said Tang, who now lives in New York. "When I was living in Australia in the 90's, I recognized the songs and asked Aussies what the titles were, that's how I got to know [about Wham!]."
It took the group's manager at the time, Simon Napier-Bell, 18 months to convince the Chinese government to green-light two performances. Napier-Bell, now 77, even sabotaged the efforts of rock band Queen to be the first to perform in China by playing up frontman Freddie Mercury's flamboyance in a brochure he presented to Chinese officials—as opposed to the more "wholesome" alternative of Wham!—as he revealed in a book published on the 20th anniversary of Wham!'s China gigs.
Wham!'s concert in Beijing was groundbreaking, but it was not by any means a great show. A breakdancer who ventured into the crowd seemed to have crossed the line in conservative 1980s China, with organizers announcing a ban on standing during the show afterwards, Napier-Bell recalled. Some of the audience mistook the cameras of television film crews for secret police, so they sat rigid in their seats, he also wrote.
Nonetheless, in a China that was rather monochrome and drab, with everyone dressing in similar shades of green and grey, Wham!'s mere presence was shocking. Many had never even seen foreigners before, let alone listened to Western pop music.
"I did feel that although we were very privileged to actually be put in the position that we were, acting as ambassadors of a sort… but I don't think nobody had any idea of what to expect from Chinese audience," Michael said of Wham's trip to China, at the beginning of a video promoting the US release of the duo's single Freedom in 1985.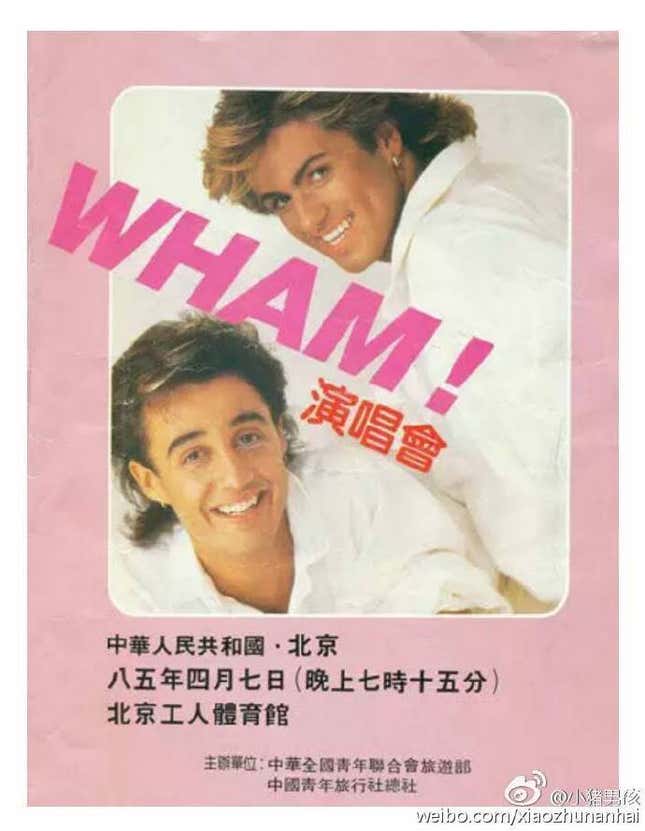 Some Chinese bloggers recalled (link in Chinese) that the ticket price was around 30 to 40 yuan (now about $5), a third of the national average monthly salary at the time. In addition, an "introduction letter" from a person's state employer was required to buy tickets.
A 60-minute film documenting the tour called Foreign Skies: Wham! In China is available here on YouTube.
Echo Huang contributed reporting.