George Michael, the British pop singer who died Dec. 25 at the age of 53, has described his younger self, the man who rose to international stardom as the bronzed, hunky frontman of the duo Wham!, as a kind of fictional alter-ego—not unlike the Ziggy Stardust avatar that David Bowie created, or the mysterious, androgynous persona that Prince embodied.
I created a man—in the image of a great friend—that the world could love if they chose to, someone who could realise my dreams and make me a star. I called him George Michael, and for almost a decade, he worked his arse off for me, and did as he was told. He was very good at his job, perhaps a little too good.
That hard-partying, womanizing pop star was increasingly disconnected from Michael's true self, he later told an interviewer. His bad-boy antics and overtly sexual persona displayed a kind of over-the-top, flamboyant heterosexuality. But, wrote Johann Hari for the Huffington Post in 2011, Michael "was slowly realising that behind the virile heterosexual hologram, there was a gay man pickled in confusion."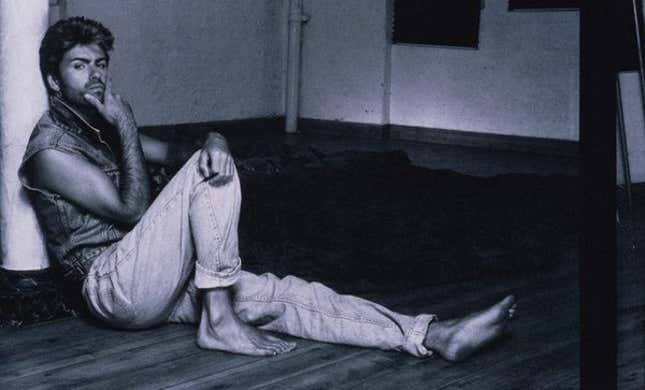 Born Georgios Kyriacos Panayiotou to a working class family in North London, Michael spent many years trying to shed the heartthrob persona he had created—and he struggled with drugs and depression in the process.
"My depression at the end of Wham! was because I was beginning to realise I was gay, not bi," Michael told Hari in that interview. "I felt cornered by my own ambition. I didn't have the self-control to restrain my ego, but I knew it was leading me further and further towards an explosive end. I was becoming absolutely massively popular as a heterosexual male."
"In here," he told Hari, touching his chest, "I was gay."
After Wham! split up in 1986, Michael became an even bigger star as a solo artist over the next decade. He reportedly had several long-term relationships with men, and came out to his family, but he was not public about his sexuality until a 1998 interview with CNN, days after news broke that he had been arrested in a Beverly Hills bathroom and charged with misdemeanor lewd conduct.
Michael never regained the heights of his stardom again, but he was hounded by the press for many years. He continued to make music, releasing several more albums and performing to a loyal cadre of fans, including a new audience of gay fans.
The entertainment editor of the Advocate told the LA Times in 2008: "He's still one of the most important gay musicians alive, if not one of the most important musicians alive."
Following his death, many have expressed admiration and gratitude for the way Michael came to embody a complex, unbounded masculinity. And some have compared him to David Bowie and Prince, who also died in 2016.