Nielsen's latest US ranking of the most popular smartphone apps is out, and it's not a pretty picture for those who value diversity in their digital lives. A third of the Top 10 apps belong to Facebook; half are Google's, and Apple and Amazon pick up the remaining scraps with one apiece.
But what's most interesting about this year's ranking is what came in second. Facebook's mobile app has long occupied the top slot, but the social network has now underlined its dominance with the Facebook Messenger ascension to No. 2.
Of course, it's easier to dominate when you force your existing users onto a new app. Facebook in August started to warn its users to install Messenger or lose access to the messaging feature. And while it's still possible to access Facebook messages without the Messenger app—they're accessible from your phone's browser—Facebook discourages it, suggesting the app provides a better experience for users. Five years ago, Facebook Messenger hadn't even cracked the Top 10 app, trailing the likes of Twitter and The Weather Channel. Now it's bigger than YouTube and Gmail.
Facebook's apps dominate in another way too: People spend tons of time using them. Data from analytics firm Comscore estimates that Americans aged 18 to 34 spend more than 1,000 minutes a month (16 hours and 36 minutes) on the Facebook app, compared to under 400 minutes on Snapchat, and about 100 minutes on Twitter. The picture is similar for those aged 35 and above, except they spend less time overall on social media apps.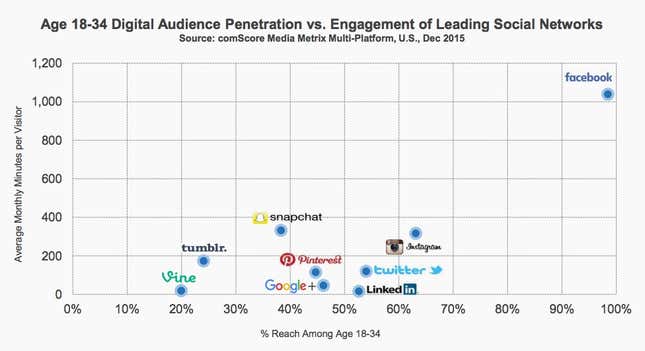 Six years after it's launch, Facebook Messenger ranks as high as it ever will—the messaging upstart can hardly supplant its fuller-featured parent app. Facebook must now look to Instagram, its third app on the Top 10, for future growth.
The photo-sharing site has languished in the bottom half of the chart for the past three years, but there are promising signs: For 2016, its year-on-year growth rate was higher than Messenger's for the first time in years, rising 36% over the previous year, while Messenger rose 28%.