This summer, Uber completed its two billionth ride. The milestone came just six months after the company tallied trip number 1 billion, a testament to the sheer volume of trips that Uber's drivers complete each day in more than 450 cities worldwide—and to the incredible collection of transit data it has amassed.
This week, Uber is sharing a sliver of that information through a new project, Movement. The dedicated website uses anonymized, aggregated Uber data to create a snapshot of vehicle travel times—you might say, movement—across customized date ranges, and along particular routes, in a given city. The site is geared toward urban planners, policy wonks, and city officials but anyone can request access. Eventually, Uber says it will be open to the public.
"City planners face a myriad of challenges, and we hope to help tackle more of them over time," the company wrote in a blog post on Jan. 8. "We're excited to partner with city officials, urban planners and research organizations to continue building features that today's transportation planners need."
Movement is launching as Uber attempts to soften its image with cities. Over the last eight years, Uber has earned its reputation as an aggressive, fast-moving startup that is unafraid to challenge or flat-out disregard local rules. In the US alone, Uber has clashed with policymakers from New York to San Antonio to Portland, Oregon. Last month, in a rare concession to regulators, Uber relocated a fleet of self-driving cars from San Francisco to Phoenix, Arizona, after losing a very public spat with the California Department of Motor Vehicles over restrictions on autonomous vehicle testing.
Uber has historically been reluctant to share its data with governments. The company resisted a provision in New York City that requires it to submit detailed summaries of its trips to the Taxi and Limousine Commission every month and is currently battling efforts by the city to make those disclosures even more granular. Uber recently defeated a public records request in Seattle that would have forced it and Lyft to reveal certain ride data submitted to the city each quarter, arguing successfully in court that the information constituted "trade secrets." Last April, Uber released a "transparency report" that seemed designed to outrage its riders at data requests from governments.
Uber says Movement came out of conversations on how the company could work better with cities, and has been in the works for the last nine months. For the project's debut, Uber is highlighting past analyses it's done of commutes in Manila during the December 2015 holidays and of peak travel times in Sydney, Australia, using this type of data.
"It's not just pretty pictures," says Jordan Gilbertson, an Uber product manager. "We have identified that there's a use for this, we've identified how it can be used, and for people who say hey, this doesn't do X, we can engage with them and build it out in the future."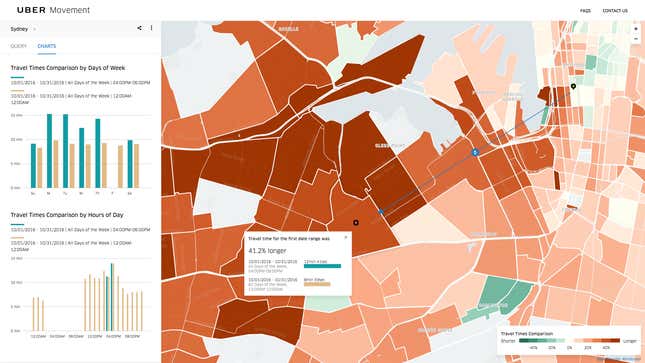 At the same time, it's hard not to see Movement as a strategic play by Uber to preempt more onerous information requests, like the one being pushed in New York City. "By doing this, we're able to get past these one-off data agreements that we often find ourselves in, and instead be able to provide a free and publicly available product that anyone can access and reuse," Gilbertson says.
Such one-off agreements are bound to come Uber's way as the company continues its push into public-private transit partnerships, like the one it's testing for commuters in Summit, New Jersey. Being a little more transparent upfront might save Uber from needing to reveal way more than it would like down the line.