As toxic clouds of smog continue to cover much of China, more and more Chinese are turning to vent their anger online at the airpocalypse—even turning to poetry.
A poem written by a Chinese chest surgeon has gone viral for pointing out the obvious: there is a link between smog and lung cancer. But in China, where many writers and scholars are punished for speaking out about serious problems, people are hailing the poem as a bold move to raise awareness. Many websites have reproduced the poem in the past week, with the articles racking up thousands of shares and comments on domestic social media (link in Chinese, registration required).
Titled I Long to be King, the verses are told through the viewpoint of a "ground-glass opacity," the term for a CT scan image showing fluid in the lungs that is an early indicator of lung cancer.
It reads:
I long to be king,
With my fellows swimming in every vessel.
My people crawl in your organs and body,

Holding the rights for life or death, I tremble with excitement…

From tiny to strong,

From humble to arrogant.
No one cared when I was young,

But all fear me we when full grown.

I've been nourished on the delicious mist and haze,

That sweetly warmed my heart,
Always loving when you were heavy drunk and smoking,

Creating me a cozy home.
Dr. Zhao Xiaogang, deputy chief of thoracic surgery at the Shanghai Pulmonary Hospital of Tongji University, said the Chinese public has a low level of understanding about how lung disease develops.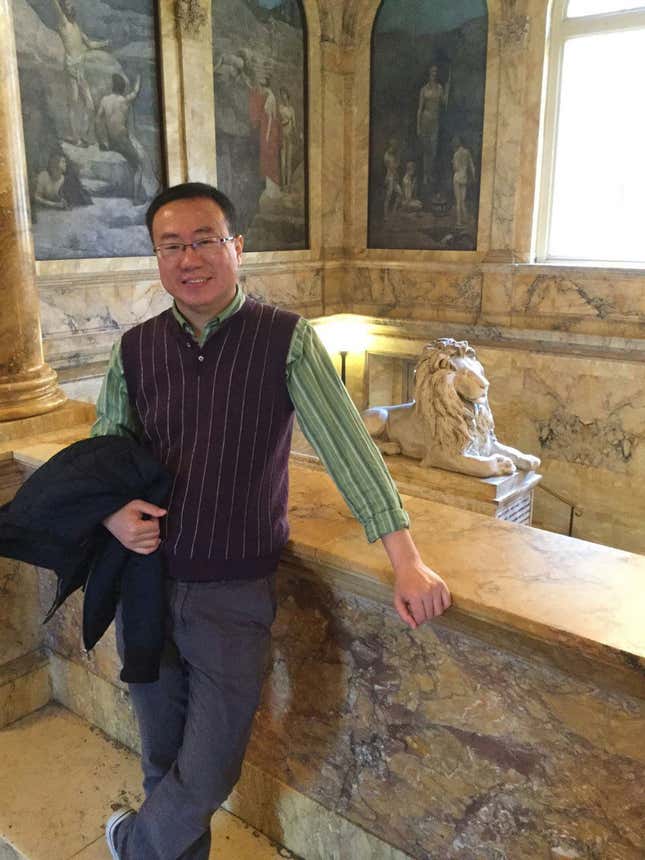 "I see many cancer patients everyday and I feel their pain. I wrote this poem to bring some common knowledge of lung cancer to ordinary people," he said in an interview by phone. "Lung cancer is the leading form of cancer in China. Stress, smoking and lack of sleep are all factors that can cause cancer, while environmental pollution is also a factor that cannot be ignored."
The poem originally ran in English in the American medical journal Chest in October. Zhao then allowed the publication of a Chinese translation of the poem in The Paper (link in Chinese), a Chinese state-funded news website, last week. He said he has long enjoyed writing poetry and finds it is a way to express his emotions.
"The intense rise in lung cancer [in China]," Zhao told the Global Times, a state-backed tabloid, "is intimately related to smog." According to official statistics from 2012, 569,000 people in China die from lung cancer annually. Researchers at the University of California found in 2015 that air pollution kills about 1.6 million people in China each year.
Expatriates and wealthier Chinese commonly use air purifiers at home and wear masks outside to protect themselves, but air purifying machines and effective facemasks are expensive. The poor are also more likely to work outdoors in jobs such as security guards, taxi drivers, and food stall operators.
China may have declared a "war" on pollution and shut down the worst polluting factories, but it is unclear whether the country will ultimately prioritize public health over economic growth. Manufacturing is still the backbone of China's economy, though the country's energy agency said last week it plans to invest 2.5 trillion yuan ($361 billion) into renewable power generation by 2020 in a bid to reduce reliance on burning coal.
However, authorities have sent mixed signals about whether it condones open discussion about pollution. State-run media outlets regularly air in-depth stories about pollution, but they tend to highlight steps the government is taking rather than investigate short-term or long-term health effects. Some Chinese artists have had leeway to protest against the smog, but online comments from citizens criticizing the government's handling of the crisis have been swiftly removed. Last year, censors pulled an independent journalist's blistering anti-pollution documentary, Under the Dome, from websites after it racked up hundreds of millions of views.
So it is unsurprising that Zhao was careful to stress that environmental factors are not the only causes of lung cancer. There are many things people can do to lower their risk, such as exercising, eating plenty of fruit and vegetables, avoiding cigarette smoke, and managing stress, he said.
As for the toxic air? "Wearing masks helps of course, but it is best to avoid pollution altogether," said Zhao. "But just as the haze in Los Angeles was solved eventually, I have faith that the Chinese government will tackle the serious pollution and that it won't take too long."