Donald Trump is campaigning again—this time so people show up at his inaugural festivities.
Paid targeted advertisements are popping up online for free tickets to the inauguration and other activities. Trump is also luring attendees via Facebook.
"The inauguration is our moment in American history, and I want you to be with me on Inauguration Day," Trump says in the video. "Jan. 20, at the Mall, it's going to be so exciting. Most importantly, we're going to make America great again. I'll see you on Jan. 20."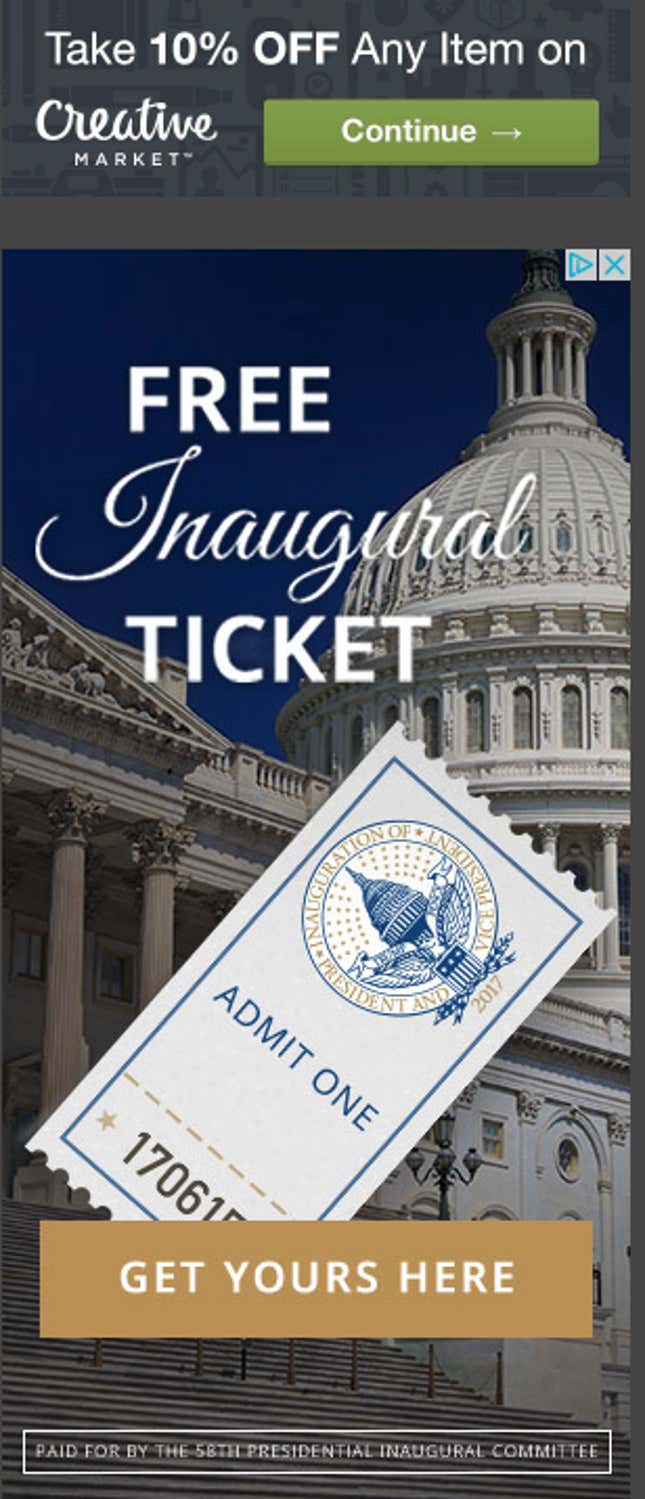 But Trump's inauguration and the surrounding events are shaping up to be subdued, a departure for the brash real estate mogul and celebrity president-elect.
Government officials have estimated crowds of 800,000-900,000—around 1 million fewer than during the record-breaking attendance levels of US president Barack Obama's first inauguration in 2009. Part of that crowd is coming for the Women's March on Washington, scheduled for Jan. 21.
But even now, days before the inauguration, a trip to Washington DC doesn't need to break the bank. Elliott Ferguson, the president of Destination DC, the city's tourism board, told Quartz that the level of hotel bookings is similar to that for Obama's second inauguration in 2013. Some hotels have reduced minimum stay requirements from four nights to two. Ferguson said it's "really difficult" to know "who's coming for the march and who's coming for the inauguration."
If you're willing to stay outside the city, room rates are more reasonable. Quartz reported in November that hotels were going for $250 a night for double occupancy just outside of Washington in Virginia and Maryland, and those rates can still be found. In DC, rates are topping $400 per night. STR, a firm that tracks hotel prices, notes that rates surged during Obama's inauguration in 2009, but said data for the 2017 inauguration aren't yet available.
Airbnb, which did not exist in its current form in January 2009, has served as something of a pressure valve for lodging demand. The room-and-home rental platform says a quarter of the 5,300 bookings in and around DC for the inauguration were from first-time hosts.  You can get a bed in an Airbnb in Bloomingdale, about two miles north of the US Capitol building, for $170 a night for Jan. 19 and Jan. 20.
The most affordable lodging may be at the City Fitness gym in the Cleveland Park neighborhood of Washington DC. One of the gym's owners said women attending the march can sleep there for $25 a night. But as is the case with hotels, staying outside the city, especially in easily accessible places like Baltimore, are probably the best bets. Airbnb room rentals in Baltimore, about a 50-minute train ride from Washington DC are going for around $40 a night.
Bus company Greyhound told Quartz that it's standing by to add more buses to Washington—so far, there hasn't been enough demand. A ticket from New York to Washington on Jan. 19 starts at around $40, which is more than three times the starting price on other days; tickets are at least $80 on the day of the inauguration.
Amtrak has added more trains to handle additional passengers into DC. Tickets from New York to Washington currently start at $144 one way on Jan. 20—higher than usual, but not extravagantly so. Airfares, on the other hand, from US cities like Los Angeles and Dallas to Washington or Baltimore have doubled since November to more than $760 and $560, respectively.
There will be plenty of road closures, including near Union Station, where Amtrak pulls in, so visitors might consider bringing good walking shoes, and an umbrella.
If you decide to take Trump up on his offer of a free ticket, don't get your hopes up for a star-studded concert. Several musicians have cancelled their appearances or declined to perform. Broadway singer Jennifer Holliday said she wouldn't perform after receiving hate mail, and the B Street Band, a Bruce Springsteen cover band, pulled out out of respect for The Boss. Headliners now include Toby Keith and southern rock band 3 Doors Down. Other performers include the Rockettes, despite protests from some of them.
Trump isn't entirely unfamiliar with understatement. His campaign planned an uncharacteristically subdued election night party in a staid midtown New York Hilton before his surprise win on Nov. 8. So who knows what will happen?
…and keep this handy map saved on your phone.