As a child, what I most looked forward to during Lunar New Year weren't the packets of money or fireworks. What really made this holiday so memorable were the special dishes my mum prepared for our family with fat choi, a rare delicacy I'd only get the taste of once a year.
I have vivid memories of racing my younger brother to the dinner table each year for the first bundle of fat choi. The long, black noodle-like strands—tasting vaguely like seaweed and so smooth it makes vermicelli seem rough in comparison—would dissolve in my mouth and slip into my belly before I even had a chance to chew.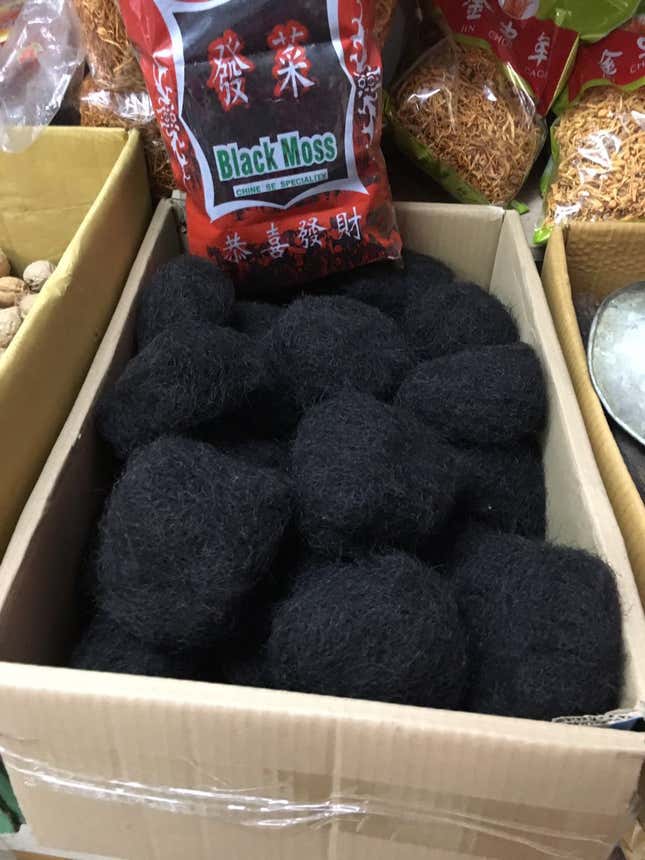 Fat choi gets its name from its resemblance to hair, literally translating in Cantonese as "hair vegetable." A major reason why fat choi is so prized is because of how similar it sounds to fat choy—as in gung hei fat choy, that oft-heard phrase in Cantonese households during the new year, a greeting to wish people luck and wealth.
The Cantonese pay particular heed to auspicious homophones, and it's especially the case during the new year. Fat choi is often served with similarly lucky food, paired with dried oysters (ho si, which sounds like "good things" in Cantonese) or steamed and served with pig knuckles (zyu sau, which sounds like "handy," suggesting those who eat it will be able to accomplish many things without much effort). These two dishes appear on practically every new year dinner menu in Cantonese restaurants.
Growing up in Guangzhou, I can't remember a new year dinner without fat choi, but it wasn't until I was older that I learned two unsettling truths. One is that fat choi is not actually a vegetable at all—it's a type of bacteria under the Nostocales family. The other is that it's illegal to buy in China.
Fat choi is extremely difficult to cultivate, requiring plenty of space—according to state-owned news agency Xinhua, it takes an area of 16 football stadiums (link in Chinese) to grow two taels, or 100 grams, of fat choi. It's grown primarily in northwestern Chinese provinces like Ningsia and Xinjiang, where the soil is vulnerable and prone to erosion. Fat choi is supposed to help improve the quality of the soil, but harvesting it actually increases the risk of desertification.
Because of its demand, China's State Council banned (link in Chinese) the harvest and sale of fat choi in 2000, and in 2001, its ministry of agriculture (link in Chinese) put it on its list of species requiring the highest level of protection.
Yet just because fat choi could no longer be found on grocery store shelves doesn't mean it was absent from dinner tables during Chinese New Year. Cantonese people like my mum have for years scoured the black markets for this delicacy, and its easy availability is a sort of open secret at these markets. Vendors might not leave fat choi out on display, but the ingredient is easy to find after chatting up the sellers.
Buyers are, however, sometimes duped by fakes, such as vermicelli that's been dyed black. When my mum went to Guangzhou's Yide Road, a wholesale market for dried seafood, this month, she spent 136 yuan ($20) for 100 grams of fat choi that was supposedly "grown in the wild." When she asked if the fat choi was indeed real, she was handed a receipt. The boss, she recalls, "said I could get a refund if the fat choi is fake."

With the popularity of online shopping sites, fat choi can now be easily found on sites like jd.com or Alibaba-owned Taobao. Listings per gram vary from 0.6 yuan (9 cents) to 1.5 yuan (22 cents), but as with many things sold over the Chinese internet, it's hard to tell if these products are indeed the real deal.