We are truly entering the post 2008 financial crisis world.
Now that former US President Barack Obama is no longer in office, just three of the 35 member countries in the Organization for Economic Co-operation and Development (OECD) have heads of state that were in office during or just after the financial crisis. Only Turkish president Recep Tayyip Erdogan (2003), German chancellor Angela Merkel (2005), and Israeli prime minister Benjamin Netanyahu (2009) were elected prior to 2010.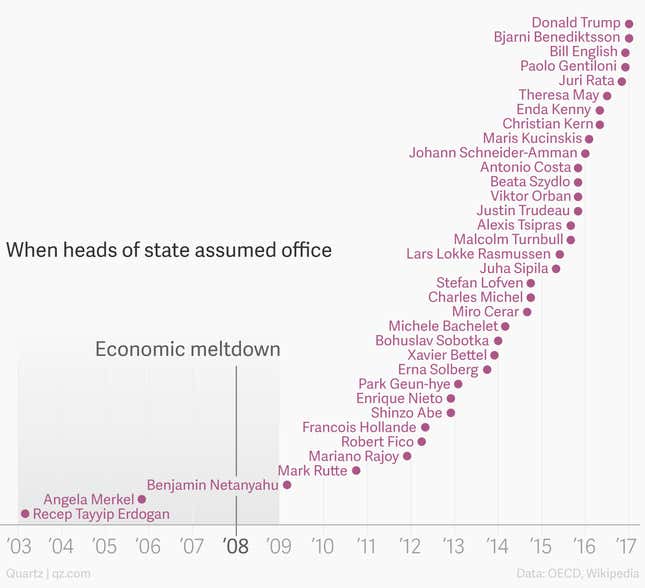 A number of current leaders had just entered politics at the time of the financial crisis, or were not involved in politics at all. For example, in 2008, current Canadian Prime Minister Justin Trudeau had just began serving in the House of Commons and US President Donald Trump was filming the first season of The Celebrity Apprentice.
The data highlights Angela Merkel's eminence as a world leader. She is now the only head of state from one of the world's top ten economies to have governed through the financial crisis.
That means few current political leaders have intimately experienced the devastation caused by weak lending standards, the failures of credit ratings agencies and financial deregulation. As the 2008 financial crisis recedes further into the past, it may be increasingly important to remember its lessons.