For a short three blocks in downtown Las Vegas, Nevada, you can take a free ride on a self-driving bus.
The tiny, fully electric vehicle, called Arma, was developed by Paris-based driverless and electric technologies startup Navya. It holds just 15 people—11 seated, four standing—and shuttles along a 0.2-mile route on Fremont Street between 8th Street and Las Vegas Boulevard. Its Jan. 11 debut marked the first time a driverless bus had transported passengers along public US roads.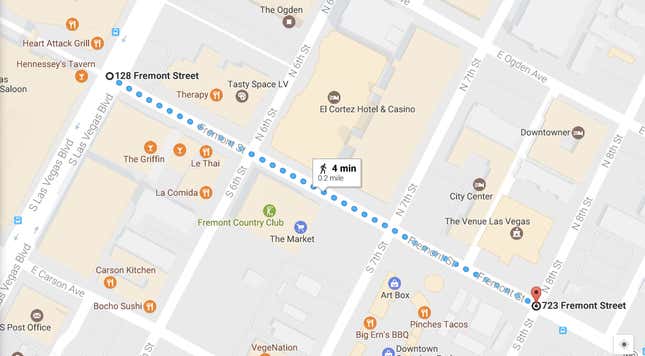 Rides are free and open to the public for a test period, which runs until Jan. 20, from 10am to 7pm local time on weekdays and with modified hours on the weekend. The shuttle does not turn around but rather simply reverses course when it reaches the end of its route, making it more like the city's existing Monorail system than a traditional bus. Las Vegas has closed part of Fremont Street to other traffic for the time being, said Margaret Kurtz, a city spokeswoman.
Riders who enter the bus won't see any traditional controls, like a steering wheel or brakes. Instead, there's a touch-screen tablet that displays information about the vehicle's route and an emergency stop button anyone can press, said Francis Julien, general manager of Las Vegas operations for Keolis, a transit company that is partnering with Navya on the trial run. The bus has a designated safety driver who mostly fills a customer service role. It can travel at up to 30mph but has a capped speed of 16mph on Fremont Street, Julien said. When the bus isn't running its pre-programmed route, operators can steer it using an Xbox controller.
Navya's Arma is already on roads in six other countries: Switzerland, France, Singapore, Qatar, Australia, and New Zealand. It costs about €250,000 (around $266,000) and currently must be purchased with a five-year service and maintenance contract, which runs another €200,000 (about $213,000), said Martin Higgins, a company spokesman. Julien said he expects to have "extended" tests of Navya's shuttles in other US cities.
The dry-run in Las Vegas began days after the city finished hosting the annual Consumer Electronics Show. Navya showed off its driverless bus during the conference, but waited until the following week to begin a test on public roads. In 2011, Nevada became the first US state to authorize the operation of autonomous vehicles, with certain restrictions. The state's regulatory credibility was weakened this summer by a regulatory spat with Otto, a self-driving trucking company acquired in August by Uber.